4. Ahmad The Japanese: Bady Dalloul on Japan and Belonging


Interview by Sophie Arni and Insun Woo

Published on October 1st, 2021

Bady Dalloul (b. 1986, Paris) is an artist we had the pleasure of meeting in Japan. Born in Paris to Syrian parents, he has dedicated his practice to issues of immigration and the Syrian diaspora, always accompanied by poignant socio-political and historical commentary on postcolonialism and displacement in a globalized context. Bady's sensibilities are as multifaceted as his upbringing and travels, which have taken him from France to Jordan, Nigeria, Japan, and Venezuela. He is primarily known for his work entitled A Country Without A Door or Windows, a series of drawings framed in matchboxes, which depict scenes of daily life during and after the Syrian War. His work has been shown in venues around the world, including most recently at the Palais de Tokyo and the Middle Eastern Institute in Washington D.C., and has been acquired by leading collections in Europe and the Arab World, including the Centre Pompidou, the Arab Museum of Modern Art (Mathaf) Qatar, the Institut du Monde Arabe, and the Kadist Foundation.

The following interview is the product of many months. Questions and answers were exchanged between Bady and Sophie at their first encounter in Tokyo Arts and Space's (TOKAS) artist residency space, and the interview also includes later exchanges between Bady and Insun, who recently joined Global Art Daily's Editorial Board. In Japan for the fifth time, Dalloul was the 2021 recipient of the prestigious Villa Kujoyama residency, administered by the Institut Français in Kyoto. During his 8-months stay in Kyoto and Tokyo, he directed a film and held multiple workshops in Tokyo and Yokohama.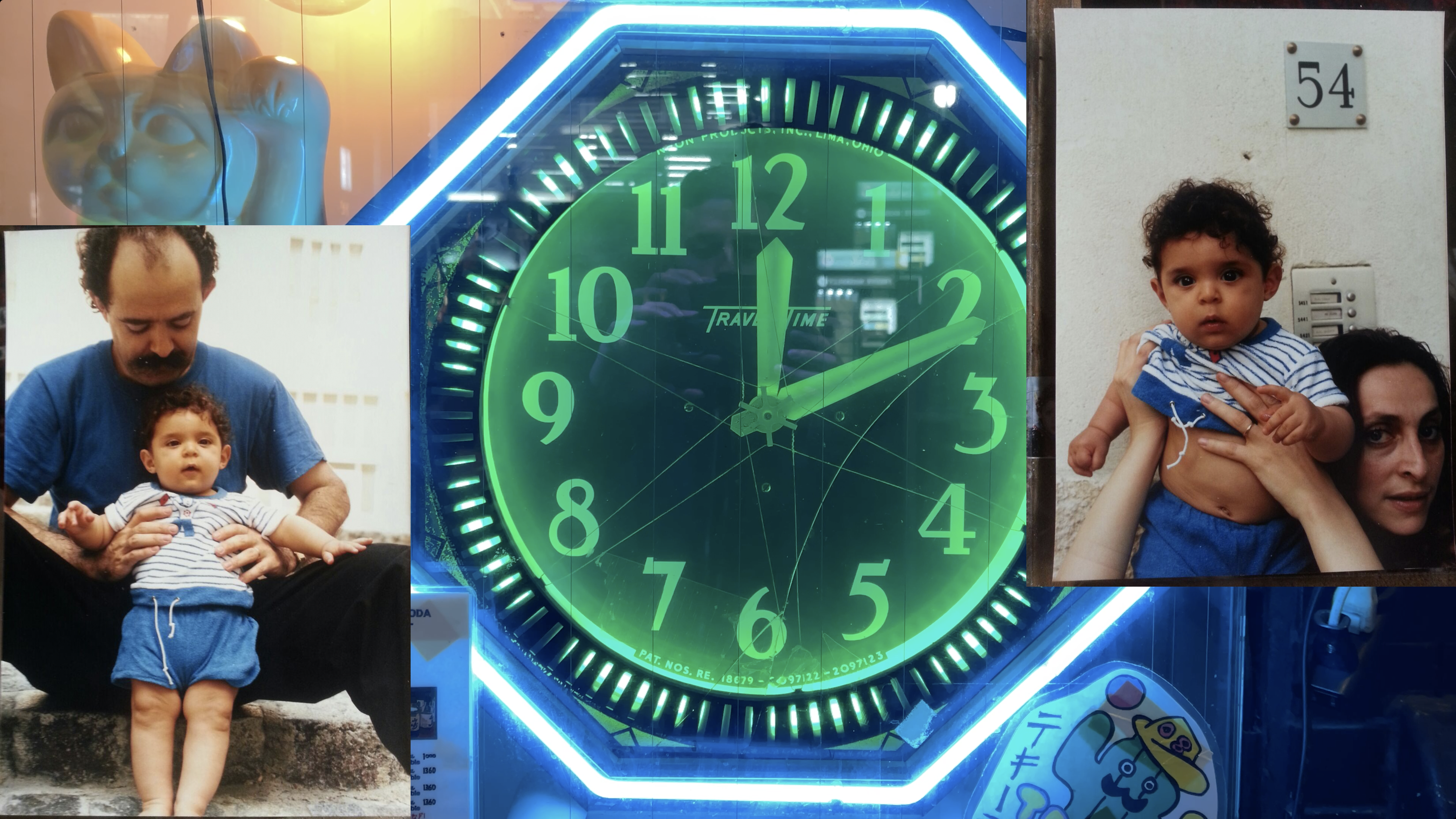 1. Bady Dalloul, Ahmad The Japanese, 2021. Still. Image courtesy of the artist.

Why Japan? The Land of the Rising Sun might not seem like the first choice to ponder over Arab contemporary politics. Yet Japan is where Bady found it easiest to project his ideals unto. In Tokyo most particularly, issues of migration are not at the forefront of societal concern. With a predominantly homogenous population and very little Arab immigration, Tokyo represents the antithesis and perhaps a hopeful alternative to assimilation politics often synonymous with the Arab diaspora. In this new land, Bady "felt like a child" again, as he shares in this interview. The product of his residency is a film entitled Ahmad The Japanese, which takes from the title of Mahmoud Darwish's poem "Ahmad Al-Za'tar": a film tracing the journey of an archetypal Arab character who finds himself in Japan. Ahmad The Japanese carries universal value in its metaphors for migration and longing for home. Constructed as a collage, the film uses Bady's ability to draw words and build meanings from scenes of daily life as a way of map-making. This interview, like Bady's practice, is constructed in parts. We delve into some of his previous work and end with a discussion of his new film.

B.D.: Bady Dalloul
S.A.: Sophie Arni
I.W.: Insun Woo


1. Books and Collages: Scrapbook (2015) and Ordinator (2020)
2. Bady Dalloul, Ordinator, 2020. Drawing and collage on archive paper, book. Image courtesy of the artist.

Sophie Arni: Let's start with this lovely book I have in front of me: Ordinator (2020). Could you let us know more about this project?

Bady Dalloul: Ordinator is a book about an imaginary country created in a small room. As the book progresses, things break up, and the country falls apart.

S.A.: This work draws inspiration from a wide range of sources—the epic Persian manuscript, Book of Kings, and aesthetics from Japanese ukiyo-e prints. Where did your inspiration come from?

B.D.: I have been drawing for a long time and my inspiration comes from many different cultural contexts. I'm inspired by Persian, Turkish, Indian, Arab manuscripts and ukiyo-e prints.

S.A.: Did you make this book in Japan?

B.D.: I made it in Paris.


3. Bady Dalloul, Ordinator, 2020. Drawing and collage on archive paper, book. Images courtesy of the artist.

Insun Woo: This book is some sort of continuation of Scrapbook (2015). You collected items like photographs, images, video clips, and text and created a collage book and a film with strong references to Hiroshima and the atomic bomb. How did Scrapbook come about?

B.D.: It started when I visited Hiroshima in 2015. I had come to the city thanks to an invitation from the artist Jean-Luc Vilmouth, who was one of my professors at the Beaux-Arts in Paris. I was especially surprised to see how vibrant and alive Hiroshima is after having experienced the aftermath of the atomic bombing during the Second World War. The city was devastated because of it, but today, people go shopping and walk around the city. Children come out of school, and parents come to pick them up. The city is peaceful. Seeing the daily scenes of Hiroshima, I felt a sense of hope, of reassurance, for Syria—that it will also recover from the destruction caused by the current conflict and will flourish in the future. I was then compelled to examine the histories of Japan and Syria, placed side by side.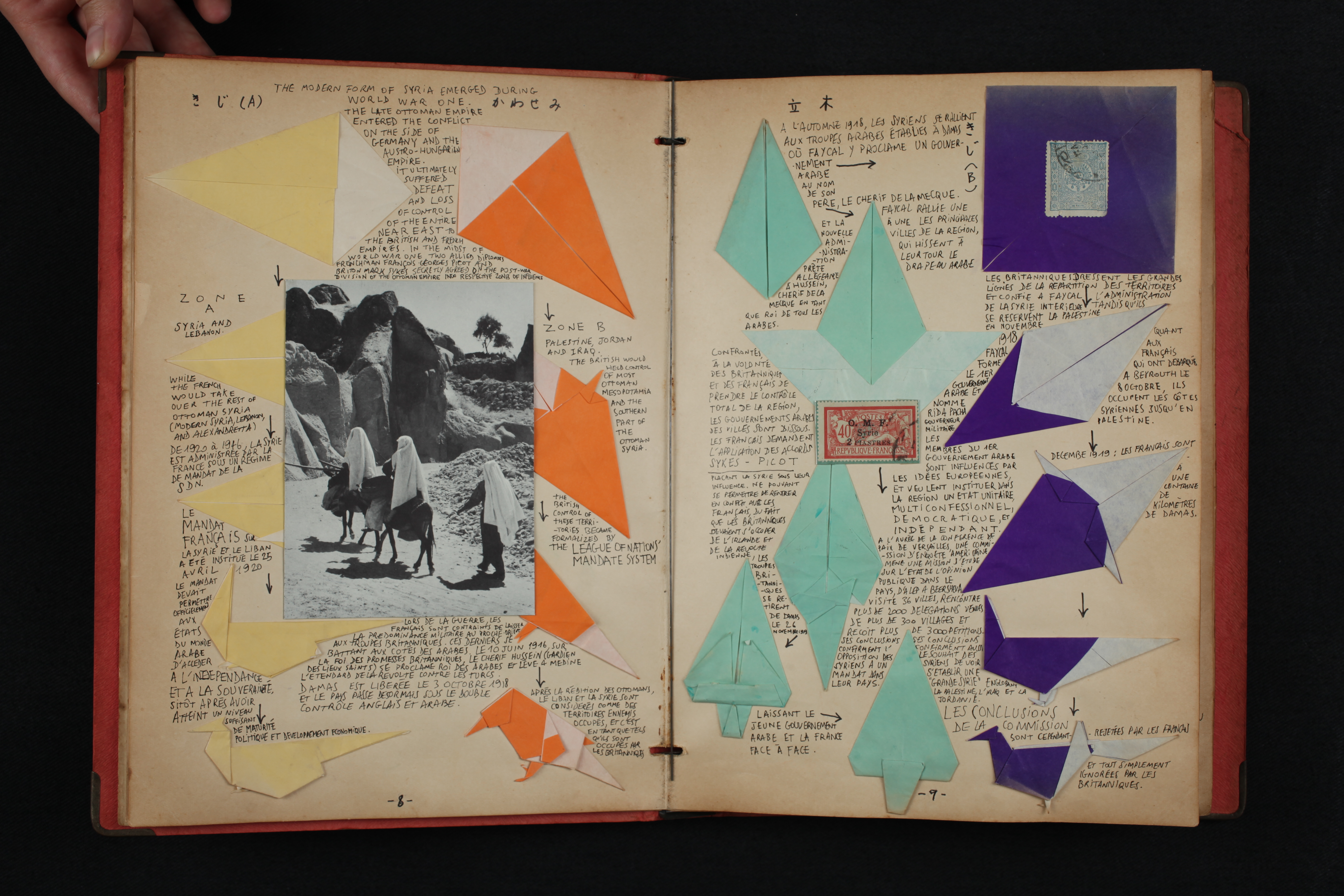 4. Bady Dalloul, Scrapbook, 2015. Drawing and collage on archive paper, book. Images courtesy of the artist.

I.W.: Are Scrapbook and Ordinator connected?

B.D.: Not really. I'd say that the only relationship between Ordinator and Scrapbook is "Japan." Ordinator relates to mythology—like the Book of Kings and Kōjiki [the story linking the mythological creation and the historical creation of Japan] —and contemporary Middle Eastern politics. Scrapbook puts Hiroshima and the story of Sadako [a Japanese girl victim of the Atomic bombings of Hiroshima and Nagasaki] in parallel to the history of my family.

S.A.: Scrapbook was later exhibited at the Hiroshima Memorial Museum. How was the work received?

B.D.: Even though most visitors in Hiroshima didn't understand the language, as the book was mostly written in English and French with a little bit of Arabic and Japanese, they handled it carefully page by page. There was no drawing, but despite that people stayed for a long time at the exhibition venue. It was a fantastic experience.

S.A.: They were certainly interested in the fact that a Franco-Arab was weaving the stories of Hiroshima and Syria and the Arab world together.

I.W.: I noticed how you included poker cards in both Scrapbook and Ordinator. How did you first get interested in cards and how did your thoughts develop?

B.D.: My interest in cards started with the games I played with my younger brother, Jade. The games were a way to beat boredom. As young teenagers, we imagined ourselves as rulers of fictional countries: Jadland and Badland. We wrote a lot of stories about them. As I started my art practice, the concept of games didn't leave me. It just took another shape. I created a fictional board game, entitled King of System, and card games often appear in my work now.



5. Bady Dalloul, King of the System, 2019. Detail views. Courtesy of Galerie Poggi, Paris.


2. Discussion Between Gentlemen, 2016


S.A.: After Scrapbook, you came back to Japan in 2016 for a different project and research.

B.D.: Yes, this was for Discussion Between Gentlemen (2016). But the project is still linked to the Scrapbook project.


6. Bady Dalloul, Discussion Between Gentlemen, 2016. Video, 1920 map, and pencil. 9'30". Photography by the artist; image courtesy of the artist and Galerie Poggi.

I.W.: Could you elaborate more on the relationship between the two?

B: Both meditate on and challenge the process of writing history. Scrapbook is about how the act of writing history is completely subjective. In Discussion Between Gentlemen, borders are drawn, erased, and re-drawn on a map. By the end of the video, almost the entire map is ruined. While I used the map of the Middle East in this project, this same action could have happened, and has happened, in other places, like in Africa. The borders in these places were created by an Other, and I wanted to show how invasive and almost absurd the act of drawing borders truly is.



The borders in these places were created by an Other, and I wanted to show how invasive and almost absurd the act of drawing borders truly is.



S.A.: It's always the Other who decides.

B.D.: In my other series of work, called The Great Game (2018), I got together eleven card combinations, like in the rules of a poker game, and reinvented card games into political plays. Historical agreements like the Sykes Picot Agreements have influenced the fate of many countries in the modern era yet they were decided by gentlemen in a room. The importance of political figures is paramount to how a place is shaped and formed.

S.A.: The idea of displaying these accords with card games is very interesting. Do you also work on current events and contemporary politics?

B.D.: Yes, since 2016, I have been drawing daily scenes of postwar Syria in a series of drawings called A Country Without a Door or Windows (2016-present). I exhibited these drawings in matchboxes a year ago at Palais de Tokyo, and I showed them again as part of my residency at Tokyo Arts and Space (TOKAS Hongo). These images deal with distance and conflict through imagination. I make drawings, stick them in matchboxes, and keep them. It is a series I am building upon. So far, 200 boxes have been acquired by the Mathaf, and the other 200 are at the Centre Pompidou. Another 200 are in the making.


7. Bady Dalloul, A Country Without a Door or Windows, 2016–present, a series of 200 pocket drawings on view in the exhibition The World is Burning/Notre monde brûle at the Palais de Tokyo. Ballpoint and marker pen on bristol board, framed in match boxes, 4.1 x 2.7 cm each. Photography © Aurélien Mole. Courtesy of the artist.

I.W.: I like your choice to use matchboxes as frames. What's the reason behind it?

B.D.: I was looking for something that would protect and shelter my drawings. I found these fragile boxes. The meaning was also related to what I was also drawing.

S.A.: This work is political yet feels metaphorical and subjective. The repetition of drawings almost feels like a meditative process of accepting the realities of Syria as mediated by global media, yet also producing new images of the millions of homes affected by the war.

B.D.: This work stems from me being of Syrian heritage yet living far away from Syria and the Levant. I go through waves when it comes to my outlook on Syria's future. Sometimes I'm sinister and other times, more optimistic. It depends on the day, and my thoughts are captured in these drawings.


3. Ahmad The Japanese, 2021

8. Bady Dalloul, installation view at "TOKAS Creator-in-Residence 2021 Exhibition 'A Scoop of Light'," TOKAS Hongo. Photography: TAKAHASHI Kenji. Image courtesy of Tokyo Arts and Space.

S.A.: How long have you been working on your new film, Ahmad The Japanese? Did you start the research process when you arrived in Japan?

B.D.: I have been in Japan since January 2021 as part of Villa Kujoyama, a Franco-Japanese residency program run by the Institut Francais in Kyoto. Ahmad The Japanese is a film about an archetypical figure called Ahmad, who goes from the Arab World to Japan and tries, with difficulties, to blend in Japanese society. It falls in line with my previous work creating imaginary countries, imagining places which are at home. It took about six months of work—I met people who are of Arab descent but live in Japan, some of whom have even become Japanese citizens.

S.A.: Could you tell us more about how Japan has started accepting Syrian applicants in recent years?

B.D.: Japan originally had the JAICA development agency, which organized different programs including cultural and humanitarian programs for refugees from the Middle East including Syria, Jordan, and Lebanon.

When the civil war broke out in Syria, some left the country and found their way to Japan. JAICA envisioned a program that would welcome Syrians to continue their activities in Japan and possibly build a bridge between Japan and Syria once the war was over. So these are mostly people who work in international businesses, engineers, doctors. They begin their training in Japanese and social life in Japan. The individuals who take part of this program go through two weeks of internship in Hiroshima, where they are shown how the city's rebirth after the atomic bombing. In that way, they too have a promise that one day Syria will recover and thrive.

S.A.: Does the program have a certain time frame?

B.D.: For two years, the Syrian applicants are helped by the Japanese government. Housing is provided, and Japanese language lessons are offered so that they may enter the job market. They can also work under specific conditions during these periods.

S.A.: For your film, I believe that you met people who are enrolled in the course or who have completed it. Have they been living in Japan for several years already?

B.D.: Yes, and they live all over Japan. I have also met Syrians who have not participated in these programs but have lived in Japan for a long time. They were willing to tell me about their lives here in Japan. However, in order to do something deeper, I focus on people I spent the most time with, featuring people in the film who are mainly in Tokyo.

S.A.: What does the Arab community in Japan look like?

B.D.: I have heard that there are about a thousand Arabs living in Tokyo, so it is quite a small community. The Japanese traditional structure helps to maintain a feeling of community, but I have the impression that in most cases, the contrary happens.

S.A.: How come? Are they trying too hard to fit in?

B.D.: I don't want to use the word "fit in" because it's quite destructive. I would say they try to "embrace" the country instead. Sometimes you feel that the mind is probing itself to reach this state of immersion and integration, which is also the object of my film. Trying to probe that spirit: the middle space between the place where you grew up and the place you have traveled. It's almost a universal effort that every immigrant can understand and relate to. Every person who travels, and decides to live in a new country, goes through the same struggles.



I don't want to use the word "fit in" because it's quite destructive.



S.A.: The labor of preparation, observation, learning, making mistakes, and getting back up again.

B.D.: Yes, that's the subject of my film.

I.W.: Do the people you worked with for Ahmad The Japanese share similar experiences as Syrians living in Japan? If so, what were they? Are these differences captured in this project?

B.D.: My original plan was to meet a designated group of Syrian refugees in Japan. But gradually the project changed as I met other Syrians and Arabs immigrants in Tokyo. The word "refugee" was taken out of the picture, and I translated it as someone who leaves his place of birth and migrates to a distant place, where he discovers everything for the first time and tries to make a new life there. I did this by creating an archetypal character, called Ahmad, who embodies all the stories of the people I met.

I'm personally related to this story. Some of my family members have migrated, both in the distant past and close present. Some have migrated to Venezuela, Germany – some have lost their minds, some have lost lives. By meeting the people I met in Tokyo, I also tried to see how their stories relate to mine. Without romanticizing or dramatizing it. So many people have seen films about exile, displacement, and wars. I didn't want to do another film in that vein. I wrote the script and directed the film based on this premise.

I.W.: Is this why you used film as a medium?

B.D.: I don't know if I chose the medium because of the topic, but definitely, film is a way of exploring another temporality and another way of writing the story. You are asking the viewer to concentrate for a certain period of time. A film is more directive and assertive than a book. The book allows you to browse all around the page, and turn the page whenever you're done – whereas the film just takes you by the hand, takes you, and takes your time.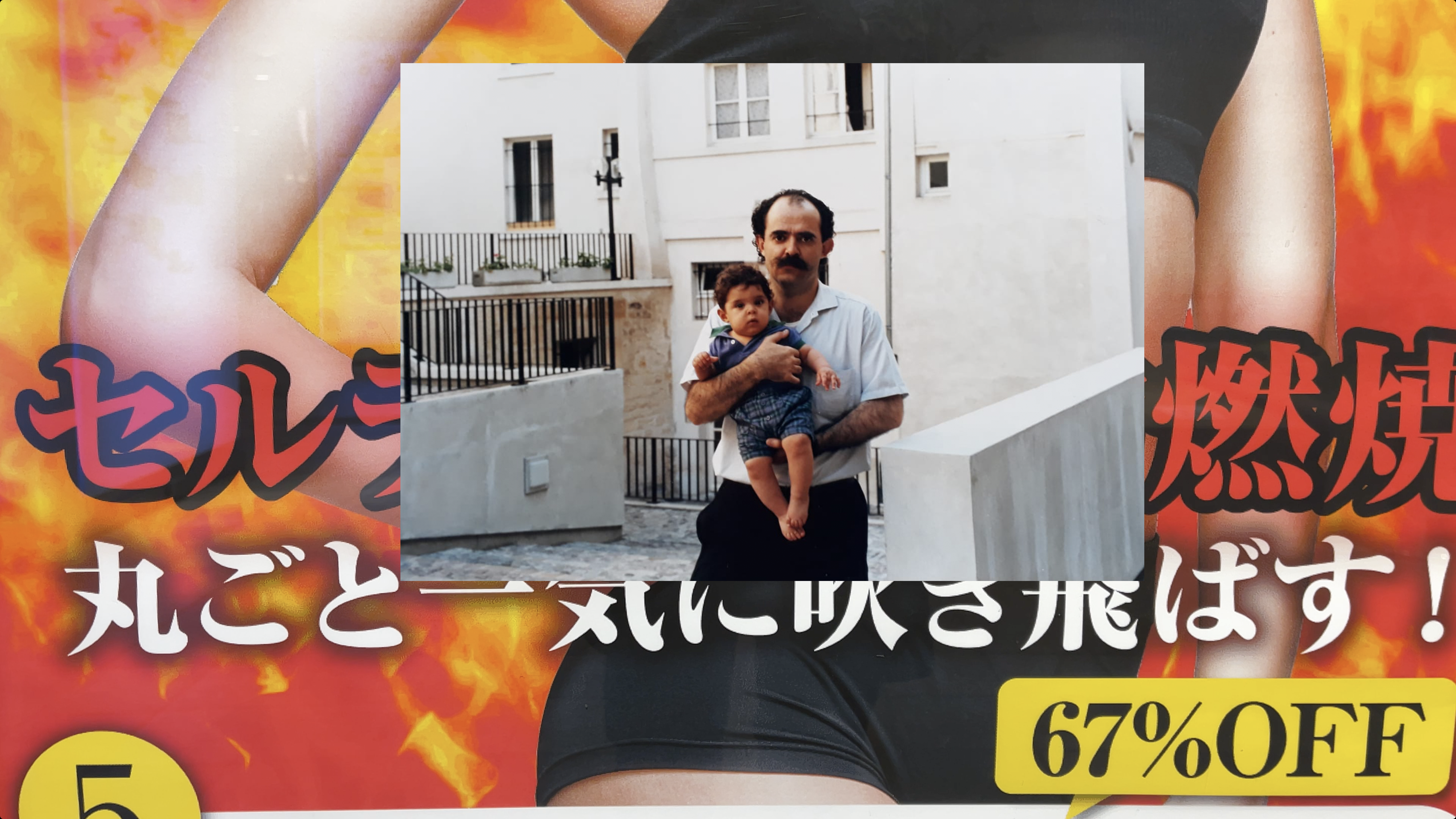 9. Bady Dalloul, Ahmad The Japanese, 2021. Still. Image courtesy of the artist.





The book allows you to browse all around the page, and turn the page whenever you're done – whereas the film just takes you by the hand, takes you, and takes your time.



S.A.: You organized a few workshops related to Ahmad The Japanese in Tokyo and Yokohama. Could you tell us more about them?

B.D.: In the first workshop at Theater Commons, a vibrant initiative in Tokyo, I asked workshop participants to take things that remind them of their home, things they always keep as they travel: books, dishes, or other objects. And later at another workshop, hosted by Zou-no-hana and Spiral, an amazing facility in Yokohama, we evolved into a process of drawing personal narratives onto garments. I asked each participant to bring a uniform, which they usually wear for work. I then asked them to write personal narratives onto the uniform with felt pens. I hoped that by drawing, participants would unlock and understand deeper facets of their past and find ways to come to terms with difficult chapters of their lives. Both workshops were generously supported by Institut Francais.



I would encourage anyone interested in introspection to go to a place that has little to no historical connection to you.



I.W.: Reflecting on your time in Japan, what does Japan mean to you?

B.D.: Standing far from everything I'm familiar with, Japan is the place that allows me to introspect and think deeper about my roots. Meeting other people with different upbringings allows me to think about the place I grew up in, and to discover a part of myself and a connection to my own family background. In Japan, I have the feeling of being a child again, discovering a new environment for the first time. I hope this feeling will last.



Standing far from everything I'm familiar with, Japan is the place that allows me to introspect and think deeper about my roots.



I'm an Arab of the diaspora. I could have chosen to go to America or Canada – typical places for migration – or in Nigeria/Venezuela – where I have family – or in Europe – where I currently live. But all these places already have past and obvious connections to me, linked to travel that has already been analyzed and thoroughly researched, under the lens of colonialism and historical migration. When it came to Asia, and specifically Japan, I was not looking for any specific connection. Even if I tried to find a specific connection, I couldn't find one apart from my own personal experience.

I would encourage anyone interested in introspection to go to a place that has little to no historical connection to you.


---
Bady Dalloul's work is currently on view at Green Art Gallery, Alserkal Avenue, Dubai, as part of a group exhibition entitled "Map≠Territory". Visit the exhibition until October 30th, 2021. Open Sat-Thu, 10am to 7pm.

From October 15th onwards, Dalloul will participate at "Diaspora At Home", a new group exhibition at Kadist, Paris. Find more information about the exhibition here.
---
Bady Dalloul (b. 1986, Paris) is a French-Syrian artist who graduated from the École Nationale Supérieure des Beaux-Arts de Paris in 2015 with honours from the jury. His work, in texts, drawings, video, and objects imbued with a political, sociological and historical dimension, confronts and brings together the imaginary and the real, while challenging the process of writing history. The creation of fictitious countries, the artist's obsession since his adolescence, is at the heart of his current work. His work has been exhibited at the MAC/VAL (2017), the Arab World Institute and the Gulbenkian Foundation (2018). In 2017, he was nominated for the Prix découverte des Amis du Palais de Tokyo, and in 2018 he was awarded the Prix des Amis de l'IMA. His work is part of the collections of the MAC/VAL, the Kadist Foundation, the Frac Île-de-France and the Institut du Monde Arabe.

Sophie Arni is a Swiss-Japanese editor, curator, and founder of Global Art Daily. She is the curator of the East-East: UAE meets Japan exhibition series (2016 - 2021), which she has brought to independent art spaces in Abu Dhabi, Dubai, and Tokyo, including the NYUAD Project Space, CHI-KA Space, HB.Nezu, and Block House. As an independent curator, her interests center on the dialogues between the Arabian Gulf and Japan from trade networks to technological developments. Her previous experience in the arts include interning for Sotheby's in London and Christie's in New York, assisting gallery booths at Abu Dhabi Art and the Armory Show, and interning for the American Friends of the Musée d'Orsay. Sophie graduated with a B.A. in Art & Art History from NYU Abu Dhabi and obtained an MPhil in Arts Studies and Curatorial Practices from Tokyo University of the Arts.

Insun Woo is a Korean emerging curator. Born in South Korea, she grew up in England, Bulgaria, Korea, Russia, and Japan. She is currently based in Abu Dhabi and New York City. After spending her freshman year exploring various fields—from political science to philosophy to computer science—she is pursuing a B.A in Art & Art History at NYU Abu Dhabi. Currently, her interests lie in creating spaces for those who have been silenced throughout history and fostering learning & dialogues through the arts.

Published by:



e-issues.globalartdaily.com

A Global Art Daily Agency FZ-LLC subdivision.
Copyright, 2015-2023.
For reproduction, please contact us.