6. Alexandre Taalba Redefines Virtuality at The 5th Floor


By Global Art Daily Editorial Board
Interview: Sophie Arni
Editing: Niccolò Acram Cappelletto

Published on October 1st, 2021

Earlier in spring 2021, Tokyo's independent curatorial space The 5th Floor presented "The Virtual Concreteness", a group exhibition curated by Alexandre Taalba, a brilliant curator currently finishing his PhD studies between the University of Paris 8 and the University of Tokyo's Graduate School of Arts and Sciences. This exhibition has been years in the making and delves into one of Taalba's favorite subject matters: the material consequences of virtuality. Taalba's doctoral thesis centers on the fear of nuclear energy in postwar Japan and its visual representations – and this angle makes for a unique segway into the much-talked-about ecological imprint of our digital era. Many exhibitions have tackled themes of digital identity, but few have delved deep into the ecological impact of the electronic manufacturing and energy-heavy data systems necessary to keep our digital economy afloat.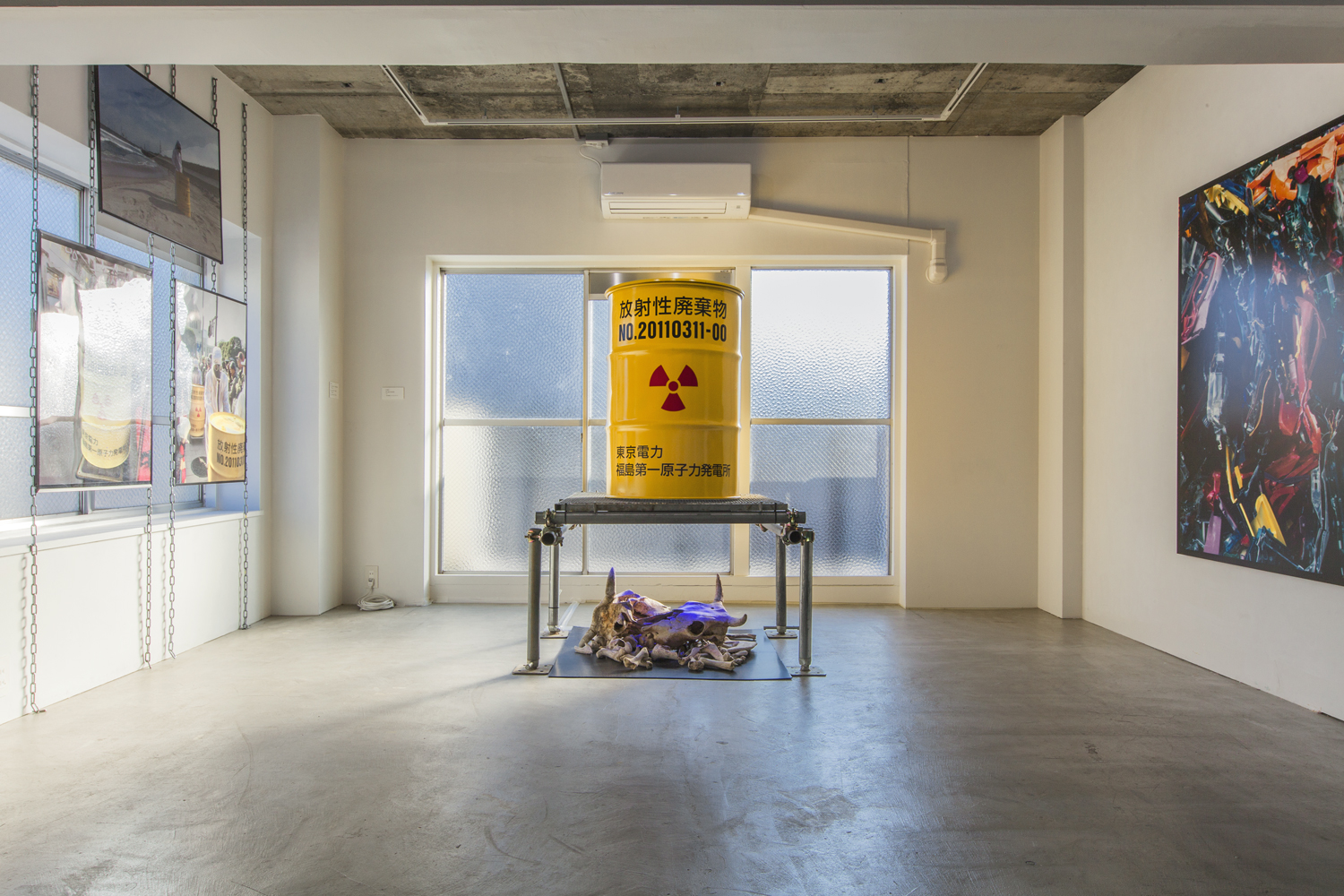 1. Installation view. "The Virtual Concreteness" at The 5th Floor, Tokyo, Japan Spring 2021. Photo: Masaharu Futoyu. Image courtesy of the curator.

Ending with a metaphorical suggestion that virtuality should be understood as a natural human sensation, the exhibition includes works by heavyweight names of modern Japanese art, including the pioneer avant-garde, Yutaka Matsuzawa. Also on view were works from emerging artists working across digital media and drawing, such as Jean-Baptiste Lenglet and Zoé Schellenbaum. We had the chance to talk to Taalba about his views of virtuality versus materiality, his curatorial process, and his views on the future of digital art.

GAD: The exhibition foreword starts with a categorization of reality into the "virtual" and the "actual". Could you walk us through this dichotomy and how it became the starting point of this exhibition?

Alexandre Taalba: I wanted to look into the engine behind virtuality. In a way, virtuality and concreteness go hand-in-hand, they represent two sides of the same coin. Hardware is needed to make software. Hardware acts as a medium to visualize the virtual, but beyond its function, it is a material and concrete device that allows us to explore the immaterial and the abstract. This exhibition aims to look at how artists viewed virtuality as a medium, in its ecological impact but also as an alternative to materiality.



Virtuality and concreteness go hand-in-hand, they represent two sides of the same coin.



GAD: The 5th Floor gallery is divided into three rooms and an outdoor terrace, which dictates the structure of the four sub-themes of the exhibition: "Physical Ramifications", "La Zone", "Memory", and "Dreams".

A.T.: Yes, we start with the first room. "Physical Ramifications" looks at hardware as a medium, and the energy needed to fuel virtuality. In the center of the room is the work of Japanese artist Raita Ishikawa. He is well-known for his multimedia installations and activist stance on post 3/11 Japan. After Fukushima's nuclear accident, he has carried radioactive waste bins around sites in Japan as part of a performance project. One of them is exhibited in this room. We do not know if there is actual nuclear waste inside the bin, but that silent suggestion is enough for the artist's desired effect.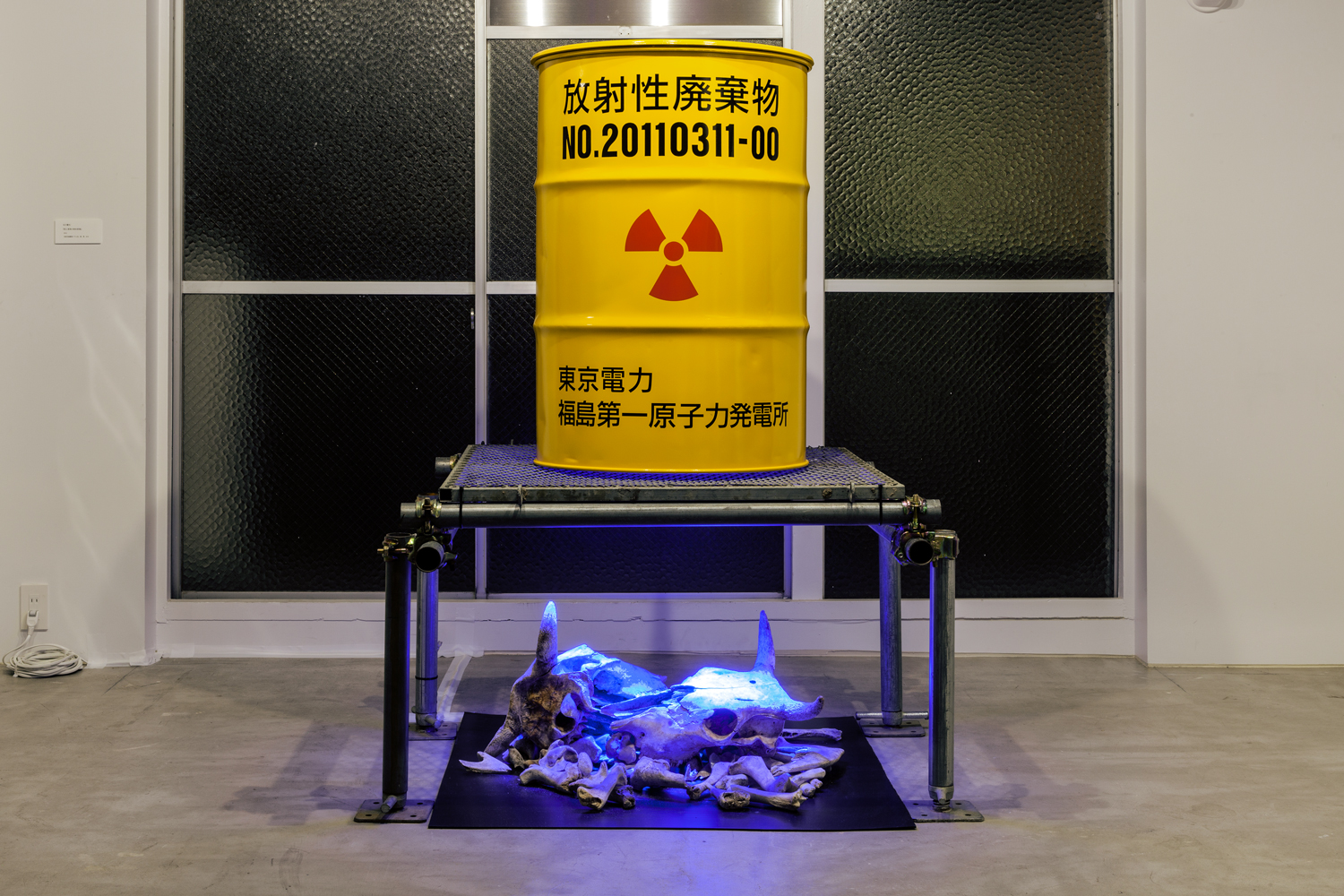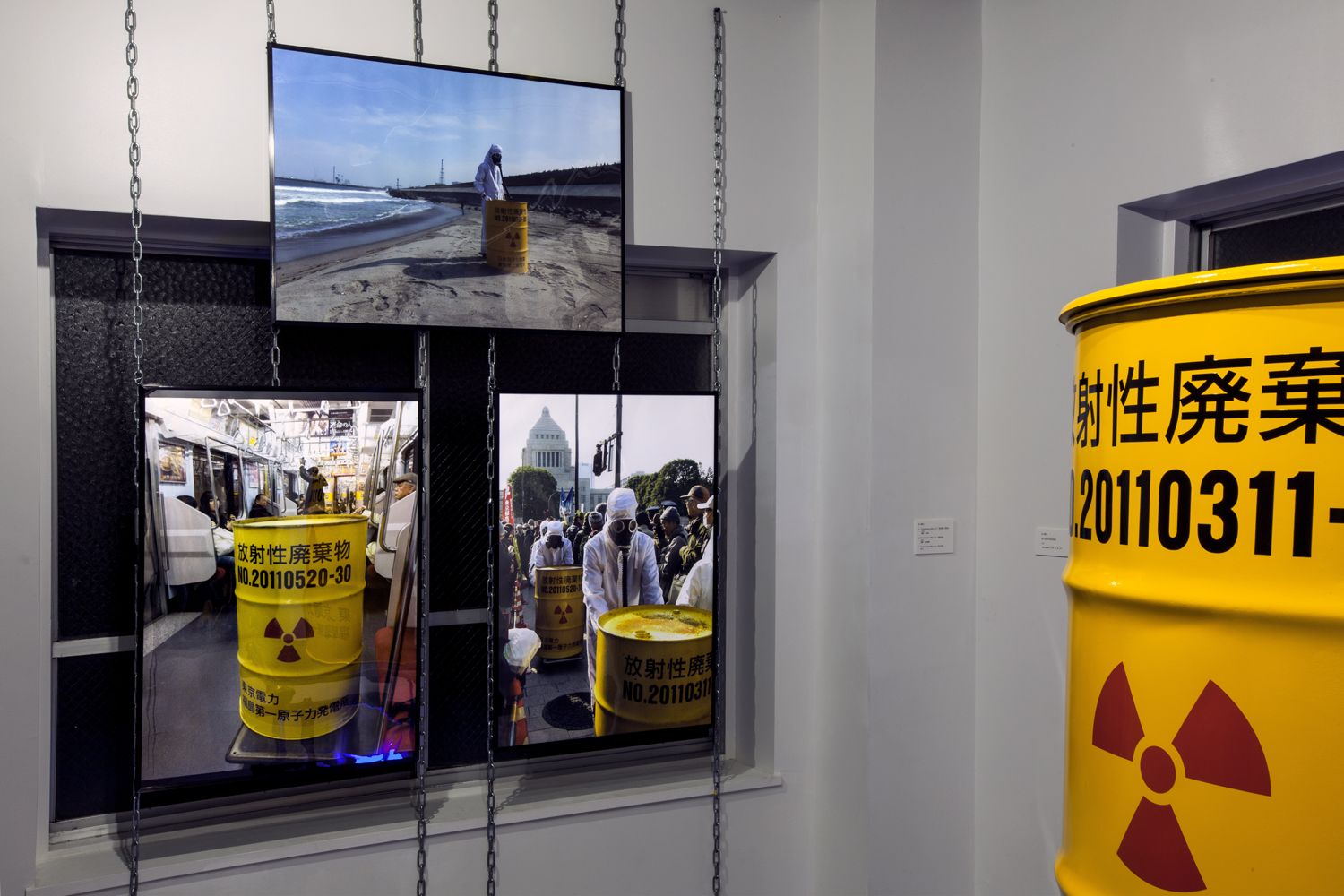 2. Ishikawa Raita, Fundamental Principles of Nuclear and Nuclear Plants, installation; Landscape after 3.11 / Subway, photograph; Landscape after 3.11 / In front of the National Diet, photography; Landscape after 3.11 / Tokai Nuclear Power Plant No. 2, photography. Photo: Masaharu Futoyu. Image courtesy of the curator.

As part of the anti-nuclear theme is also the work of Masaharu Futoyu entitled Bright Future. This neon-light scroll, which reads "Atomic power is the energy of the bright future" is a direct reference to the slogan used in Fukushima before its nuclear accident. Placing that banner at the beginning of the exhibition acts as a prelude or a warning to visitors: is our all-virtual world a "bright future" we should also be concerned about?


3. Futoyu Masaharu, Bright Future, installation. Photo: Masaharu Futoyu. Image courtesy of the curator.

Finally, the photographs by Chinese artist Xing Danwen show computer chip waste near factories in Guangdong Province, the electronic manufacturing capital of the world. These large-scale photographs have an abstract quality to them, highlighting the uranium metal needed for microchip processors production and hiding the workforce behind the tech economy. I like to think of these images as landscapes of our capitalocene era, which we cannot escape from. Virtuality is the engine of capitalocene.


4. Xing Danwen, disCONNEXION, 2002-3. Photographs. Photo: Masaharu Futoyu. Image courtesy of the curator.

GAD: The second room opens to Jean-Baptiste Lenglet's major work, entitled La Zone. It is a video game set in a post-apocalyptic landscape accompanied by a full audiovisual experience. The artist has designed every single frame of this game from scratch. It is seven years in the making, and from the artist's point of view, still unfinished?

A.T.: Yes, from 2016 to 2021, Lenglet has created a cyberpunk animated video game which guides users into different galleries and perspectives into digital art. It is also the first time the work is shown in Tokyo, which was a major accomplishment for the artist as he is very inspired by "Metabolism", a key movement of Japanese postwar architecture. The artist wanted to explore the intricacies of virtual reality and how materiality inevitably accompanies virtuality. There are multiple layers and subworlds incorporated into La Zone, layers and levels that distort normal perspectives and stop the concept of time passing. In order to construct the game, the artist used his "analog" collages and through an intricate process of scanning and image-making, he built a 3D virtual space out of 2D compositions. He also curated mini-exhibitions within La Zone, showing archival works from the Tokyo National Research Institute for Cultural Properties (Tōbunken) within an artificial white cube space within the game. With an experimental process, Lenglet used the video game as the medium itself for the audience to feel the concept of virtuality. Exhibited in this room are his original scanned collages as well as a ceramic sculpture he constructed from a 3D printer, which appears virtually in La Zone too.


5. Jean-Baptiste Lenglet, La Zone, video game installation; Images de La Zone, collage; No Nukes, 3D printed ceramic. Photo: Masaharu Futoyu. Image courtesy of the curator.

We are at the core of the ambivalence between actuality and virtuality, between material and immaterial, between the sensorial flesh and the abstract, unattainable part of our reality.

GAD: The third and fourth subthemes deal with "Memory" and "Dreams", which are more elusive interpretations of virtuality.

A.T.: I wanted to explore the poetic possibilities of virtuality. What did virtuality look like before the digital age? For me, two themes were necessary to mention: memories and dreams. In these liminal spaces, the conscious mind loses control over material reality. In the third room, we are showing a poem from Japanese conceptual artist Yutaka Matsuzawa. Written in 1964 on a flyer, this poem is constructed like a mandala, going counter-clock wise. Starting from the center, the reader is instructed to keep reading the poem outwards. The inspiration comes from Matsuzawa's interests in quantum physics as well as esoteric Buddhism. The poem was found in one of his archives, and with the artist's estate, it was reproduced here and printed on a large cloth, which we placed on the floor. Instead of presenting an academic survey of Matsuzawa's work, we preferred this more experimental, poetic approach, leading to the inside of "you" (the last word of the poem).



I wanted to explore the poetic possibilities of virtuality.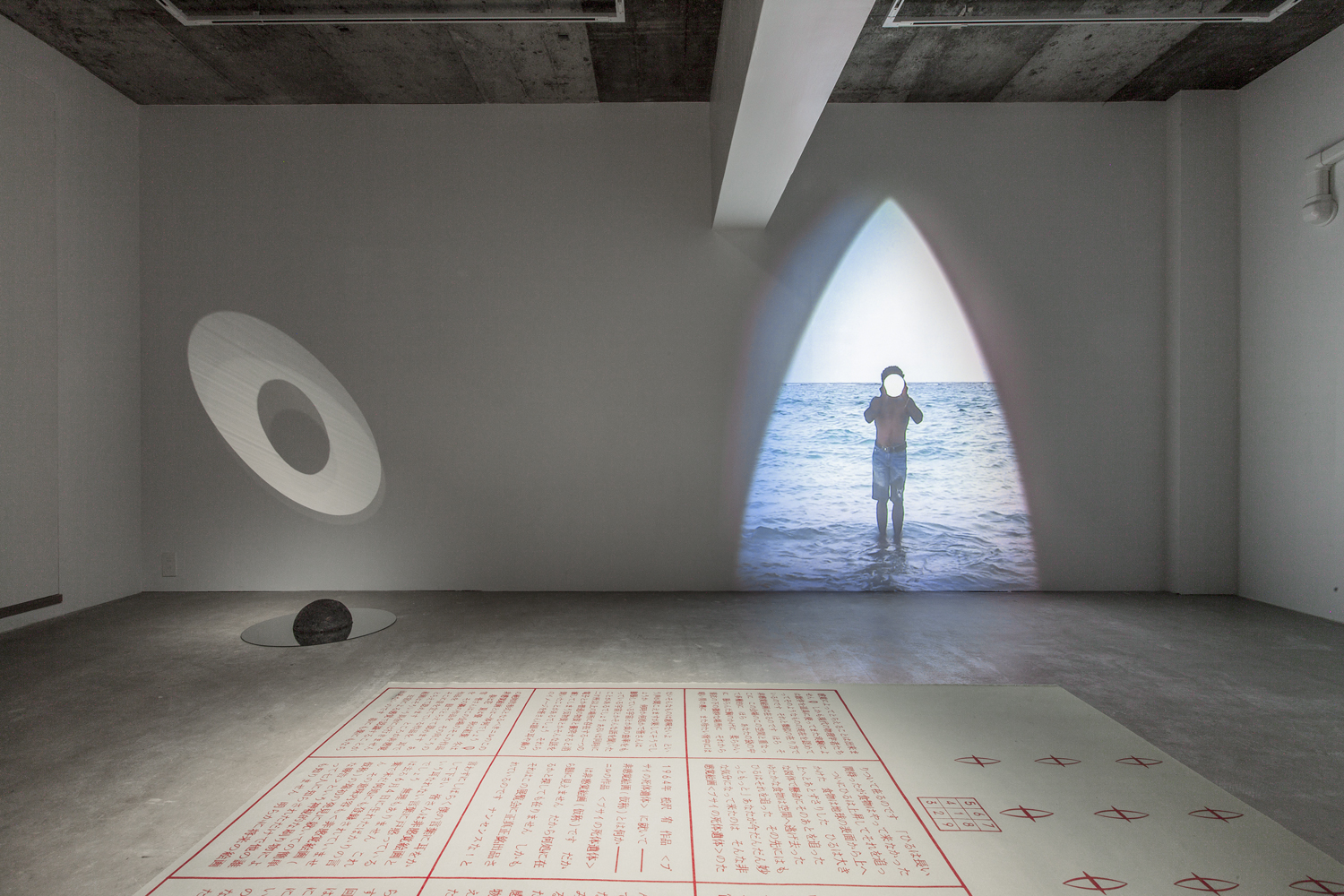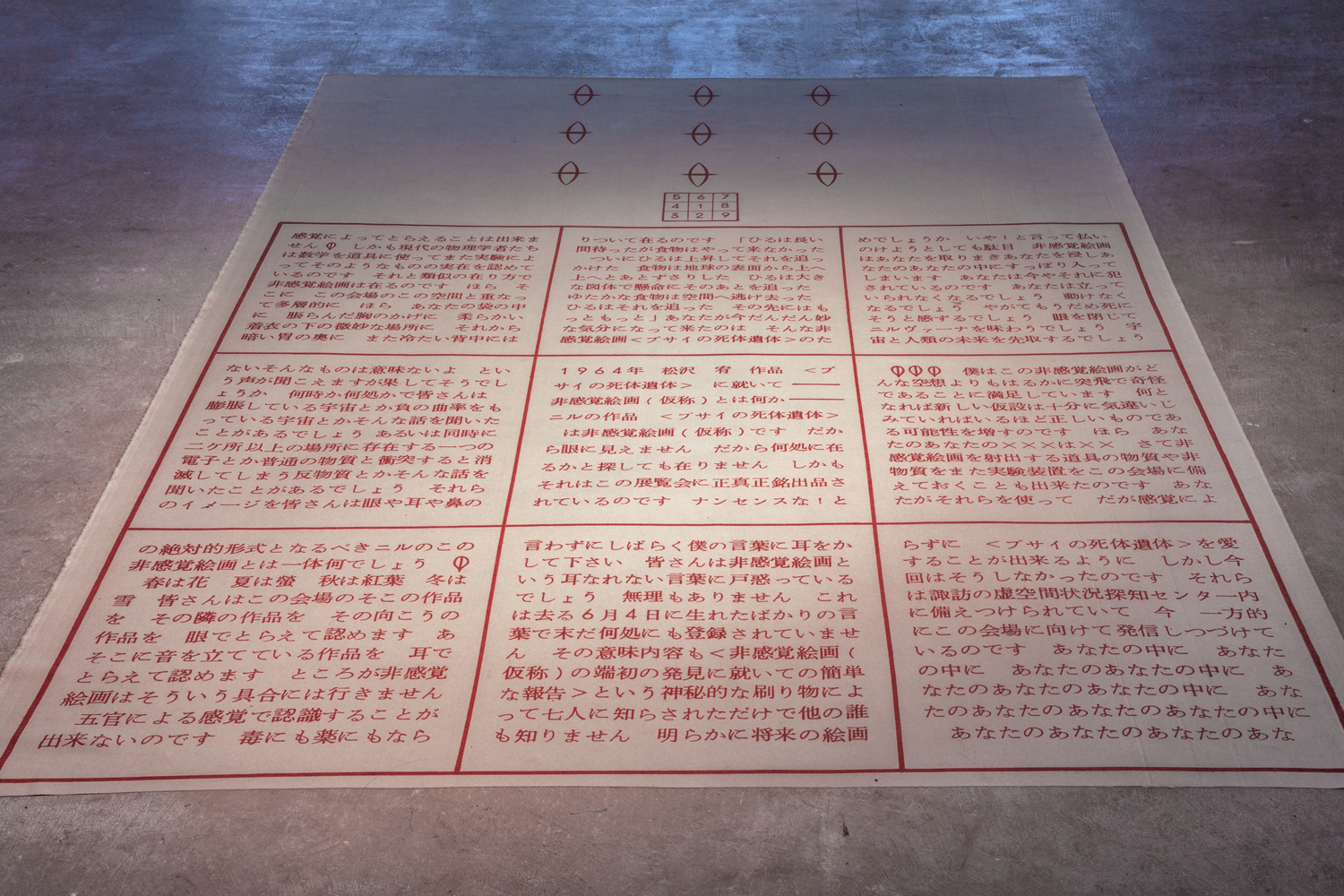 6. Above: Zoé Schellenbaum, Artificial Horizon, multimedia installation. Below: Matsuzawa Yutaka, Psi Corpse, lithograph. Photo: Masaharu Futoyu. Images courtesy of the curator.

Accompanying Matsuzawa's work is a multi-part installation by Zoé Schellenbaum. She made headphones with shells that we placed in front of her video installation. The combination provides a nod to childhood memories playing with seashells. She also created a special work for this exhibition with earth and ashes from Shimosuwa in Nagano Prefecture [Matsuzawa's birthplace]. Dealing with memory, this installation highlights a nondigital form of virtuality, that is to say an analog virtuality. Schellenbaum provides us with a silent meditation on the spatial arrangement of this room. From the centerpiece, we invite visitors to move outwards following Matsuzawa's mandala. Schellenbaum interpreted Matsuzawa's work form and content, via several elements, to create a sanctuary of virtuality, out of the digital age.



Dreams represent the purest realms of virtuality, present long before the advent of the digital age.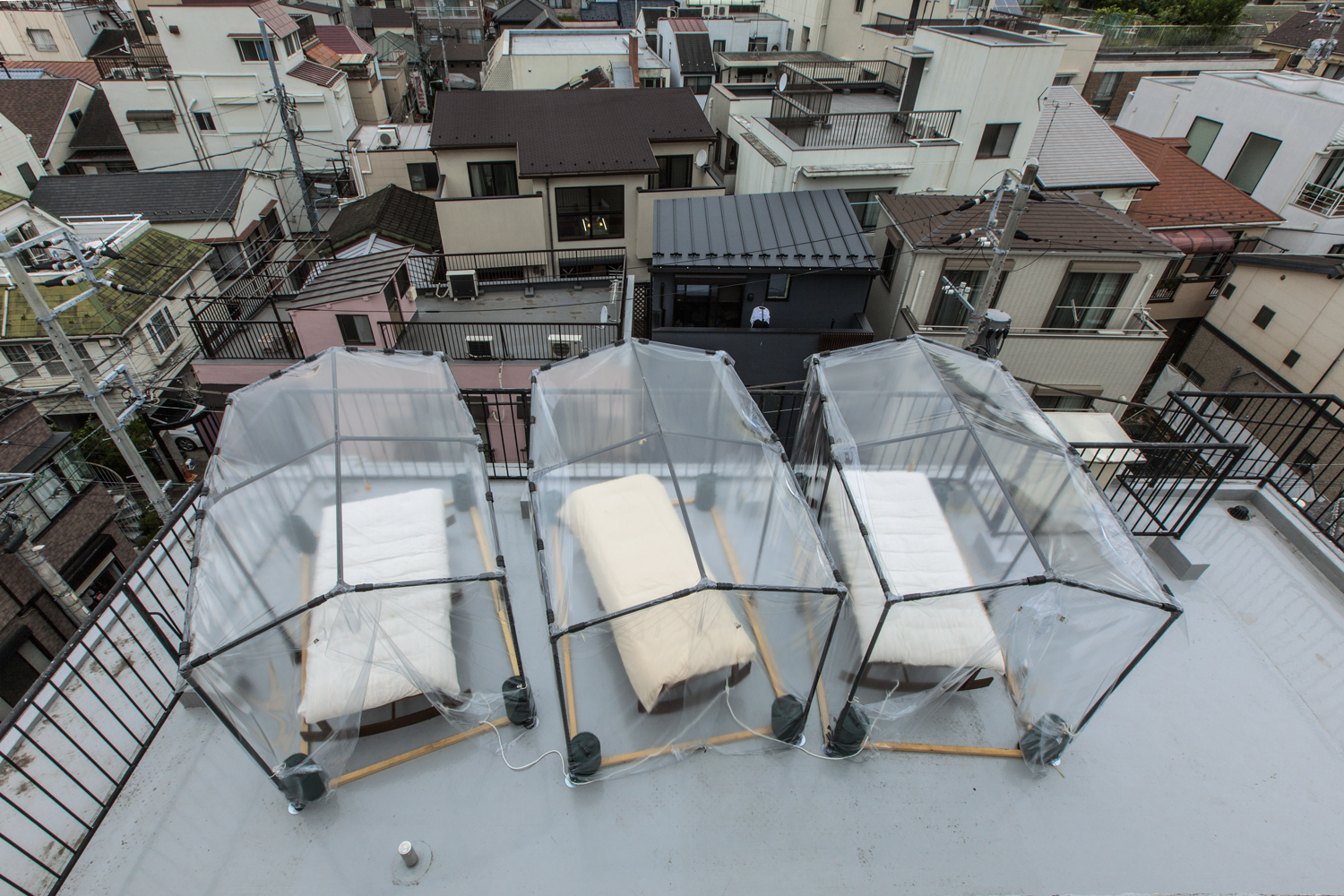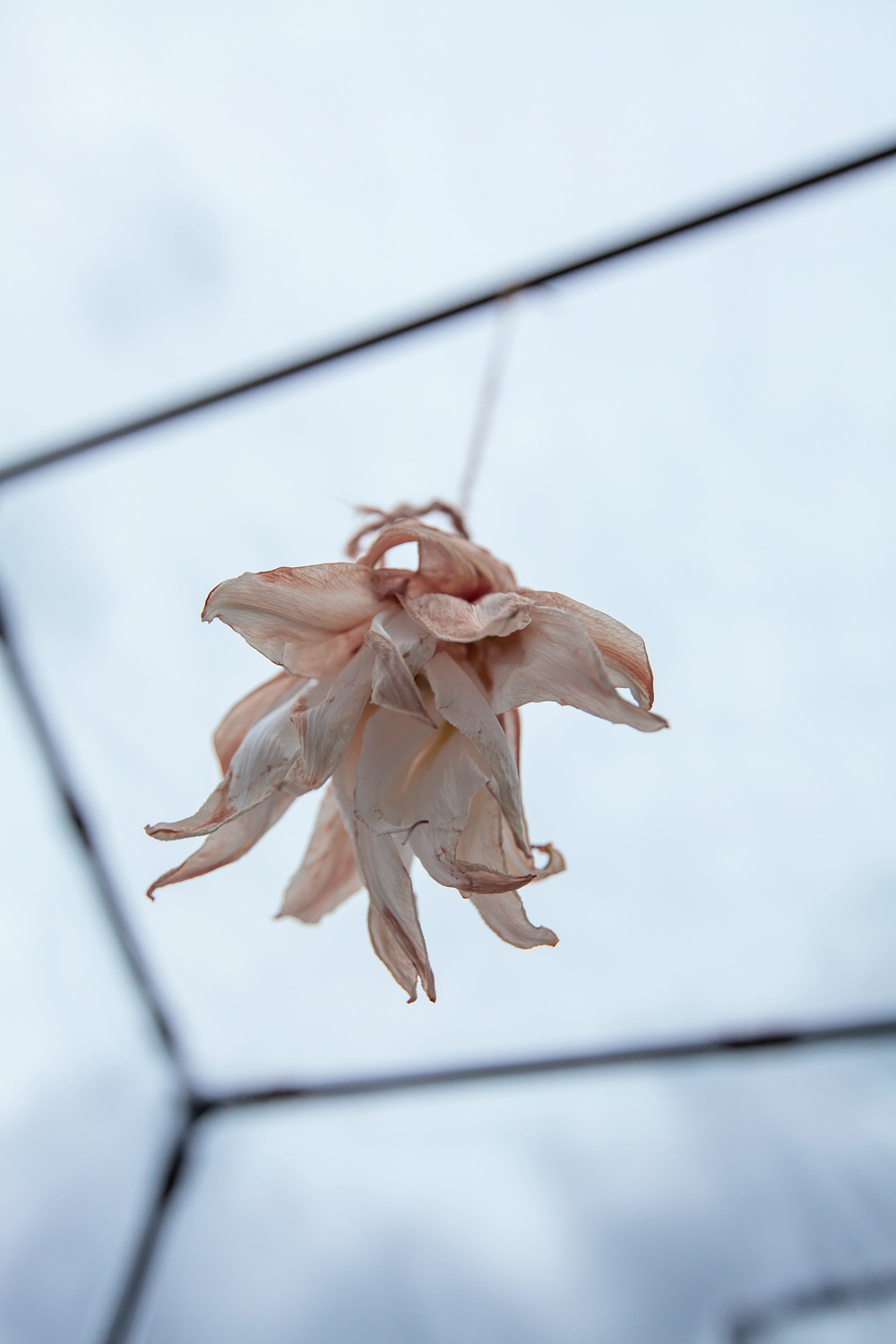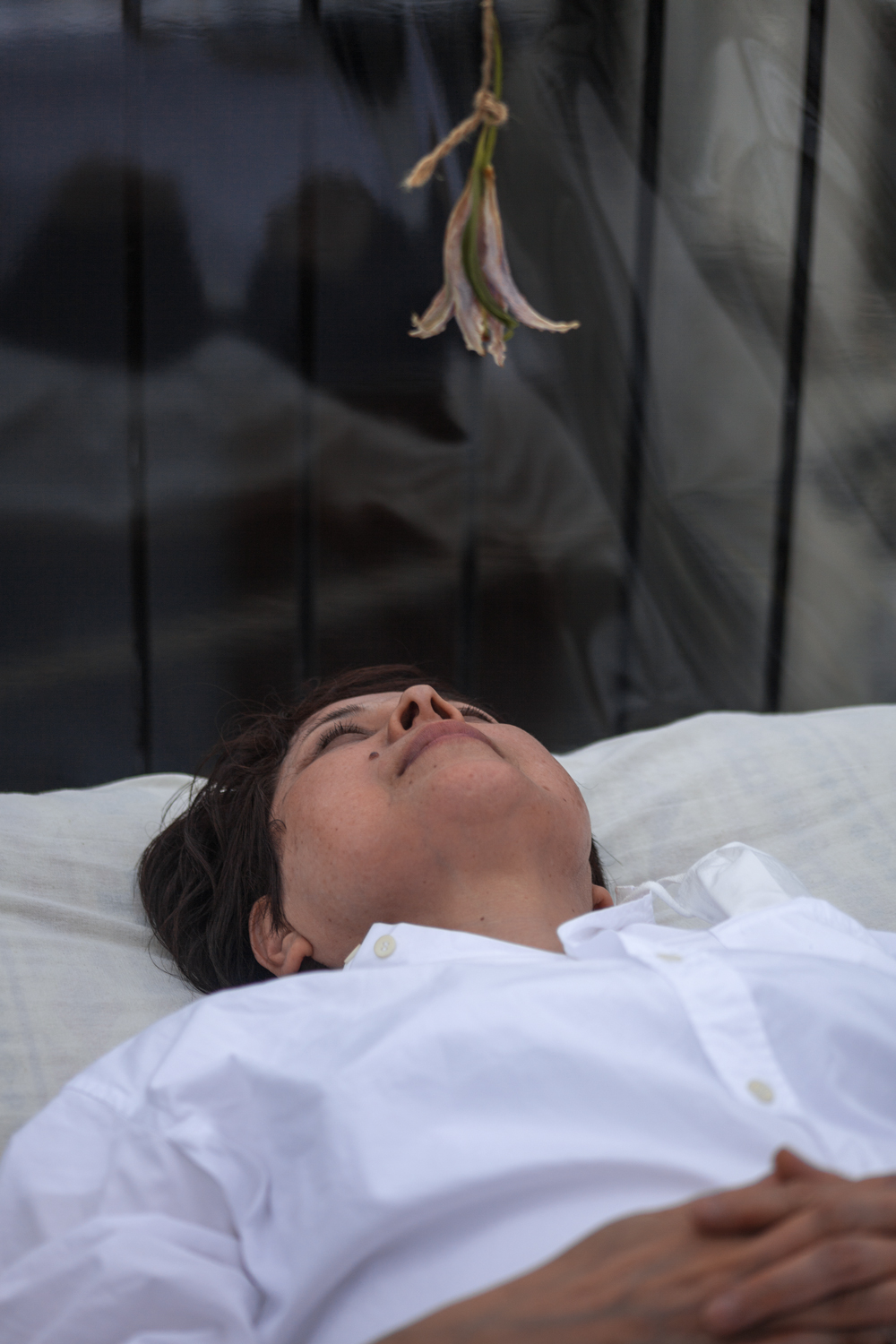 7. Mio Hanaoka, Onirisme Collectif -Day Dream (The First Night), participative installation. Photo: Masaharu Futoyu. Images courtesy of the curator.

In the balcony, Mio Hanaoka presents dreaming vehicles. She turned her performative project, Onirisme Collectif, in which visitors are invited to a collective night experience framed around REM phase, into an installation. Inviting exhibition visitors to lay down on handmade wooden cradles arranged in greenhouses, this work reveals an organic virtuality. While the visitors rest and let their daydreams form and develop under lily flowers – a reference to Sōseki Natsume's Ten Nights of Dreams – their experience becomes the medium of the work. I like to interpret the work in the light of Deleuze's Difference and Repetition, because the visitors have the same but not the identical experience of the installation. It is not a matter of similarity. Their individual experiences merge into the collective and repetitive process provided by the work. The concepts of network and community are also apparent in the rope tying the small beds together.




---
"The Virtual Concreteness" was on view from May 16 to June 3rd, 2021 at The 5th Floor, Tokyo, Japan.
Learn more about the exhibition here.

Alexandre Taalba is a researcher, curator, and antinuclear activist. His research deals with the representations of the atomic bomb in Japanese postwar art and cinema, postmodernity, and dystopian narratives in Japanese underground and pop culture. He focuses on the concept of nothingness and virtuality in the nuclear age.

Published by:



e-issues.globalartdaily.com

A Global Art Daily Agency FZ-LLC subdivision.
Copyright, 2015-2023.
For reproduction, please contact us.