Thaely Kicks Off Sustainable Sneakers


By Daniel H. Rey

Published on October 14th, 2020

Done with this week's groceries? Imagine your average plastic bags becoming your next pair of sneakers. Thaely, an up-and-coming sneaker brand conceived in Dubai is ready to enter the market with shoewear made entirely of recycled plastic.

"Thaely," the Hindi word for 'plastic bag', is a passion project turned business. With its inaugural collection launching later this December in Dubai, Paris, Tokyo, and Singapore, this new sustainable brand carries a remarkable backstory. I spoke with the brand's 22-year-old founder, CEO, and Creative Director Ashay Bhave about Thaely's vision and the necessity for clean production processes, and what Dubai's entrepreneurial energy can offer young-trepreneurs like him.



Image courtesy of Thaely.

The idea for Thaely first emerged in late 2017. "I was working on new ideas for my design portfolio," Bhave explains. It is surprising that only three years later, his rapid rise has led him to a recent feature in GQ Middle East by collaborating with Palestinian brand Tra$hy Clothing. Chasing hype was not Bhave's prime motivation, however. Originally Indian, he noticed a paradox with the use of plastic bags in his home country. While a country-wide ban excluded the use of plastic bags, their use was still widespread. As he puts it, "there are one trillion of these bags used every year but there is no real way to recycle them. They just end up in landfills or they are burned for electricity."

Bhave then developed a process that recycles plastic bags but doesn't use or produce any chemicals. "It's a completely physical process. It uses relatively small machines that are easy to find and cheap to make," he explains. The operation started small: Bhave made his first machine at his house. "I did this whole processing on my balcony. I had this material at the end that was entirely made of plastic bags but looked and felt like leather."




"I did this whole processing on my balcony."



Excited about the prospects of this new material, Bhave immediately thought about footwear, sneakers in particular. "I previously studied footwear design so I thought the best use for this product would be sneakers." In the summer of 2018, he returned to India and gave his new fabric to a local shoe repair shop. All of this was happening in conjunction with Bhave's undergraduate studies at Amity University Dubai. The designer then suddenly met a serendipitous opportunity. A start-up competition was to take place at his university. "Usually you don't get any investment from that competition, but the prize is one year worth of office space at the university. So I made a whole business plan and pitch to go with the idea. I presented it alongside the shoe I made at the competition. I was the only participant who had a physical prototype ready."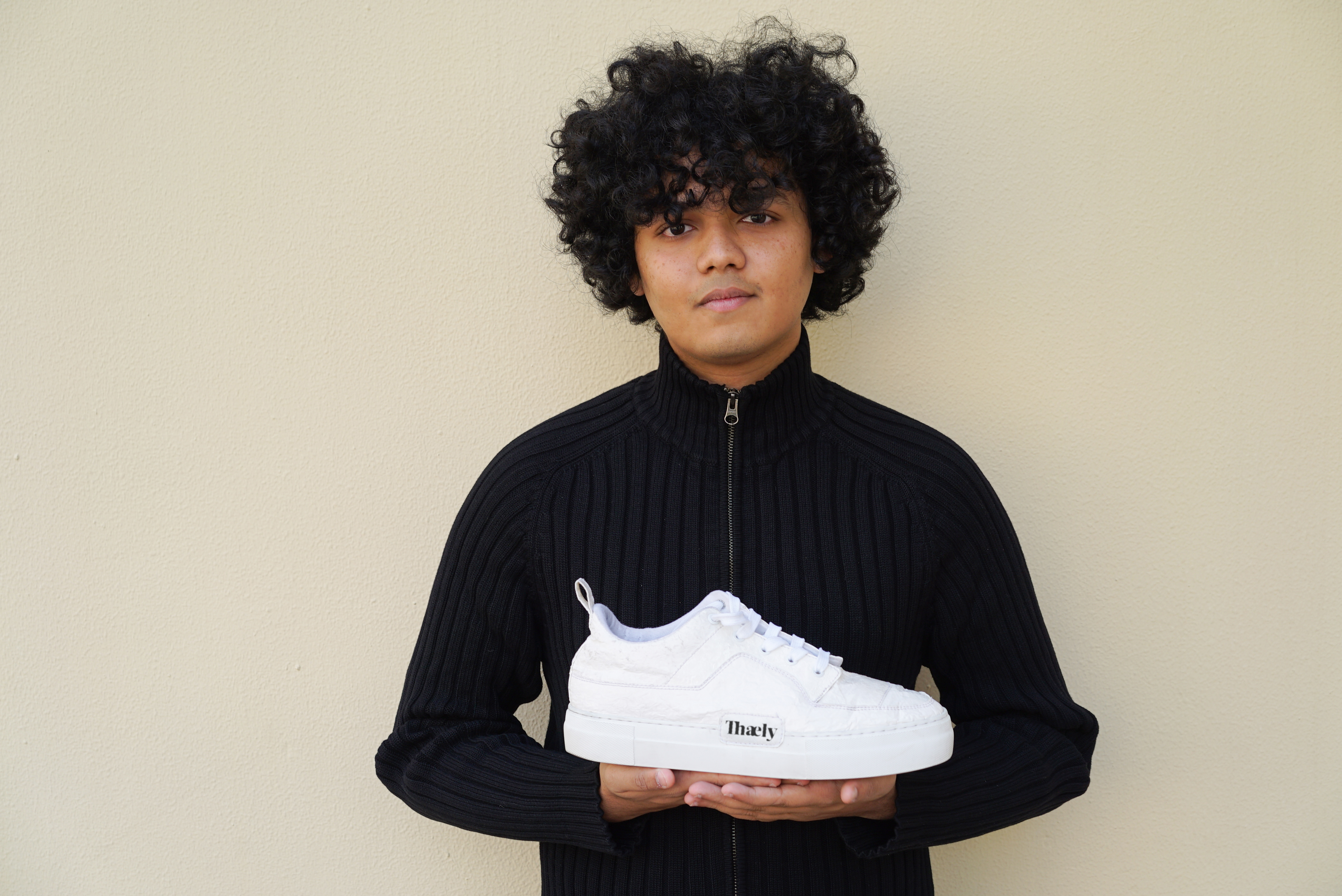 Headshot courtesy of Ashay Bhave, Founder, CEO and Creative Director of Thaely.


One of the judges, Matteo Boffa, a social entrepreneur and investor, had a fashion brand that made bags out of billboard material. He got interested in Bhave's idea. The company that Boffa was working at at the time made fabric out of recycled plastic bottles. "[Boffa] was in the right field and he was interested. He gave me his card. I ended up winning the competition. I met him after and he decided to be an investor and partner in the company. He then got me three other investors."

Equipped with the right dose of mentorship and generous funding, Bhave made another prototype at Italian Shoe Factory in Alserkal Avenue, Dubai. He was also perfecting the recycling technique and made it more efficient. "The whole processing time went from 1 minute to 10-15 seconds. Everything was automated, temperature, pressure, time. I repurposed a machine by myself." He then went to a larger factory in India, where he got more prototypes made and later negotiated production. He also set up a small production unit in Mumbai to recycle the plastic bags.




"I repurposed a machine by myself."


Ranging from $100 to $150, Thaely's reasonable price point speaks of the sustainable ethos driving the brand. New models are launching in December and their soles are entirely made from recycled rubber. The inside of the shoe, laces, and front parts are all recycled plastic bottles. Every other part of the shoe will come from recycled plastic bags.

Thaely is proud to be a 100% vegan sneaker brand and claims not to use any additional chemicals in its production process. "We even developed a specific vegan glue, a different type from the animal cartilage-sourced glue used by many other brands," Bhave explains. For the designer, this stance comes from the brand's identity. "Thaely is an all-encompassing brand that deals with sustainability. Concern for the environment is part of the overall business model, not just in the end product. Everything needs to be ethically done."



Concern for the environment is part of the overall business model, not just in the end product.



Not only does Thaely's production process reflect efficiency, its designs are also synonymous with simplicity. About his first sneaker, Bhave comments: "I wanted to keep it simple for the first sneaker. I always see these new eco-friendly brands that have strange designs." The inspiration behind Thaely's inaugural sneaker drop was basketball sneakers and skateboarding sneakers from the early 2000s, models like the popular Air Force One's and Nike SBs. "I wanted to keep it classic," Bhave elaborates. "A Thaely pair is something that you can match with every type of outfit, from business to casual wear. I wanted to keep it clean and minimalistic, a blank canvas for people to draw or write on."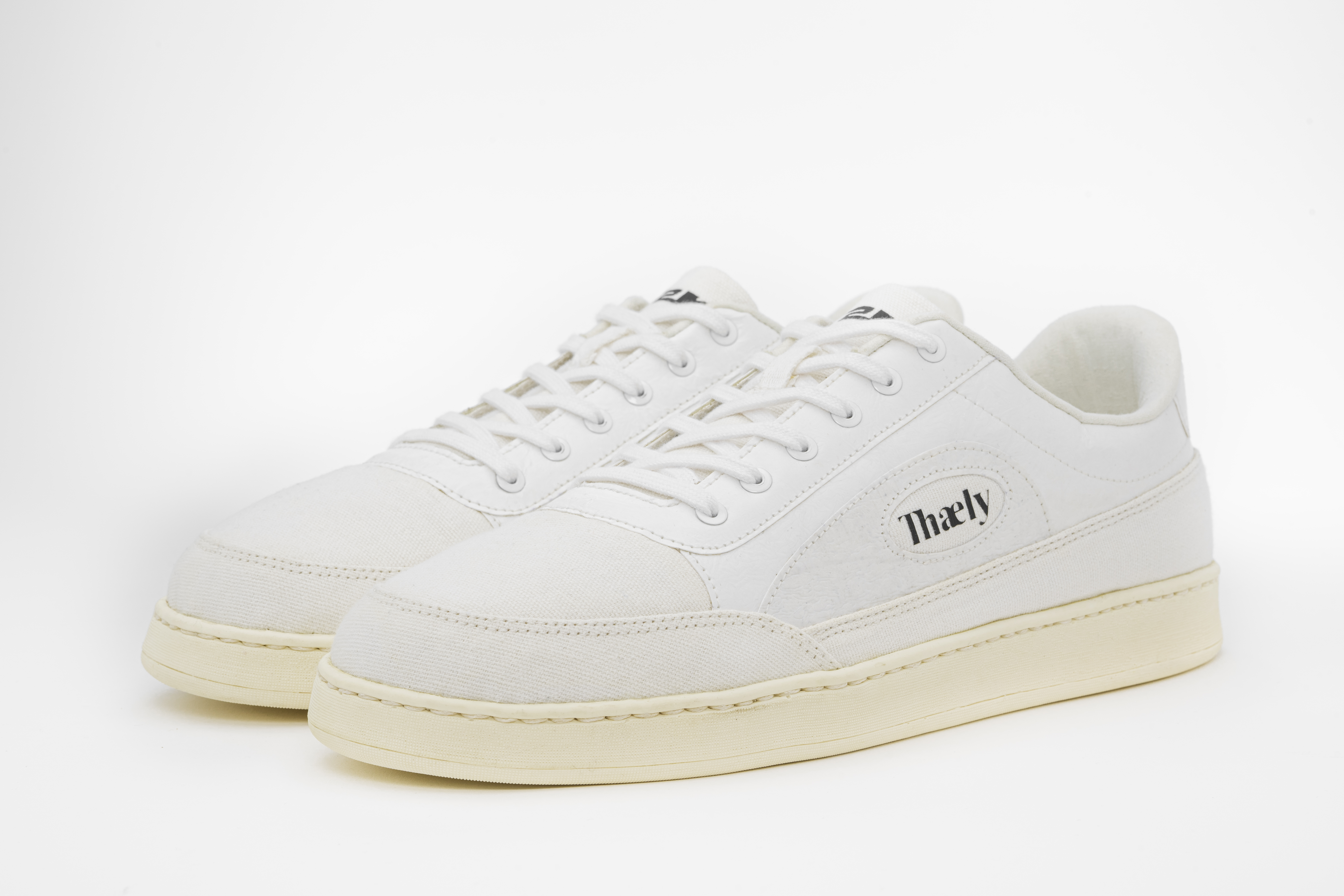 Image courtesy of Thaely.




Having a white canvas means that Thaely's design possibilities are endless. Printing techniques for patterns can make any idea come to life, from deep dyes to colored soles. "The process is super customizable. Anything you can imagine can be on a sneaker." In the future, Bhave imagines that customers will be able to customize their pair of white sneakers with different patterns and soles.




"Anything you can imagine can be on a sneaker."



Bhave does not lack ambition for the future of Thaely. "I want Thaely to be a household name. I don't want the brand to just be limited to shoes. I want to do clothing, bags, furniture, an entire lifestyle brand." Bhave shares that one of his dream collaborations would be a sustainable line of furniture with IKEA. He is also open to expanding to food and beverages. "If I ever have a physical store, I want to build a vegan cafe to go with it." When asked about who he dreams to see wearing his sneakers, Bhave replies quickly with various celebrities who have been known to promote vegan brands: Gwyneth Paltrow, Meghan Markle ("she is into sustainable sneaker culture," the designer swiftly comments), and YG. Bhave also highlights the importance of community support in building a brand from scratch. He has a special affinity for skateboarding and BMX. "There are so many skateboarders in Dubai but there are not many sponsorships. I want to give people that chance and maybe one day sponsor skate events or pop-ups. Every opportunity I get I will involve the community. "




"I want Thaely to be a household name."




As every emerging designer should be, Thaely is active on social media. Launching amidst COVID-19, the designer had to be resourceful and rely even more heavily on digital marketing. Thaely was one of the designers featured in the first edition of Cyber Fashion Week, an initiative started by Tra$hy Clothing. He shared images from Thaely's lookbook, and launched a special AR filter for the occasion.

Even though the pandemic delayed Thaely's launch — "if not for the pandemic, we would have launched already," Bhave hastily comments — the designer feels this is the right time. "There is more of a focus on sustainability, especially after coronavirus. The market is finally mature enough. People would rather spend a bit more but get something that is sustainable and well-made."




"People would rather spend a bit more but get something that is sustainable and well-made."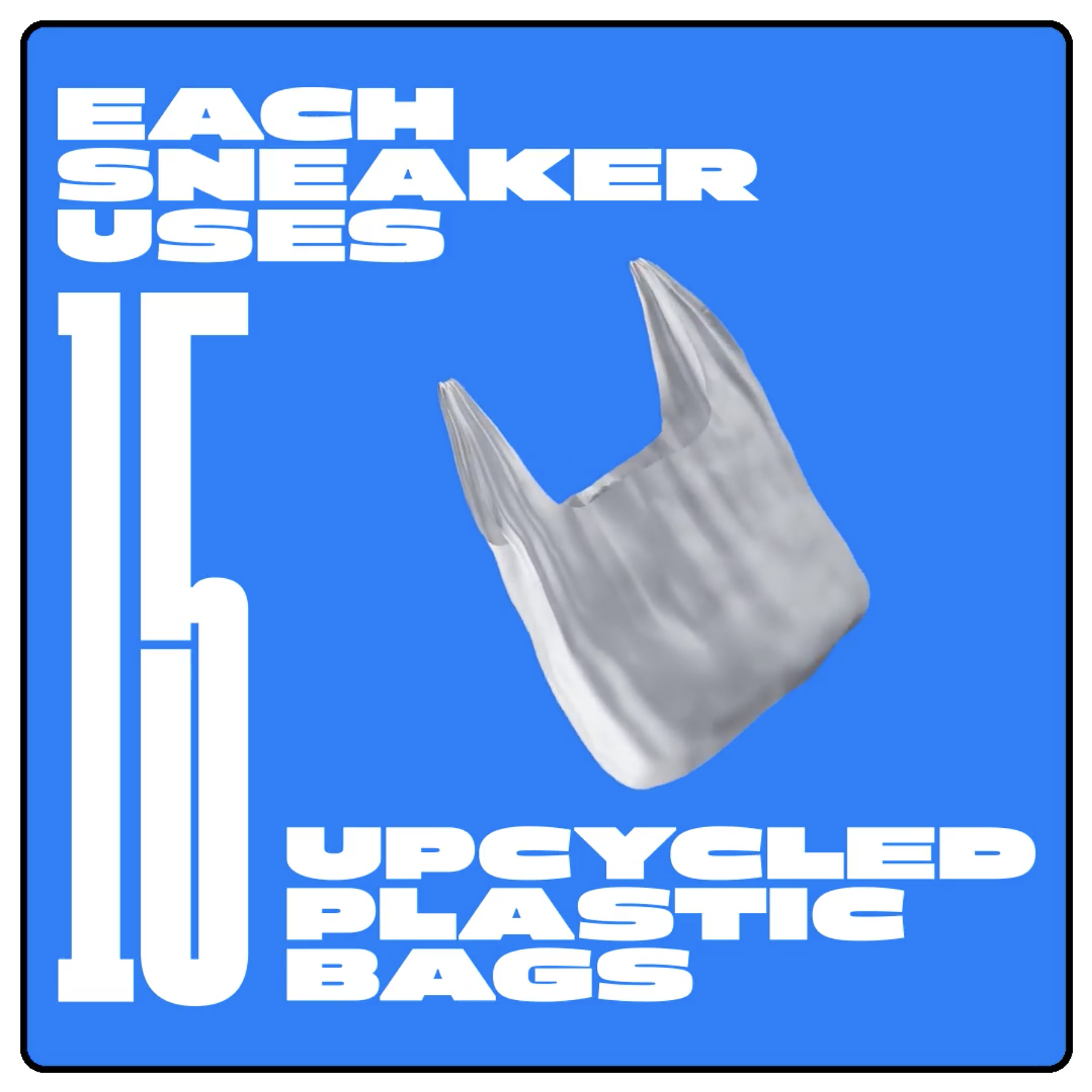 Images courtesy of Thaely.


Finally, Bhave praises Dubai's role as an incubator of fresh ideas and young talents. "Because I'm in Dubai I have access to things I wouldn't normally have access to. I've gotten a lot of media attention, we've got two grants from the government, access to investors. You wouldn't see that happening elsewhere." At the same time, Dubai presents its drawbacks, especially in the manufacturing industry. "I'm not manufacturing anything in Dubai. Suppliers are a big problem here. Dubai has a service-based economy, and large-scale clothing manufacturing is mainly functional here. There is a clothing industry in Dubai but all it deals with is making uniforms."




"Because I'm in Dubai I have access to things I wouldn't normally have access to."




Dubai nevertheless has a leg up in terms of investor relations and customer base. It may be an anomaly to have a 22-year-old get so far with his first company but Dubai's supportive start-up ecosystem has helped Bhave's carve out his niche product. "Some suppliers don't take you seriously because you are not a grown-up man. But because I'm young and working on a business that is good for the environment, I've noticed a lot of people want to help me and support me even though they don't really know me." He expands, "everybody understands the fact that I haven't done this before. They take that into consideration and help me along the way."

"I would say doing business is challenging at any age, but at 22 is especially hard because you are doing everything for the first time. I don't have any frame of reference. There is no handbook for doing this."



---
Thaely is Dubai-based sustainable sneaker brand launching its first collection in December 2020.
Visit Thaely's website.
Follow Thaely on Instagram.

Published by:



e-issues.globalartdaily.com

A Global Art Daily Agency FZ-LLC subdivision.
Copyright, 2015-2023.
For reproduction, please contact us.