Raed Yassin in Abu Dhabi

By Sophie Mayuko Arni

Published on November 18, 2016

I had the chance to sit down with Raed Yassin (b.1979, Lebanon), multi-faceted artist and emerging superstar of the Global Contemporary Art world. Yassin embodies the definition of today's post-media artist, working as fluidly with photography, sound, and video but also embroidery and ceramics. He is also a member of PRAED, a jazz-meets-electronic and Arab pop music band. Yassin not only foresees trends but shifts them to his ease, framing his work in his native Lebanese cultural context. Based between the Middle East and Europe, Yassin is slowly and surely securing his position as an established voice in both the art world and alternative music scene. Unlike many of his peers, he retains refreshing freedom and flexibility in the subject matter he discusses, thanks to the range of media he uses and also the cross-cultural dialogues he fosters.

Yassin was in Dubai for his latest solo exhibition at the Isabelle van den Eynde gallery. I caught up with him in Abu Dhabi, where he was performing later that day at the Saadiyat Beach Club. I chose to focus this interview on one of his most famous works, Yassin Dynasty (2013). A masterpiece of trading networks culminating in a series of blue and white porcelain vases made in Jingdezhen painted with Lebanese Civil War iconography.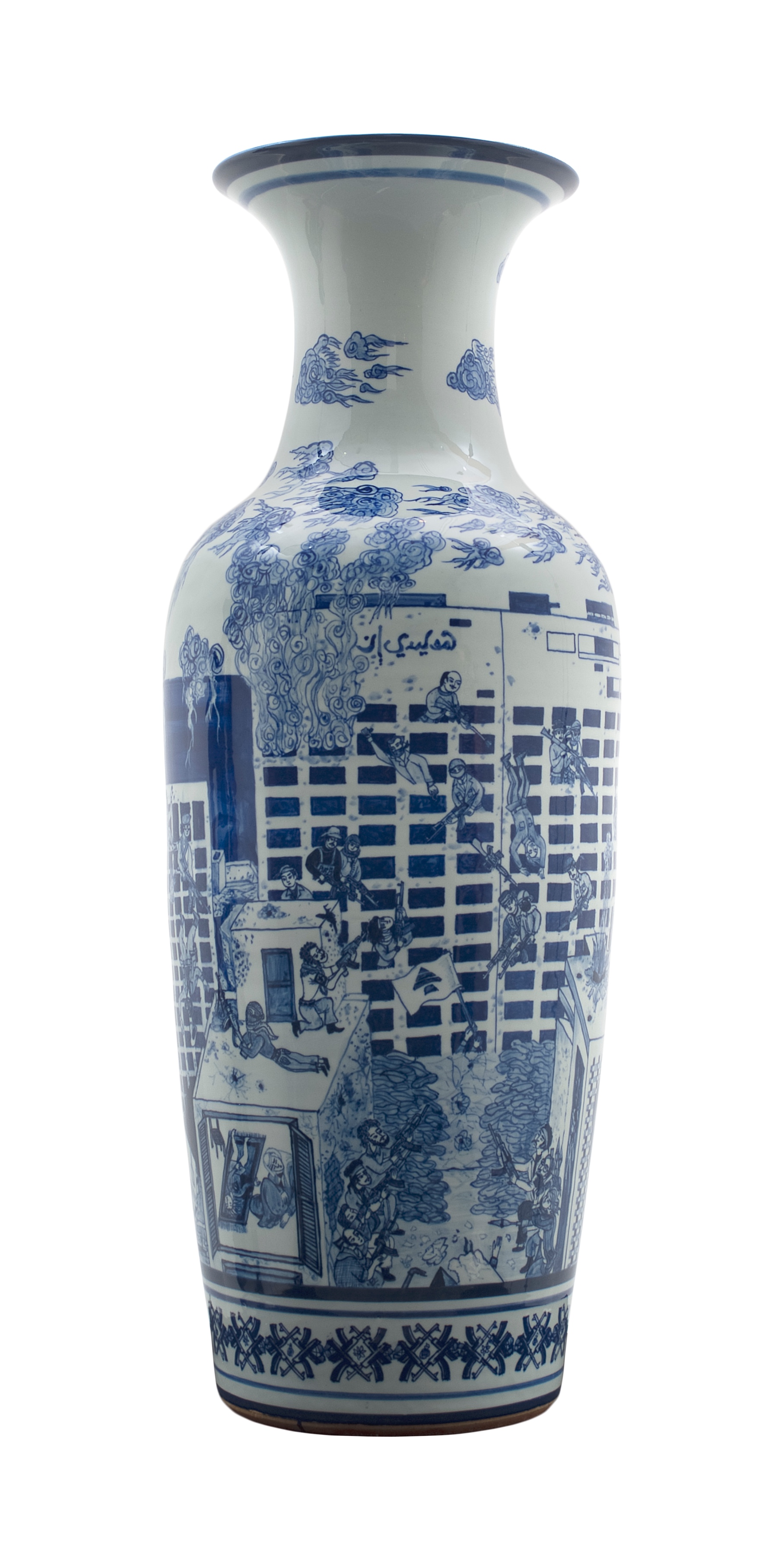 Raed Yassin, War of the Hotels (part of China series), 2012. Hard-paste porcelain, ink. Jingdezhen, China. Abraaj Group Art Prize Collection, Dubai. Courtesy of the artist.


Sophie Arni: Thank you for agreeing to meet for this interview. I am a huge fan.

Raed Yassin: Thank you.

S.A.: I wanted to ask you about Yassin Dynasty (2013). I remember seeing the work at the Leighton House Museum earlier in 2015. Can you tell us more about the work?

R.Y.: The first title for the work is China. Yassin Dynasty was the second series of work, produced under different porcelain masters. Both remain similar: vases produced in Jingdezhen with Lebanese Civil War iconography.

S.A.: What was your inspiration behind the piece?

R.Y.: The main inspiration comes from reclaiming the artist's authority. I grew up in the Civil War, but I don't want to be labeled a 'war artist'. Instead, I wanted to transform the civil war into something decorative. I looked at how Ancient Greeks documented the wars and victories of their nation unto their pottery. They were depicted with precision, turning war into art pieces. S.A.: Ancient Greek vases? Fascinating.R.Y.: Yes, the problem is that the history of the Lebanese Civil War has too many points of view. We have not reached the point to agree on one history. So I turned to another aspect of vases and ceramics. My work is always directed in some ways to mass production and consumption. It's a subject I deeply care about. I think of China as an industrial environment. And I thought, why not have Chinese masters paint our war history? I wanted to incorporate people who don't know about Lebanon and our politics to paint this subject matter with an alienated distance — both culturally, and industrially.

S.A.: How was the process like to find Chinese potters? Were they ever reluctant to work with you?

R.Y.: No, it wasn't that much of a problem. I approached a porcelain dealer in Jingdezhen who directed me to several masters. They are plenty in the old city of Jingdezhen, given that it was the Chinese capital of porcelain production for centuries. Today it remains the capital of hand-made porcelain. Factory-made porcelain is made elsewhere.

But there was an extra step to the process. After I knew I wanted vases depicting the civil war, I spent some time perfecting the iconography. I found people who had fought in key battles of the war, battles that changed Lebanon demographically. I got fighters to describe as vividly as possible their memories of the battles, the traumatic images they saw, their memories of the places, and military equipment. With these interviews in hand, I drew some compositions made of fighters and artillery — very flat sketches. I knew I wanted to dedicate one battle to each vase. The third step in the design revolved around the shape and iconography. I got a Lebanese comic artist involved. I told him to draw the scenes based on my sketches in a Persian miniature style.

S.A.: Persian miniature? How come?

R.Y.: It's an extra step of distance. To take the war as far away as possible from its original context and into the realm of decorative arts. Persia seemed like a good addition — it is part of today's Arab World and closer geographically to Lebanon compared to China. I also learned that Persia and China were connected historically through trading networks. The blue ink we associate with blue and white porcelain actually —

S.A.: Came from Persia. Cobalt blue.

R.Y.: Exactly.

S.A.: That's fantastic. The layers of cultural exchanges at play in the object you created.

R.Y.: That was the intention of the project: hybridity and alienation. The fourth and final step in the design took place in Jingdezhen. With the finished war battle designs, I looked for masters who could execute them on vases.

S.A.: Were you also in charge of choosing the vases' shapes? How did you make the decision?

R.Y.: I chose the shape on the basis of the iconography. If one battle scene was larger, I would assign it a larger shape for example. The shapes mostly came from scrolling through various Chinese porcelain books.

S.A.: How many masters did you work with?

R.Y.: 5 different masters, for a total of 7 vases. They already worked in blue and white, so I went along with the style. I chose second-degree masters since they were cheaper and also more flexible. First-degree masters are incredibly expensive and usually stick with the designs they know and have spent decades mastering.

S.A.: I'm sure there were some logistical issues in Jingdezhen. Can you share some? Out of curiosity.

R.Y.: Well, for starters, we went to Jingdezhen in December. Porcelain production slows down in the winter since you need a lot of heat and water for the functioning of the kilns. Many porcelain pieces ended up breaking in the kiln from the cold weather.

S.A.: What an incredible process and journey to creating Yassin Dynasty. Can you tell us more about choosing 'Yassin Dynasty' as the title for the series?

R.Y.: I was really involved in the process of studying Chinese porcelain. I quickly learned the importance of categorizing pieces by dynasty, from Tang to Yuan. I decided to create my own dynasty of vases. There is a total of 49 vases under the Yassin Dynasty, which are traded — just like a few centuries ago — around the globe by collectors and displayed in museums.

S.A.: How about the idea of commissioning? You outsourced all the technical aspects of the production of these vases, from their iconographical design to the porcelain-making. What do you have to say to people critiquing you for it?

R.Y.: I say, look at the Renaissance. From Velasquez to Da Vinci, artists had students and apprentices. Working in teams is part of art history. In today's digital world, commissions are made online all the time.

S.A.: And what about your other work, Dropping a Yassin Dynasty Vase? The triptych is an homage to Ai Weiwei as I understand it.

R.Y.: Dropping a Yassin Dynasty Vase is a work about our relationship to consumption. I interpreted Ai Weiwei's famous Dropping the Han Dynasty Urn and turned it around on another degree. I am dropping my own work, not a historical piece.

S.A.: Right, I see your work more aligned with the conceptual/popular culture, consumption/production dichotomies of socio-politics. Let's go back to the porcelain and let's talk about exoticism. Do you find your vases to be exotic? Did you, consciously or unconsciously, create exotic products?

R.Y.: No, there's no link to exoticism. I think exoticism is a key to open up barriers, but it is not a key to understand the Other. China, as I see it, is not exotic today. It resonates more with a 21st century center of mass production. China also became a noun for porcelain. So we are not even talking about China as the distant and mysterious exotic land but as china, the porcelain.

S.A.: What about another keyword: 'hybridity'?

R.Y.: I'm so far from purity in my work. After the constant global exposure we get every day, from the news, from the internet, we need to be hybrid. There is no other way. That's the way I see it.

S.A.: Agreed. Finally, you're in the UAE right now for the opening of A Feeling in Perspective, your solo show in Dubai. Can you tell us more about it? What current topics are you exploring, have you explored?

R.Y.: This body of work deals with manipulation in Egyptian cinema. I made a series of 100 polaroids and glued them together to present the audience with a path down my family's memory lane based on scenes from famous Egyptian movies of the 1960s. I also produced a 20-minute long video karaoke, to reconstruct lost albums and personal traumas through memory. Egyptian pop culture is a unifying vehicle of identity for the whole Arab world, from Cairo's Golden Age in the 60s. I thought I would bring it to the forefront while exploring more personal feelings and stories.


---
The following interview was originally published on Global Art Daily's main website. It was conducted in downtown Abu Dhabi, as part of the author's capstone research for NYU Abu Dhabi.

Published by:



e-issues.globalartdaily.com

A Global Art Daily Agency FZ-LLC subdivision.
Copyright, 2015-2023.
For reproduction, please contact us.