The Personal is Art: A Conversation with Hawazin AlOtaibi


By NiccolòAcram Cappelletto

Published on June 26th, 2023

The following conversation took place on April 21st, 2023.

Niccolo Acram Cappelletto: Thank you very much for your time. First, I want to say that the idea for the interview started when the curators from TWO HOURS AGO I FELL IN LOVE – a festival in Rimini, Italy – told me about you knowing I had just left the Emirates after 5 years. I really wanted to talk with you since you raise issues on the Gulf in your art. At the festival, I went to your DJ set and I remember vividly when you put that Sega Bodega's song. I was like, oh! I was waiting so long to hear it in a club context and it actually hit the spot.

Hawazin Al Otaibi: I wanted to play it because it's a fire track. Actually, I had one of my paintings there as well. It was the flower one and it is still somewhere in Italy. It's the place I visit the most.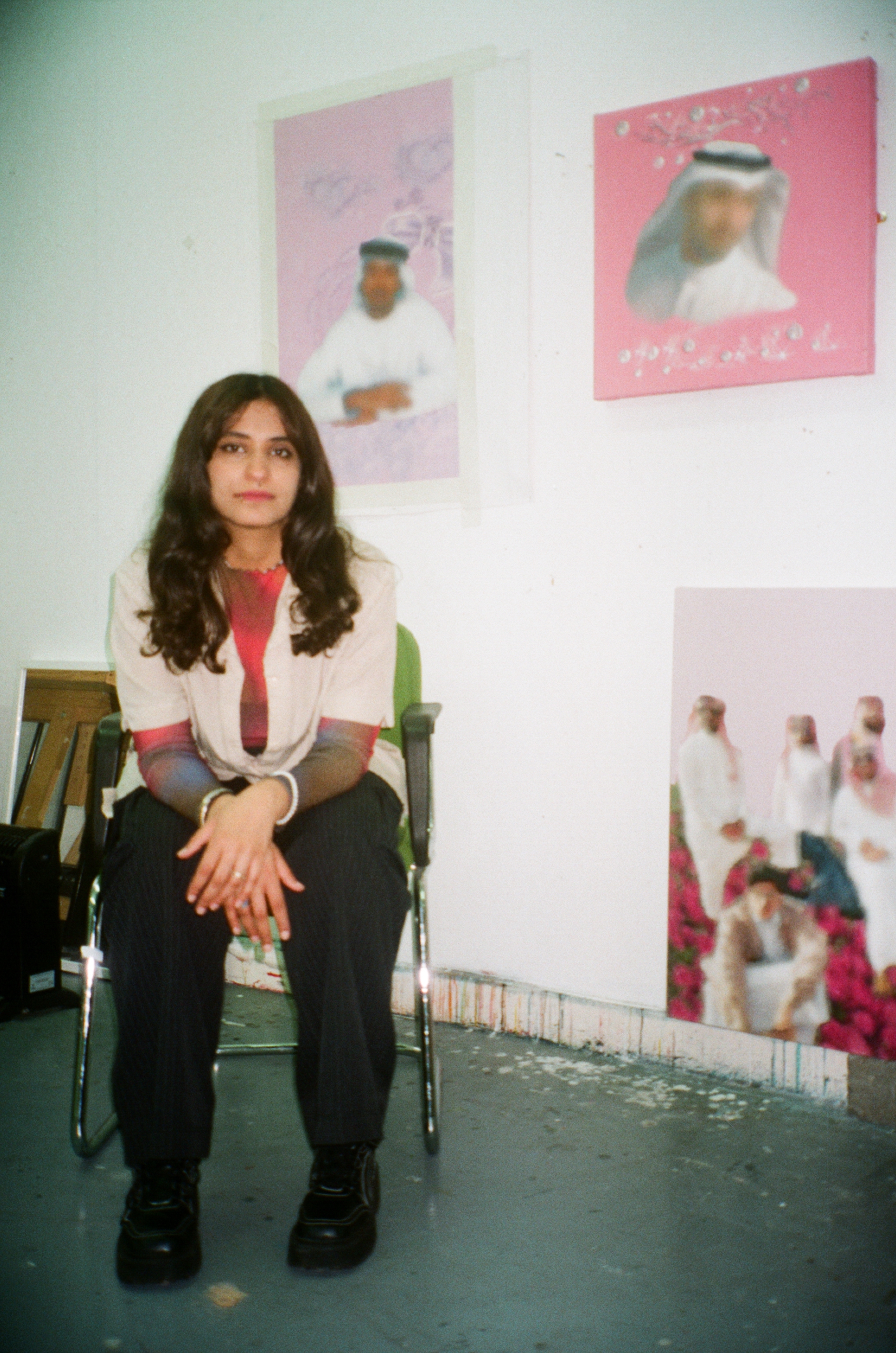 1. Hawazin AlOtaibi in her studio. Courtesy of the artist.

N.A.C.: Let's start from the beginning. Who is Hawazin? How is she as an interdisciplinary artist? That's one of the most interesting aspects to me. How do you cross over painting and music and sound?

H.A.O.: There are so many ways to answer this, because I don't think there's one thing that drives me to do both and sort of shift both or try to link both. As much as I sometimes feel like painting and music are separate, I realize they're not. In a weird way, when my taste and art changes, what I want to see in my work changes, whether it's as simple as what colors to use, what image to use. I see that in music too. I also look for these kinds of sounds so they're not exactly the same but belong in the same category. I think it all comes down to me, and what information I feed off of in my daily life, and how it connects to my foundation and my upbringing. Why am I attracted to this sound? Why is this animation such an attractive visual for me to put in my artwork? And why now do I like electronic music with video games-like sounds?

Painting and music are linked and it does have to do a lot with my background. I grew up actually wanting to be an animator. I used to make a lot of manga when I was younger but then things just keep changing. I feel like I've had so many different phases throughout my life. Sometimes I don't recognize that person. Much of it has to do with the fact that I moved a lot with my family. I grew up between Saudi Arabia and the United States, went to a Saudi school in the States, then went to a public school in the States. Then moved back to Saudi and also moved to the Netherlands. Then the UK. At the time, my family was in Germany, so I had a big relationship with Germany too. I do think that because there are a lot of different experiences that I have been constantly exposed to, there is so much energy in me to explore. There are so many different things, so many different ways, whether it's different mediums or even changing concepts – just trying to see how I can merge two things, not wanting to restrict myself into one thing.



I grew up between Saudi Arabia and the United States, went to a Saudi school in the States, then went to a public school in the States. Then moved back to Saudi and also moved to the Netherlands. Then the UK.


2. Hawazin AlOtaibi, Watermelon, 2021. Courtesy of the artist.

N.A.C.: Going deeper into the manga aspect that you mentioned – did this interest emerge because you were exposed to manga and anime growing up? Or was it something that you found on your own and then became passionate about? How were you exposed to this world?

H.A.O.: You may know "Spacetoon" [a channel dedicated to anime and cartoons in the Arab world, established in Dubai in 2000]. I grew up watching Spacetoon 24/7 and I had a huge appreciation for it. I believed I would have become an animator one day, that was my ultimate goal. I wrote stories too. During middle school, I made comic books for other students, like DIY types of comic works.

N.A.C.: I always found the appreciation for manga and anime so interesting when I first arrived in the UAE. It was really curious to me because I have watched anime since I was a kid and I wasn't expecting that much accessibility to the same material. I found a really interesting cultural connection with Japan. This appreciation stayed with you, because also one of the last paintings that you were making had an anime-like character.

H.A.O.: Yes.

N.A.C.: What about the festival in Rimini?

H.A.O.: Alice told me about the project and so I got the main idea, helped by the fact that I was around Italians and learnt a lot about it as well. And then she said: "We're gonna do it." We talked a lot about the artwork, what we were thinking, and all that. We spoke about how a lot of it has to do with censorship. I experienced censorship in my childhood in a society that tries to restrain you in a certain way, and there were so many similarities in that space as well, and what it used to represent. There were parallels there and we saw it to be a great fit for the space. It was her idea and I I agreed with her. The work did not have to be so literal with the theme of the festival, it was more about the collective experience under the umbrella of control. We were giving a new meaning to that place that immediately felt magical.

N.A.C.: Those days were really magical to me.

H.A.O.: And there were a lot of children occupying the space. Most of my work comes from childhood memorabilia, so it was very much connected in that way.

N.A.C.: Can you tell me more about that?

H.A.O.: You grew up in a country where you think all of this is normal, and this is how it's supposed to be. I come from a loving family – when you are tribal, there are lots of commitments. People don't always understand it in the West. There are many Saudis from different ethnicities that are not Bedouin. There are also the Bedouins. I think that within Saudi Arabia, there are many different rules depending on which family you come from. On top of that, the government has its own rules and its ideologies like protecting the female, or what you should be exposed to from a childhood, even in your adulthood. I'm trying in my work to not necessarily criticize but merely just mirroring what I've been through.



I come from a loving family – when you are tribal, there are lots of commitments. People don't always understand it in the West.



Anyone who wants to look at my work can just choose to see it the way they want to see it. I don't want anyone to consider me as a victim.

There is an aspect dealing censorship, censorship of literally everything – even the manga that I used to read. I remember even finding things where they forgot to censor. It was like a fun game for me. When you grow up, you realize this is just so heavy. It's so heavy because you live in a time in which your individuality is very celebrated. So do your own choices, and this means creating your own path. It is difficult when you have other people to worry about, like society back home.

Although Saudi is heading towards its 2030 vision and it's changing quickly, this aspect still remains. Many European countries don't even think about that. They're really pushing it but it is hard to flip a switch and explain it to people unfamiliar with cultures in the Gulf. I am pro-change. We see that there are people who are accepting the change and living through this change to its fullest. But we still have our family, and at the end of the day.



There is an aspect dealing censorship, censorship of literally everything – even the manga that I used to read.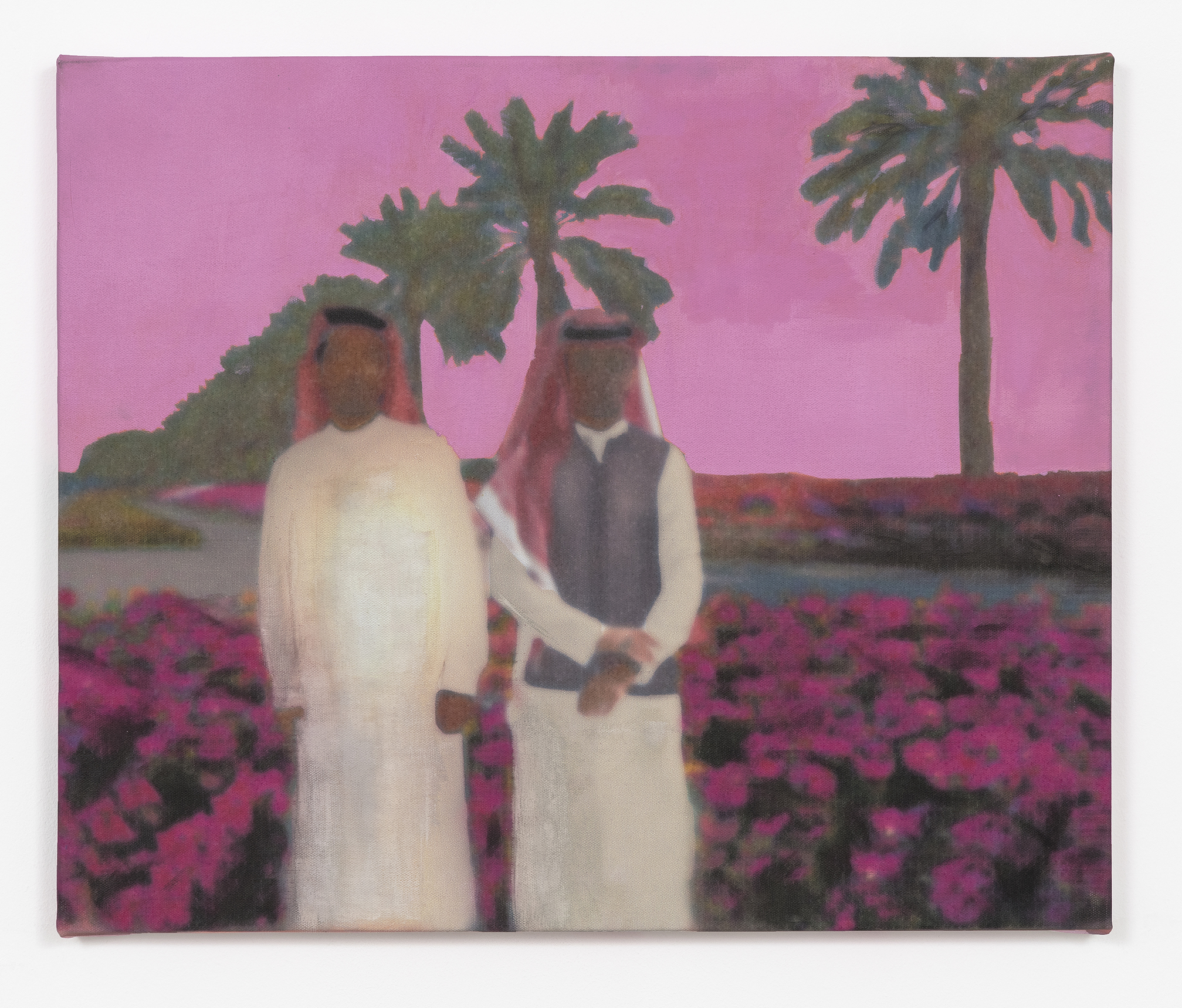 3. Hawazin AlOtaibi, Nakhla, 2021. Courtesy of the artist.

N.A.C.: Since we are talking about that more specifically, what is your approach to the artistic and cultural environment in Saudi at the moment, with all these new initiatives like AlUla or the opening of Hayy Jameel in Jeddah? Would you like to be part of those changes in Saudi, and even largely in the Gulf? I saw that you had an exhibition once between the UAE and Saudi Arabia.

H.A.O.: The exhibition consisted of pieces of drawings that I did for an art show in Dubai, and they took them in Saudi without me knowing. I found out only later. It was all fine at the end.

I see that there are great opportunities and Saudi is able to do massive things. I am for it and I want the art to flourish there. After growing up knowing that art seemed nonexistent in Saudi, and accepting it, I didn't even think about it too much. I looked outwards but I knew that one day my family would retire and move back. I thought that there was no place for me in Saudi, so the fact that this changed during my lifetime, while I'm still young, is crazy to me. For instance, I went to the Islamic Biennale recently and I saw amazing artworks, and I met some of the artists as well, and a lot of them were also London-based artists. There is something beautiful about growing up in Saudi and meeting other artists who we all know had little platforms to share their work. Leaving was our dream but it is good to see that those who stayed behind are enjoying it.

One comment I have is I notice that art spaces are often designed for people to visit for purely leisure purposes. It is difficult to have spaces built for artists to expand their creativity and imagination. Of course, I'm talking about the general image and I think this is also changing with spaces like ATHR gallery or Hayy Jameel having a lot of workshops. That is really important and is pushing people to explore making new and innovative work. Sometimes I wish they stopped seeing art as making things as grand as possible, or massive, beautiful, or Instagrammable as possible. Instead, they should foster the opening up of small spaces, experimental projects, and allow people to go to these spaces and not feel like there's a huge competition for massive opportunities.



I thought that there was no place for me in Saudi, so the fact that this changed during my lifetime, while I'm still young, is crazy to me.
4. Hawazin AlOtaibi, Roleks, 2021. Courtesy of the artist.

N.A.C.: It is interesting that you bring the critical aspect up because it is actually considered a discussion element in the UAE as well. When you have a community so close and everyone knows each other, there are all these different personal dimensions. There is often the feeling that it is difficult to be critical about what is happening. The same question appears also in Milan where you have these very close communities of artists in which you end up developing also strong personal relationships, it becomes difficult to navigate the critical space.

H.A.O.: Yes, it is indeed similar, I know about Milan. I heard about it and it is a common problem.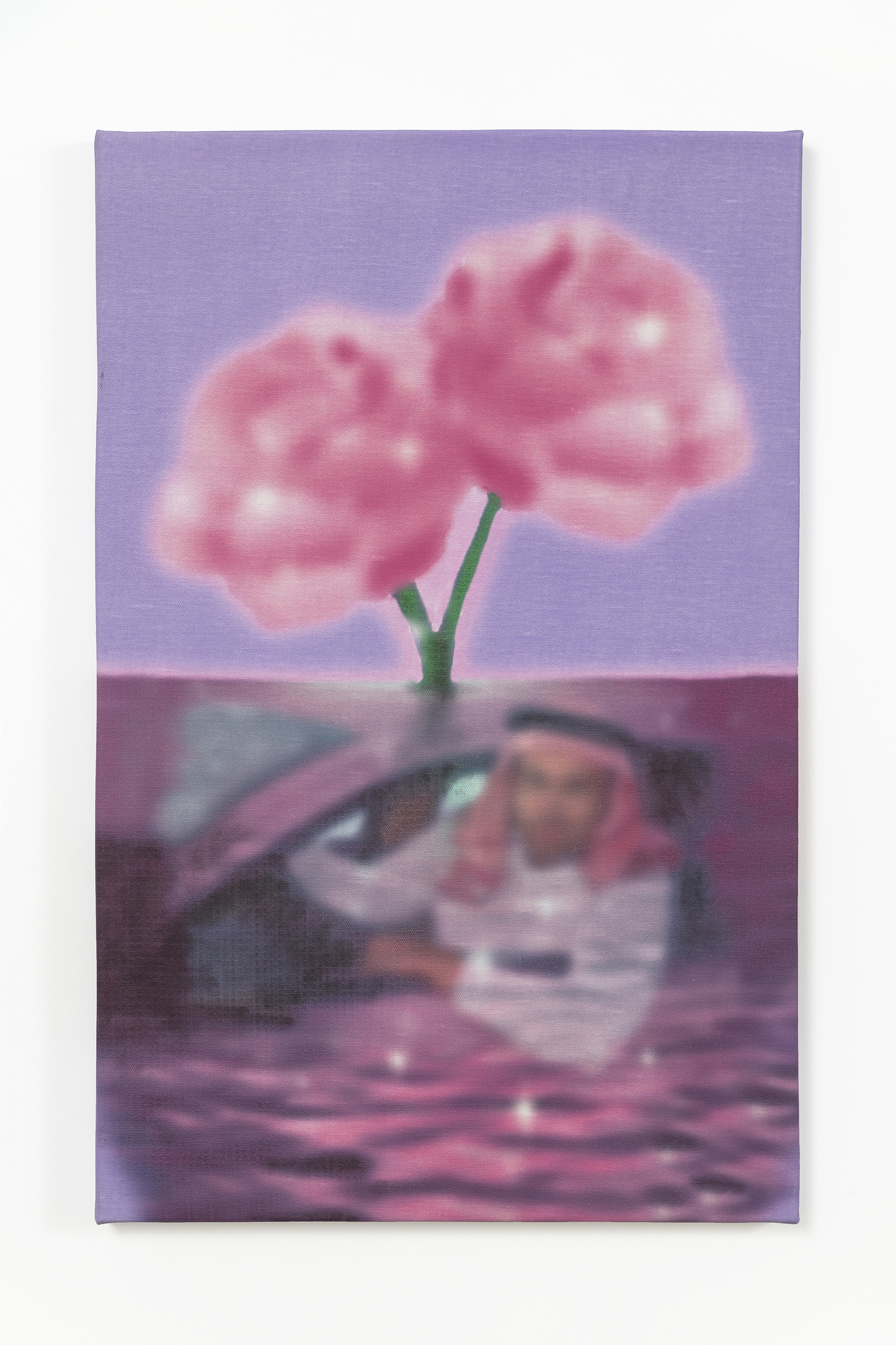 5. Hawazin AlOtaibi, Mirage, 2022. Courtesy of the artist.

N.A.C.: Okay, let's talk about your actual work, and I want to start with Mirage currently at In The Pink exhibition in Parlour, London. I believe it is very representative of your painting style. How did that work come to be?

H.A.O.: Mirage is one of my favorite works and I think it is because it is a combination of Surrealism and the girly element even if it is not as pink as other works. It has the satire, the comedic part of it as well with the pose and the car, and the flower that is coming out of the water. It represents many visual aspects that I want to have in my work because I talk about censorship, but I also want to bring this element that's not too serious. The flower is also the most basic representation of femininity in a very cliché way. That's what I was looking for. I am intentionally putting things that are very cliché, very obvious.

These are the things you are exposed to in your childhood, and I know it's not just people in Saudi Arabia. It happens in other cultures as well, but in different ways, or in less intense ways, but we can all relate to it in a way. So first I started with the series doing a lot of portraits but then I started to look a lot about how this visual language started to become part of our communication. For instance, GIFs or pictures on Whatsapp and other social media, like good morning images with these flowers and the pigeon, and all of the rest. My family and our family groups would send these out to each other, and they always have pictures of the flower or landscape, anything but human beings. However the historical background of these pictures consists of having those elements as substitutes for female or male gender in our daily lives, because we were not allowed to draw human beings.

It is important to notice that in public schools in Saudi, I wasn't allowed to draw faces at all. Actually, I had so many of my drawings ripped and thrown in the trash by some teachers. At the time I thought it was funny like "Oh, I've been caught, oops!" But now I reflect a lot about it. This happened to me more than once and this is the background where I come from. I feel it is a powerful image to use it in my work, and I enjoy it, and it feels good to repurpose it in a way of doing it intentionally to understand why I am using these images, exploring the idea of censorship. Knowing that, I have my choice of freedom now. My work is now accepted in Saudi as it may be elsewhere, and it can exhibited – quite a change, as it would have never happened before.


The flower is also the most basic representation of femininity in a very cliché way. That's what I was looking for. I am intentionally putting things that are very cliché, very obvious.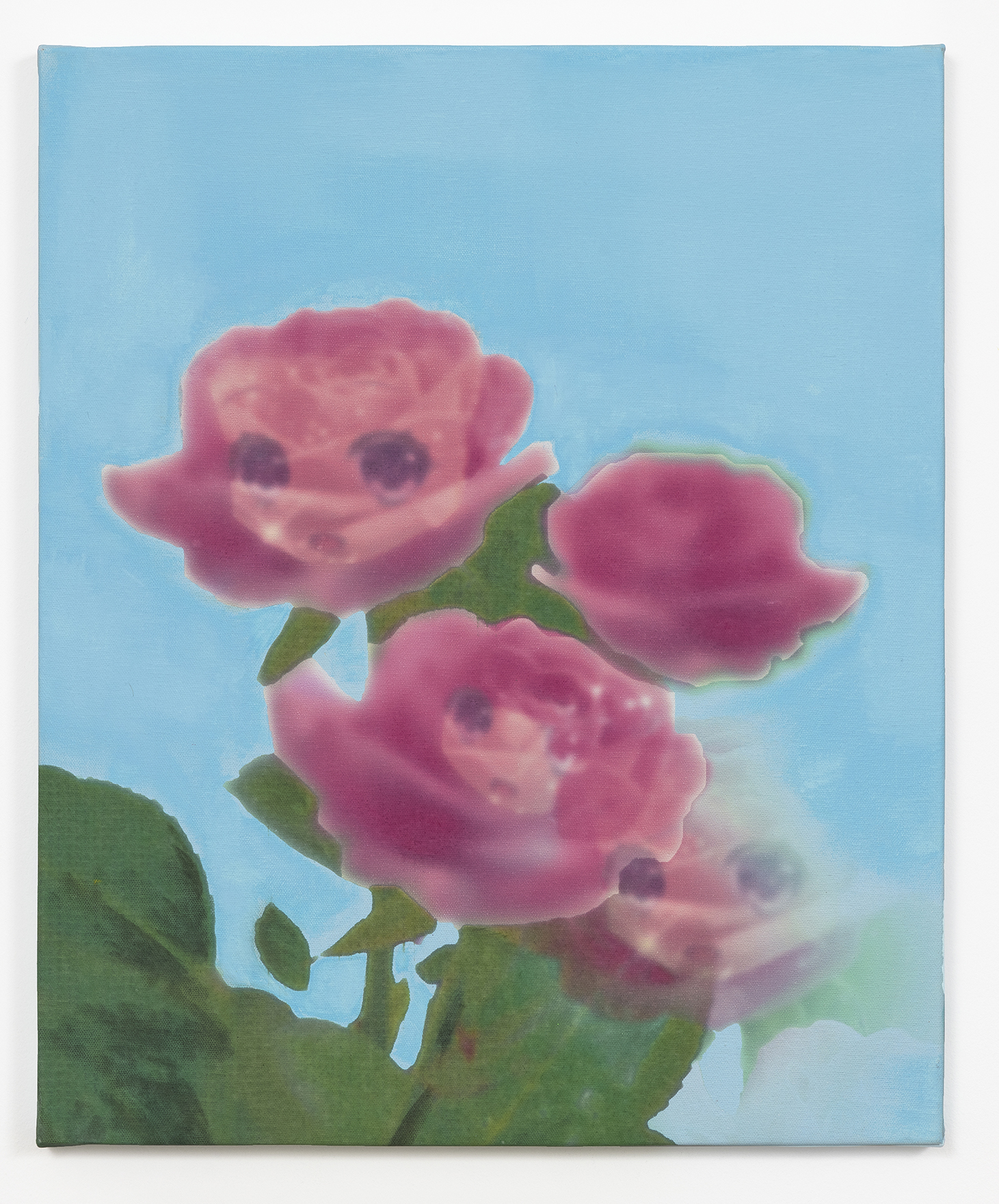 6. Hawazin AlOtaibi, It Blossoms, 2022. Courtesy of the artist.

N.A.C.: Connected to that, you use a specific technique in making these paintings, sometimes even using print. Can you describe to me your process of painting?

H.O.A.: When I was using portraits, it was mainly collecting images and collaging them. Then the more I started with painting, I wanted to change how to make these works, which is when I started to use digital tools. I try to limit myself from drawing on these things. I do change and edit the collected images in a way where I manage to have the head to a specific direction or the body to the other way, or put them in a car. I really want to depend on imagery available online as much as possible because a lot of it has to do with going back to the visual language and trying hard enough to find it online and use it. To repurpose it basically. I use a regular paper printer, which is why the paint glitches and may create random lines that we're not part of how it looked on my computer. It will smudge the ink. I have worked with so many different printers as well. I also use acrylic paint and I apply projection.

I used that technique with two works. One is called Groupie and that one has a projection. I use a specific software that is used in festivals for Christmas celebrations and music festivals, this way I can map the projection where I want. It's fluid in the sense of whatever works, whatever I can think about at the moment I will implement it in the work. This is also why I miss working in the studio aimlessly and not towards an exhibition, because then I can just take my time. I wouldn't care if I finish this or next year.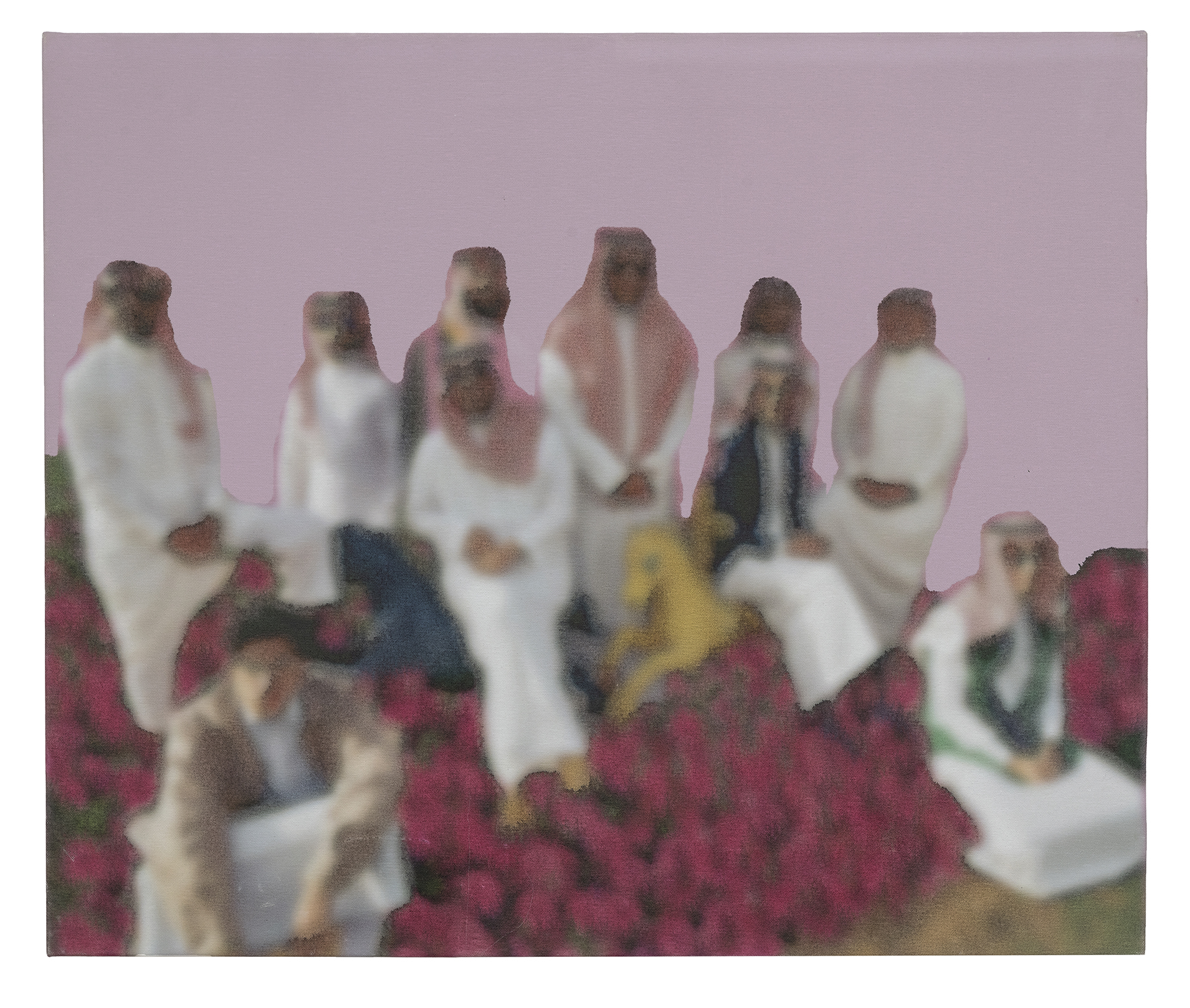 7. Hawazin AlOtaibi, Groupie, 2021. Courtesy of the artist.

N.A.C.: That is so interesting to hear. Regarding the digital aspect of your work, you currently have the exhibition at Outernet Global in collaboration with Wetransfer and Wepresent. Your works are reproduced digitally. How did you think of that sort of going back and forth of your digital creation? There was the tangible and physical element, that then went back to the digital screen.

H.O.A.: I must admit, when they first asked me to do it, I wasn't sure about it. I don't enjoy projected paintings, but the more I thought about it, it was fun to see, because one layer is that a lot of my work draws influence from Instagram and from just flipping through pages, especially fashion influencers. Lots of them have recognized themselves in my work and I didn't expect it because I felt like they would have not cared but they actually did.

I didn't expect it to happen that fast, because the first time I ever showcased my series was during my degree show at the Royal College of Art. While the degree show was happening, I got a message from a blue-check influencer saying "That's me". It was a funny moment, because that was really quick. But again, it's mostly because the community is so small. I think that they were really nice about it. My series from long ago took the name of Softboi because it was a consequence of those changes.



While the degree show was happening, I got a message from a blue-check influencer saying "That's me".

8. Installation view. Hawazin AlOtaibi's exhibition at Outernet Global in collaboration WeTransfer and WePresent, London, UK 2023. Courtesy of the artist.

NAC: This ties really well with my follow up question, which relates to the recurrent presence of male figures in your paintings, if not almost exclusively. Why is that? Looking at your paintings I felt like I saw this one man or the other as an iconography that these images actually have. Maybe these men are unconscious about it but there are some recurrent elements in how that became sort of a style. I think you do an incredible job in constructing that image that they created for themselves. Why do you choose to depict the male figure? Especially males wearing so-called "traditional" attire, which I presume was a heavy choice for you in terms of visual language.

H.O.A.: Starting from your last question, in Saudi this is called thobe and is just regular clothes that men wear. I noticed from past exhibitions in the West that my figures looked like they were wearing traditional clothes when in fact a lot of people don't understand that this is actually everyday clothing. The thobe is not representative of a far historical period or worn for religious purposes. I'm trying to explain this point to audiences but it's hard to communicate that in places like London. If someone sees someone wearing a thobe, they will think they are doing it for religious reasons.



9. Hawazin AlOtaibi, Bubble gum, 2021. Courtesy of the artist.

N.A.C.: I always find it so strange when people in the West act like this some sort of crazy topic when similar restrictions were happening until a short ago and still occur in certain communities. There were roles that were bestowed. There are some families that are more open and less open everywhere. Art can be a way to address those topics and I love that you use comedy to be light about it while still having that conversation. There is no need to use violence and I think that is powerful. It would be easy to create a conflict. I want to dig deeper in this choice.

H.O.A.: I believe there is already so much association between violence and Arab culture. With my color palette and subject matter, I can communicate my culture better by removing that stereotype as well. I was very conflicted before I started talking about this topic and making work around it. I didn't want to give more credits to these stereotypes. It felt safe.



I believe there is already so much association between violence and Arab culture. With my color palette and subject matter, I can communicate my culture better by removing that stereotype as well.



N.A.C.: I love that aspect and it reminded me of those small things that are very culturally specific like self-care. You would see men taking care of their beard, hair or nails, which are things that may be considered feminine in Europe but in other regions, also in the Arab world, are very common. So I thought that was also an interesting aspect of how roles are assigned to people, and how those change in different cultures. When I saw the paintings, I immediately thought - kill them with kindness - because of how delicate they are.

H.O.A.: I love that!

N.A.C.: Now let's shift to your sound practice. Actually, something that I saw as a commonality was the fact of distortion. Is that an element of connection? What is one of the things that may link the two practices together, and what do you usually look for in your sound practice?

H.O.A.: I have so much gratitude towards music because it gave me inspiration on my art practice. I was always struggling when I studied painting. I really like to paint but I want to do something different. To me it feels like no matter what concept, what story, which feelings I want to put in my work, it should not strictly be restricted to painting and sculpture. How can I break some structures? I did deconstruct my works in a different way, when I started to play with projection on my paintings for example. I think this idea came to me through electronic music and visiting many music spaces. At university, I actually only wrote about music in both my Masters and BA dissertations. I thought that maybe I should have switched to a music career fully. Yet, with music, you need a lot of patience because there are many aspects to it, even a mathematical aspect you have to keep in mind. I reflect back on experimental music, and I like how true this feels. The way electronic music is able to deconstruct sound and introduce it in a new way makes it a medium that has different purposes than creating a nice song, creating a hype one, or soundtracks. I find the repetitive motions of electronic music very mesmerizing. Since a lot of electronic music is repetitive, beats can open up so many possibilities because it feels infinite.



Since a lot of electronic music is repetitive, beats can open up so many possibilities because it feels infinite.


I appreciated that and I really wanted to implement it in my work somehow. So I started to play with projection, with loops in my projection on my paintings. When I started to think about this current work, I think that electronic music found itself. It's when I started to be exposed to Arab electronic musicians, especially from Egypt, for instance KZLK. I found him during lockdown and I sent him 2 of my tracks, and he played around with them. He took Mahraganat music and distorted it in a very beautiful way. I feel like a lot of people could relate to it, no matter where they're from, and I really liked how that was put together. Then you have artists like the Tunisian producer Deena Abdelwahed, who practices in France. You also have Fatima Al Qadiri. There are tracks on SoundCloud that not many people know about in which he uses Nasheed, a religious type of music with no instruments – these songs are frequent in Arab countries, especially Saudi, where there is no music. With electronic music, I can take the sound, and then just put it there and repeat it, and it becomes a beat. This process is just so interesting. Fatima's tracks with Nasheed songs have been a big inspiration to my work actually, even when I DJ, because again, my practice comes from religious and cultural aspects. She did that as well and revolutionized it to make it into an accessible language.



N.A.C.: There is still a strong connection to your background. You bring this baggage of experiences with you and put it in your work.

H.O.A.: One thing that I always thought about as a painter and musician is how to incorporate as much story to a work as possible, and it still makes sense. With music, you can add sounds and video, you can play with lights on stage, you can do a performance. There is a lot that goes around music that just makes sense and all of these other things. These additions can be artworks on their own. So I always thought about painting as more restricted. I looked at the painting and it felt silent. Maybe it doesn't work with something that is ephemeral, time-based. I think that music didn't necessarily have an influence on my work regarding the topic or the concept, but it did have a lot of influence regarding my creative drive and motivation. Seeing how traditional music has been reappropriated in a different way and shown in a different context has been a huge inspiration. The power of framing it in a different way helped me bring these topics that I talk about in diverse ways as well.


One thing that I always thought about as a painter and musician is how to incorporate as much story to a work as possible, and it still makes sense.


N.A.C.: I would think that when you live abroad, you get accustomed to the new place where you are, and you gain those references. You see things differently and to me, this becomes a question on how to go back to past experiences, to one's own background, and actually make a change there. It would have been too easy to leave myself behind and live a new life. Yet, it is so difficult to find a compromise and negotiation with yourself, old and new. You said it before talking about repurposing such in the case of music. That's beautiful. It's so difficult, but it's also rewarding when it works.

H.O.A.: I see that there are artists that want to make work not necessarily linked to their experience but I think that it's hard to get away from it. Everything you're interested in, everything that you find speaks to you, or you find interesting to you, in a way that you want to explore, even in a different language or culture, ultimately comes from your personality which developed from your life experiences.

NAC: Thank you for that. Now I'm interested in your sources. You find your images from social media, particularly Instagram. How did that start? And considering that you've been in different places, did you see a difference in social media usage from the Saudi community, Gulf community at large, depending on where you were?

HoA: I use Instagram because it's definitely the most used social media channel in the Gulf. The platform is a gateway to seeing what's happening in the Gulf. It can answer a simple question: what is the weather like that day? A lot of Saudis use it now and it became a business when it comes to the influencer industry. It took over the way celebrities do advertisements on TV. It's something important for Saudis to acknowledge that only a few female influencers are able to have full access to it. Not every girl in Saudi can use this platform and show her face and gain an audience. It comes down to what family you're from, and if they're okay with this. That's what is powerful about it: social media gives you independence, because it can give you money. In my work, using male influencers' pictures is definitely easier. There is a difference on how people react to female and male influencers and this is evident in the comments.


[Instagram] is a gateway to seeing what's happening in the Gulf.


There are also other incredible communities all over the Arab world, look at Egypt for example. I'm very connected to Egyptian culture because I grew up in the US within a mostly Egyptian community, so I was very exposed to it. I saw that online people think I'm Egyptian but I'm not, although I admire and love the culture deeply. I like that in the Egyptian art scene right now there is a lot of calling out and they stand stronger together but there is still a lot of work to be done.

N.A.C.: Thank you for bringing up that it is always more complex than what it seems. There are some parts of the art world that are extremely dark but there can be so much light as well. Changing topic completely but since you brought up the Egyptian element in your upbringing, what does home really mean to you? I see that you are often defined as Saudi or Saudi-American, do you feel yourself as part of a diaspora movement?

H.O.A.: It's hard to reply because it has changed throughout time. When I was living in the States, I was Saudi and living in the diaspora, even though I was born in the US. But I didn't stay there the whole time. It was very confusing actually. When I first moved to the UK, I felt much more American because I could only relate to American things, like language or slang jokes. However, growing up within a Saudi family and having Saudi culture as your background is such a strong imprint on your life, something that I have not observed in international students from somewhere else. So if I were to ask myself, what do I feel like? I would say Saudi, but even with Saudis, I felt like there was a bit of difference in the way we were brought up. I'm living between Saudi and the UK now, I would associate home with neither the US nor Saudi, but if it comes down to it, I would relate to Saudi much more.

N.A.C.: Is art a way to elaborate this mixed heritage?

H.A.O.: Previously, my work was not directly connected to Saudi and its culture, and I felt a bit stuck like that actually. I felt like I wasn't digging deeper. If you want to talk about something in your art, it needs to be something that's had a huge effect on you or is constant in your life and your brain. When I reached that understanding, I realized that I was staying away from talking about anything that has to do with our culture because I felt I imposed definitions on artworks that I did not want to label. I wanted to be more than just a Saudi or Muslim artist. Let me tell you about this one tutor at my BA here in London who looked at my work, and then he looked at me, and he just said: "Why don't you just paint the desert?" That was a weird cliche experience.

To be honest, I relate to Saudi culture and I would like to be part of all those changes that are happening. I meet a lot of people who ask me: "Why do you only show your work there? Why can't you show it here?" I still find it so difficult to show [in Saudi] there because things work on popularity. It's difficult for emerging artists to grow.

N.A.C.: As we are heading towards the end of this conversation, where is home for you today?

H.O.A.: A place I call home right now is definitely London. It became a meeting point for a lot of people, especially Arabs, which is something I appreciate. I can still feel connected to those parts of myself. London feels like a good place in-between.

N.A.C.: It makes sense. I remember from one of my last visits in London a great presence of Gulf people and it is indeed a popular destination. Do you hope to exhibit in the Gulf soon if you had the opportunity?

H.O.A.: Let's see. I was contacted for several projects but they are taking very long to happen and many disappeared. I also hope greater attention is given to emerging artists. I went to Frieze and one of the most famous Saudi artists was showing. I thought that could have been an opportunity to show someone new.

Artists need to feel that they are wanted and feel respected. Let's have conversations and talk on an equal human level. We want to live through our practice and I wish more funds were made available for these initiatives.

N.A.C.: One last question about future projects and/or aspirations: what is next for Hawazin?

H.O.A.: What's next? My brain just keeps bouncing. I've been showing works in a lot of exhibitions recently and there should be more upcoming. I've been making artworks in the past year going towards an exhibition, but I want to go back to practicing more freely, without the deadline of an exhibition. That's my goal. It's hard because I'm just an emerging artist and you want to create your base, and you feel like: "Oh, you're gonna miss out". I also want to produce more music. I produced 2 or 3 tracks during the lockdown and then started DJ-ing as well, because producing music takes a lot of your mental energy. It's hard to make art and music at the same time.

N.A.C.: Thank you very, very much. It was such a pleasure to meet you and get insights on your practice.


---
Hawazin AlOtaibi (b.1993) is a Saudi-American interdisciplinary artist, curator, DJ and music producer who earned her BA in Painting at the University of the Arts London and an MA in Painting at the Royal College of Art. Hawazin works primarily with painting, audio, photo, and video editing. She lives and works in London, UK.
Instagram

NiccolòAcram Cappelletto is an editor at Global Art Daily, based in Venice, Italy. After completing his B.A. in Art History with specialisations in Political Science and Heritage Studies, he is conducting research on the connections between heritage and contemporary art in the context of postcolonial Italy.
Instagram

Published by:



e-issues.globalartdaily.com

A Global Art Daily Agency FZ-LLC subdivision.
Copyright, 2015-2023.
For reproduction, please contact us.