Rapport: Art Dubai 2023


By Amy Qian

Published on April 12th, 2023

This Rapport is dedicated to Art Dubai, Dubai's annual art fair. The biggest edition to date, Art Dubai 2023 could be summarized as an ode to Dubai's bright future as an important hub for contemporary art in the UAE, the Gulf, and Asia as a whole. Focusing on galleries I found most experimental and conceptual, in both their display and selection of artworks, I also reflected on the relationship between Art Dubai – arguably the largest art fair of the Global South – and East Asia, especially the presence of Chinese contemporary artists at the fair and its parallel programming. Futurity and the full embrace of technology seemed to be a major theme explored by the fair's Digital section, Julius Baer Lounge's Refik Anadol commission, and Global Art Forum, the prolific series of talks curated by Shumon Basar.


Experimental Booth Formats


Several galleries stood out for their innovative exhibition layout, such as Sanatorium from Istanbul, Turkey and ATHR from Jeddah, Saudi Arabia. In comparison with regular white cubes, these two gallery booths alternated their spaces into something else. In turning the booth into a plant-filled office made of photocopiers, papers and soil, Sanatorium showed artists Kereme Ozan Bayraktar's installation Office and Christiane's Peschek's self-portraits in an office-like space. This installation comments on symbiotic communities of machines, humans and plants. The use of self-reference invited the audience to think about the idea of image within an image and art derived from art. The booth is designed in a way that visitors can step on the sand and walk through the plants in a semi-circular direction, allowing an immersive experience of the installation, which is a remarkable move in an art fair.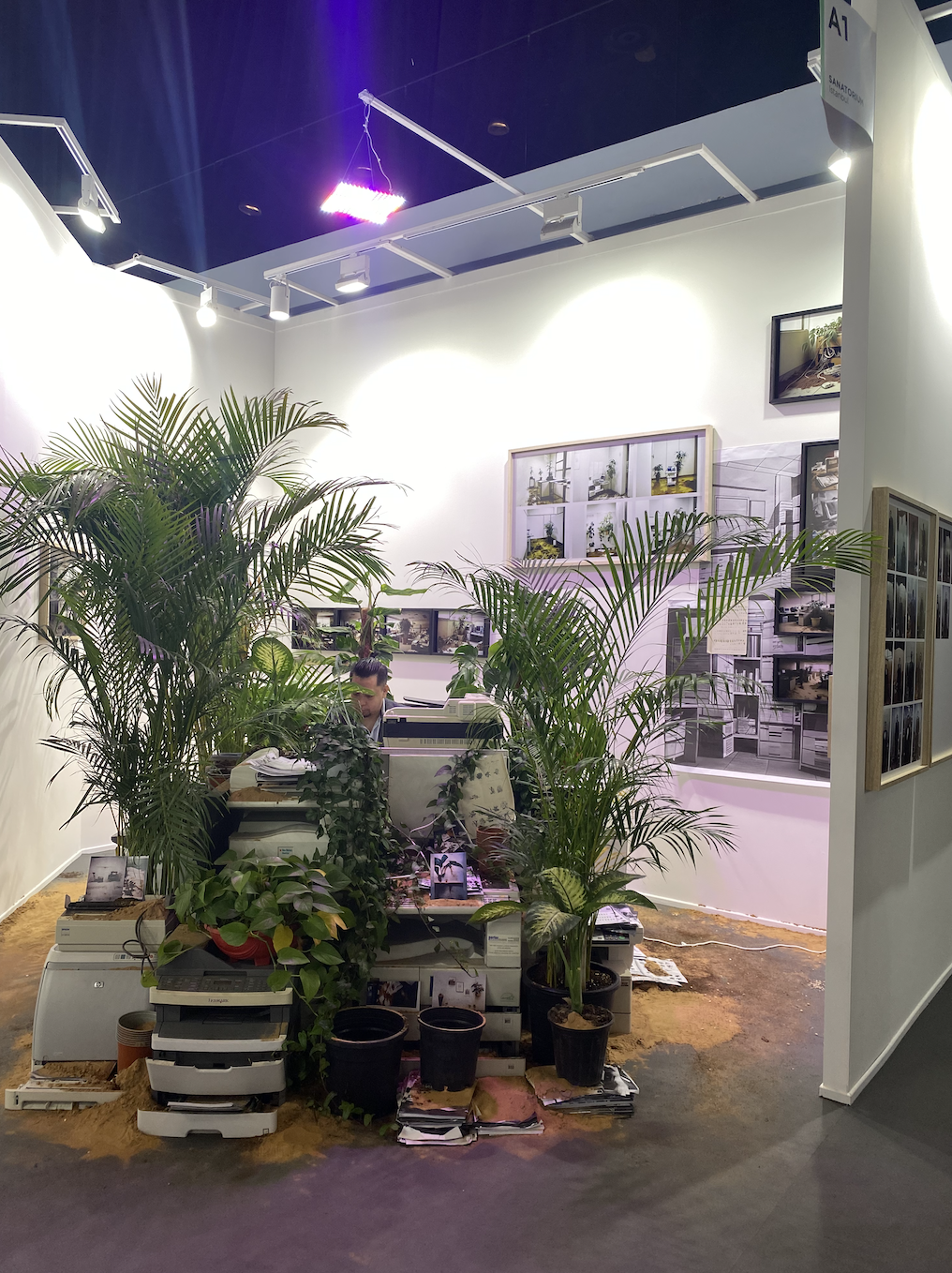 1. Installation view of Sanatorium's booth at Art Dubai 2023, photo by the author.

Saudi gallery ATHR's booth attracted many visitors to pause and linger around Rami Farook's works on view. Part of the booth was surrounded by square-grid fences. Entering into the space, visitor had the feeling of visiting an artist's studio because the artworks were not necessarily hung at singular height level. Instead, works filled the space, scattered on the floor, on the top one-third of the wall space, as if the entire book was a peek into the artist's creative process. The gallery featured the enterprising Rami Farook, who occupies several sides of the art industry as an Emirati artist, curator, restaurateur, and gallerist. ATHR created a space for visitors to think, appreciate and question. Sketches, photographs, drawings, letters were pinned on the wall and unopened bottles, flowers, books, and mirrors, accompanied by a bench and a quilt blanket decorated the booth. With a large number of things to look at, ATHR also invited fair visitors to think about material culture and question the very essence of exhibiting artworks at a commercial art fair.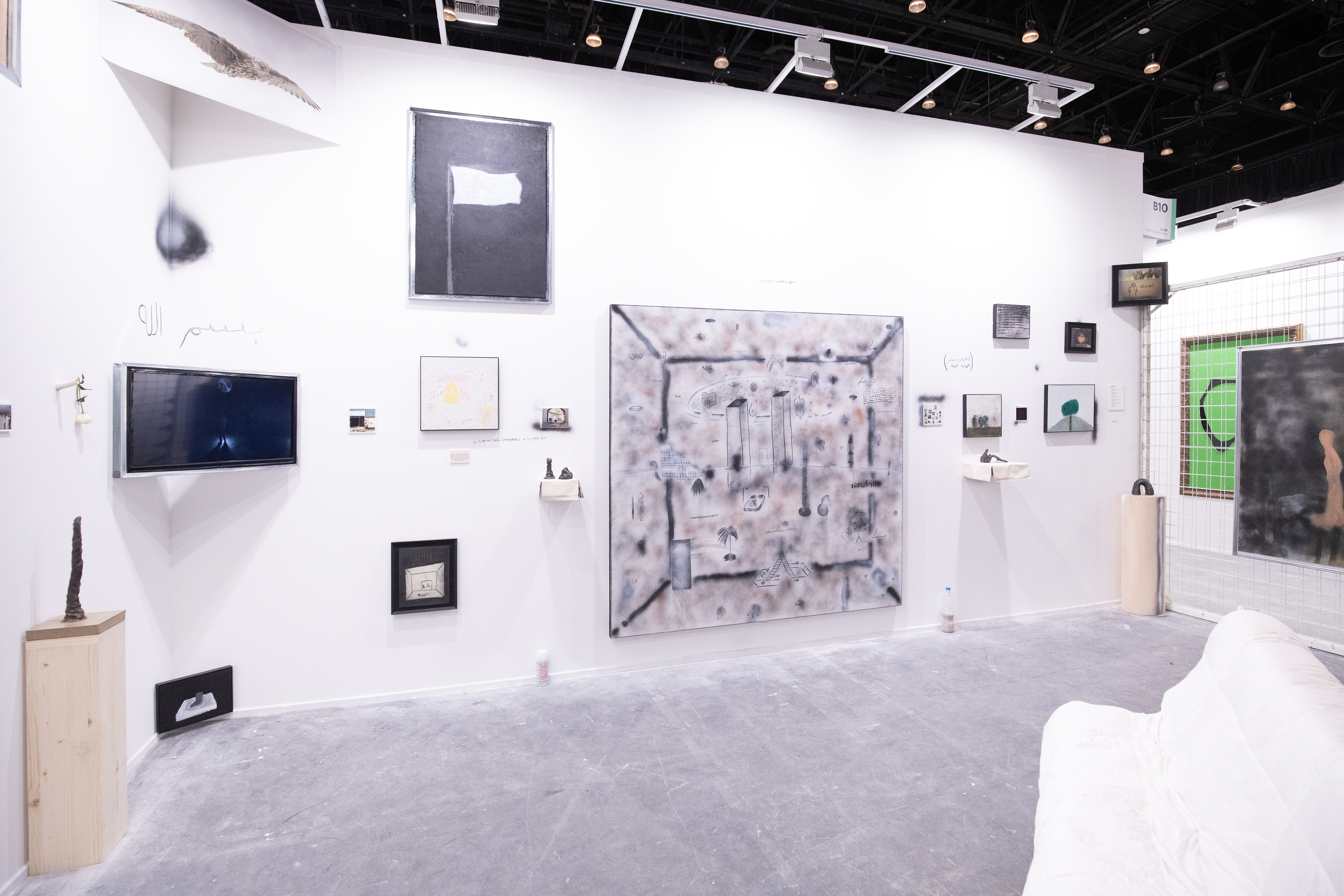 2. Installation view. Rami Farook at ATHR's booth at Art Dubai 2023, courtesy of ATHR Gallery.


3. Installation view. Rami Farook at ATHR's booth at Art Dubai 2023, photo by the author.


Chinese Representation


As a Chinese, I was curious to see if there were any Chinese galleries or artists at the fair, since not many are based in the region. I was very glad to see galleries from China or galleries that have outposts in China represented at Art Dubai, including Shun Art Gallery in the Digital section and Chinese artist Shuang Li at Global Art Forum. DDE NFT Art Project produced by Shun Art Gallery, a gallery based in Shanghai and Tokyo, was featured in Art Dubai Digital and their booth featured Japanese artists Yoichiro Kawaguchi and Yoichi Ochiai.

I attended the talk "Predicting Narratives" of Global Art Forum 16: Predicting the Present featuring Shuang Li, an artist born in China, who studied in New York and now lives between Berlin and Geneva, and Ahaad Alamoudi, an artist raised between England and Saudi Arabia, who now lives and works in Jeddah. Both of them conversed about their respective multidisciplinary practice, alongside art critic and researcher Nadine Khalil. Li talked about her background in Media Studies, that influenced her interest in the screen. The first work she introduced was a collaboration with Miu Miu. She translated her work and thoughts into a complete video and stage constellation for Miu Miu's Spring/Summer 2023 collection, during which she delved into the concept of lost message. Besides designing the stage with planet elements, she crafted monologues of a person who was lost – trying to find a destination. The monologue was playing while models were simultaneously walking on the runway. It was very interesting to hear her talking about the way her writing was reflected in her works and how her childhood experiences of playing video games planted a root for her video practice.

Among all the works she showed, my favorite piece is a video investigating the relationship of body and screen. In the video, the narrator, Li herself, shared the experience of a man providing customer service at an online stocking store by combining footages of online foot fetish videos that she found, shaky daily sceneries, and computer-generated feet video. Working with an animator, Li made the generated video of a person's dangling feet genderless. In the later half of the video, she listed out and uttered popular Chinese words and phrases that were used by Chinese internet users in the past few years such as "mama's boy" "leg hair" and "censorship" in disordered way, invoking the audience to think about the connotations of these words and related contemporary topics including gender binary and internet censorship.


3. "Predicting Narratives" talk with Shuang Li and Ahaad Alamoudi, moderated by Nadine Khalil, as part of Global Art Forum 16: Predicting the Present. Photo by the author.

Khalil asked Li and Alamoudi to talk about the usage of voices, language and songs in their works. Alamoudi said that she uses pop songs in her works because they are more accessible to the audience. Regarding the use of men's and her own voices, she explained that this was the way she perceived her space. She said if she thinks her country as a whole, she thinks about it in a man's voice. In Alamoudi's work Those Who Don't Know Falcons Grill Them, a performance of the Khabayti, a hybrid dance influenced by both Hejazi and Sufi traditions, Alamoudi deliberately uses only male dancers as a means to subvert the "male gazes." It is her way of changing or restaging narrative that is given to her. Li brought up the idea that digitalized voices are often female, such as Alexa or the default mode of Siri. The customer service man would pretend as a woman when he chatted with customers because "if you are a girl, people will like you more." This difference in gender in the usage of voices is quite striking, and something to ponder on when thinking about the relationship between East Asia and the Gulf.


Visions of the Future


An audience asked Ahaad how she, as a young artist, thinks about her practice amidst Saudi Arabia's recent economic and cultural developments. Ahaad replied that when you think of change, you're always left with the residue of change. 'You never really touch it, you are just left with the mouth of it.' And it's the same thing with the future. 'You never really touch the future. You're always left with the residue of the future.' She continued, 'I feel like now more than ever, I've accepted my faith in regards to the future. I've accepted that I'm part of the foundation of what's to come and I'm not really part of that future.' She said the speed of change is something that she is constantly questioning within her works. Regarding the ways her nations's rapid changes affected her generation, she replied that there were different generations of people living in different types of change in Saudi [Arabia]. 'We are all living amongst each other, existing in our own kind of dimensions and I think parts of everybody's experience is all intertwined,' reflected Ahaad.



4. "Predicting Narratives" talk with Shuang Li and Ahaad Alamoudi, moderated by Nadine Khalil, as part of Global Art Forum 16: Predicting the Present. Photo by the author.


---
Amy Qian is from Wuxi, China. She is a third-year student studying Art & Art History with a concentration in East Asian contemporary art at NYU Abu Dhabi. Based in Abu Dhabi and Shanghai, she is now a Curatorial Assistant at NYUAD Art Gallery.


Published by:



e-issues.globalartdaily.com

A Global Art Daily Agency FZ-LLC subdivision.
Copyright, 2015-2023.
For reproduction, please contact us.