Augustine Paredes Taking Up Space

Interview by Daniel H Rey

Published on August 24, 2020

Before copies run out, I picked up Conversations at the end of the universe by Augustine Paredes. In his first artist book, photography and poetry elevate each other through ephemeral and deeply personal moments immortalized in print.

With this well-executed artist book, Augustine is redefining what independent publishing looks like in Dubai's art scene. He is also, in his own words, "taking up space" as a migrant storyteller proudly standing outside the norm. Augustine has been seeking for home for a long time. Originally from the Philippines, he currently works as a photographer in Dubai. He has just recently embraced the idea of "being an artist," aware of the commitment and responsibility such a title entails.

I was curious to know more about him, his work, and gain deeper access to his personal narratives. Here is how our conversation unfolded.





Daniel H. Rey: Could you tell me a bit more about your journey as a photographer and artist?

Augustine Paredes: I graduated with a Communication Arts degree that had courses in journalism, photography, and filmmaking. I started taking photos when I was 12. I got my digital camera from my uncle who used to work in Dubai. It was this very cheap digital camera, something like 4-6 megapixels. I started taking photos of people, and never stopped since then.

In high school, there was this poetry class. I wanted to impress my teacher but I failed that class. From there, I just started working towards becoming a better photographer and becoming a poetry writer, eventually, a poet.

It's easy for people to say that they are an artist, but for me, it didn't come the easy way. I worked hard for it and tried to prove it to myself first. Saying that you are an artist right now is very easy and sometimes it loses its meaning. That was my initial goal for this year, to call myself an artist. Now, I feel in my soul that I am truly an artist.

D.R.: In Conversations at the end of the universe you walk us through many people and moments in your life. How long did it take you to produce the body of work we witness in the book? What was the main challenge in having the book come to life?

A.P.: Last year around July, I went to ISSP (International Summer School of Photography) in Latvia. There I had to present a body of works for portfolio reviews. I've been working on a different body of work called Long Night Stands with Lonely, Lonely Boys. At that point, I was thinking "OK, let's see what else I can do out of this workshop," because the energy was so inspiring. And then, one day, I got a call from my friend in the Philippines telling me that one of our friends died all of a sudden. I was in shock and I started to write poetry about that. Coming back to Dubai, I learned that my grandmother's health was deteriorating, and she eventually passed away later that year. I went home to the Philippines for a while. So it took me about a year, I would say, from July 2019 to July 2020 to compile all of the photographs and poems for this book. I've gone through a million drafts, honestly. There were a lot of printed drafts to reach the final product you see now.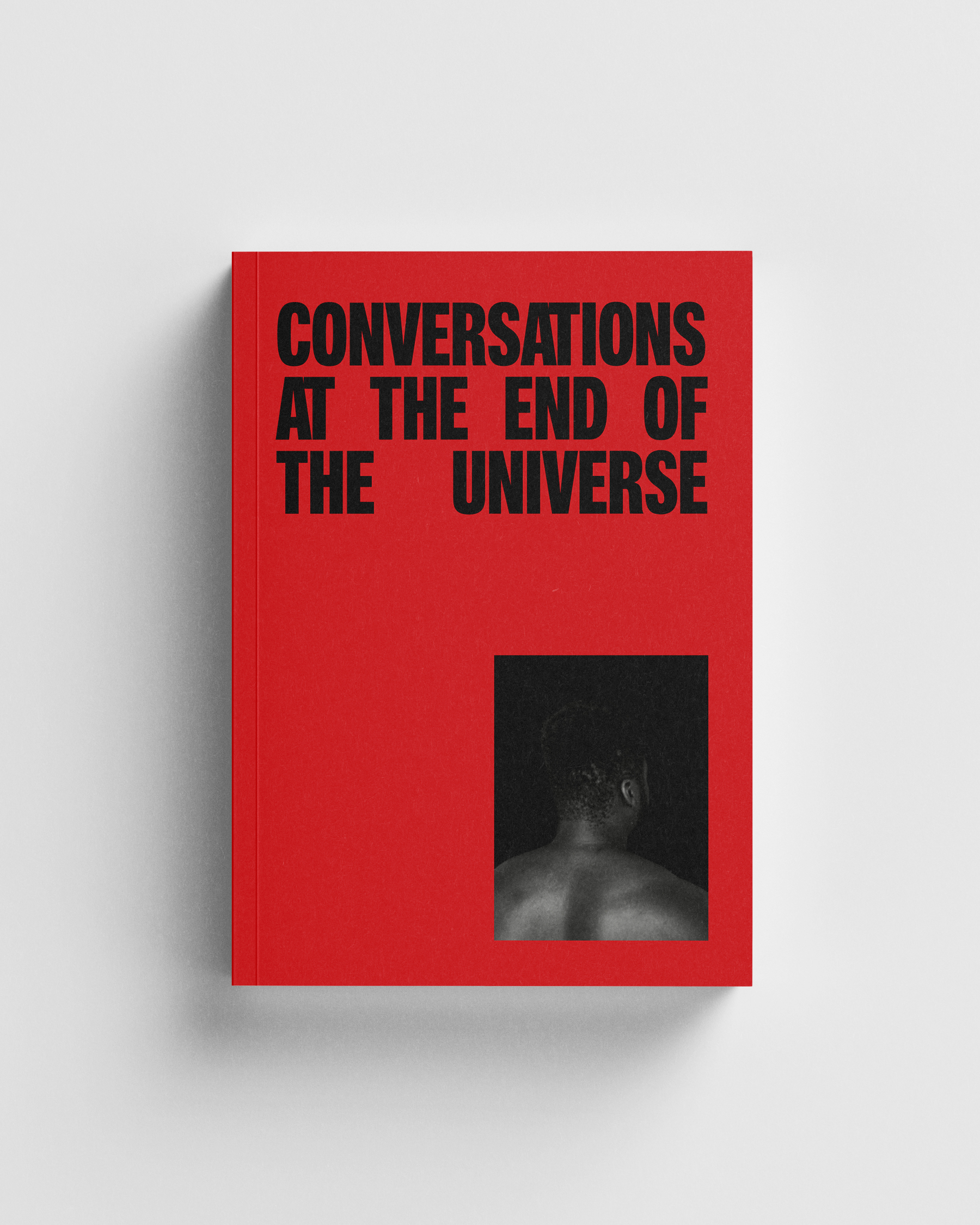 1. Augustine Paredes, Conversations at the end of the universe, 2020. Artist Book. Copyright © 2020 by Augustine Paredes. All rights reserved. Printed in the United Arab Emirates. Images courtesy of the artist.


I went to Berlin last December. I brought a draft with me in the hopes that I could write more poetry and take pictures for the book. I was looking for printers too. I thought to myself "You know what? Let's have this printed without thinking for a second about what's going to happen next." Even though I had printed drafts of the book, I wasn't confident enough to put it out there yet. So I just posted poems on Instagram and photographed the book on my Stories saying "oh, I'm working on this project right now..." That's about it, that's the story behind it all.

So in terms of the time, it's safe to say it took me a year. That year involved deaths between my family and my close circle and a psychiatric diagnosis. A lot has happened in that year and I think having the book right now, existing right in front of me, and [right in front of] all the other people that have it, kind of closes that chapter in my life.

D.R: Through this masterpiece, you examine "the ephemerality of human existence" and "celebrate as the world burns." Now that the book is out, what discoveries are you making about yourself and humanity at large?

A.P.: It's not a discovery, I think it's an affirmation that everything is ephemeral, everything is temporary. I was in Stockholm when I was writing the artist statement, the synopsis. I was smoking outside the airport and browsing on Instagram and there was this illustrator who wrote "Why are we asking when things are going to get better when in fact it has neither been better nor been worse?" It just is, it's happening right now. No time has been better than this, no time has been worse than this. This is it, this is what we have.




Everything is ephemeral, everything is temporary.



Making this whole book kind of made me accept the fact that one day I will disappear, the people I love will disappear. We are all just going to turn into dust and, whether or not we will be remembered or we will be forgotten, something about us will be left on this earth. I think that's also one of the things that I kind of realized releasing this 100-edition artist book. One day, maybe next week, the world will burn, or I will die, but at least a hundred people have a copy of my book. It's a printed object, a message of "Hey, Augustine was here."

D.R.: What has been your favorite moment ever since the book came out?

A.P.: My number one favorite was going to the printing press and seeing the book come alive. Holding a copy is the best feeling I've ever felt.

Honestly, I never thought that people would buy this book. When I came to the printers I said to them "OK, let me just print fifty because God knows, I'm gonna spend thousands of dirhams on producing this book, and I'm not even sure if people will buy it." But then, a week after I posted it online, the fifty copies almost sold out. That was just wonderful. I never thought I would have a lot of people supporting me in my art because usually they just come for me for photoshoots or fashion stuff. I didn't know that people really took my art seriously, to the point that they would spend a hundred dirhams on a 50-page book.




I didn't know that people really took my art seriously.




D.R.: One of the poems that both you and the people around you have drawn attention to the most is "The Peachness of Peaches", which is inspired by this saying in Arabic that "tomorrow there will be apricots." How did this poem come to life?

A.P.: I first heard the quote "tomorrow there will be apricots" in Tanya Habjouqa's work when she was photographing five years in the lives of Syrian women in Jordan. It stuck to me because it's a really good quote. I was looking at the peaches I consume because peaches are one of my favorite things to eat. Apricots as well. When peaches become too expensive, apricots are always there as an alternative, they have kind of the same taste and texture after all.



2. Augustine Paredes, The Peachness of Peaches, 2020. Augustine Paredes. Image courtesy of the artist.


I wrote this poem between February and March before lockdown. There was an exhibition on the protests all around the Middle East at GPP [Gulf Photo Plus]. One of my beloved cities, Beirut, had been going through unrest. One day I just sat down and I was writing on my phone. I was thinking about "tomorrow there will be apricots" and looking at photographs of Myriam Boulos and the project that Tanya did. Then I attended the exhibition at GPP and it just came all together. What I had were questions. How I answer those questions, that I don't even remember what those questions are, is through writing a poem.

D.R. Halfway through your book launch you decided that some of the proceedings were going for Beirut's relief for its August 4th attack. If I understand clearly, was part of the proceeds meant to support the Filipino diaspora in Beirut?

A.P.: The last time I was in Beirut, I was shocked to see that they didn't have public transportation. It was just Uber. One day, I was going from Mar Mikhael to the Beirut Art Fair. Halfway through, the taxi driver stopped and two more people joined me in the car. I was like "What's happening?" — and then I found out that they were two Filipinos working at a sushi place. The next day I went to a club, and I met this photographer. He had dreadlocks, and he told me he was half Filipino half Lebanese.

So I knew that there is an existing Filipino diaspora in Beirut and I thought "OK, there is something I could do here." This was way back in 2017. Then this whole thing happened, the explosion happened, and I just felt super guilty. I was releasing a book and money would go directly to me. It's kind of unfair that I quoted Lebanon in one of my poems and had not given back to that country. So I decided, out of respect for what's happening ––I don't want to make it look like it's a performative way of supporting and donating –– I'm going to deliver my books myself, and part of the proceeds will then go to Red Cross Lebanon and Impact Lebanon. I asked my friend Mariam to drive me around Dubai to hand-deliver the books to the ones who pre-ordered.

D.R. As we talk about different geographies, how do you think the Philippines lives in your book?

A.P.: One of the poems I loved writing the most is 'Dancing in a Godless land.' I've always been asked "Augustine, why do you have to write "Filipino artist" in your bio?" I am proud to say that I am from the Philippines. I am proud that I am brown-skinned. I am proud of my roots. I am proud to speak English with an accent.




I am proud to say that I am from the Philippines. I am proud that I am brown-skinned. I am proud of my roots. I am proud to speak English with an accent.



In the book itself, there are not many allusions to the Philippines as a country or as my hometown. But whenever I speak about home, whenever I try to "seek for home" and whenever I say "I'm seeking for home" I always think of home as just the Philippines. That's where my parents are from, that's where I grew up, and it will always represent a special place in my heart. I will always be writing about it. Whether or not it's going to be in the future of my art, I've always made sure that I represent and I take up space as a Filipino artist here in Dubai because there aren't many [of] us. And whenever given the chance, I want to take up space so that when I leave I can give that space for other young artists from the Philippines who want to come and thrive in this country.




I've always made sure that I represent and I take up space as a Filipino artist here in Dubai.




Most of my art projects allude to the Philippines. The last project I did was in Art Dubai, it was called Cooking Adobo in the heart of Dubai. Adobo is a very Filipino dish. I talked about the preservation of home for us, Filipino workers here in Dubai, in the Middle East, and wherever else in the world.

D.R.: What brought you to Dubai?

A.P.: I was offered a photographer's job in 2016 and left the Philippines out of a whim. I just said goodbye to my mom, and "here we go, Dubai." And it was also because of a heartbreak. I was heartbroken when I left the Philippines and kind of ran away from that place where it broke my heart.




I was heartbroken when I left the Philippines.




D.R.: You are creating biographical work that is so deeply "Augustine" yet it feels universal for the rest of us. Are Dubai's audiences in need of more visceral, vulnerable, biographical work? To what degree would you say Dubai is experiencing a new creative impulse?

A.P.: Whenever I produce work, I try to look at myself with the hopes that when I write about myself, other people feel the same things that I feel. It's kind of a form that I've been practicing and perfecting so that I'll be able to tell stories that relate to other people. One of my frustrations is that I could never create work that is about other people. But I could create a work that is about me that concerns other people. It's kind of this Joan Didion way of making books or writing words because she puts herself at the center.

For me it's good and it's surprising that the city is allowing me to be vulnerable in front of them. It's allowing me to rip myself apart and say "here is what I have, you are not supposed to take it, but if you want it, you can take it, it's yours."

That's the direction Dubai is going in, in my opinion. Dubai is going to be more accepting, it's going to be more open, I hope. And it's going to be good for artists that don't necessarily come from here but relate and resonate with the city. We have to admit, Dubai is a big city, it's still growing. And it's good that people like you and I are going to be part of that growth. That's something that I'm hoping for. When it's time for both of us to leave, when our visas will expire and no employers would want to sponsor our residency, I hope that we would have already left a mark. That our books would be in one of the libraries, or at GPP, taking my example. Or maybe that Alserkal Avenue will have a print archive and when we look back, or when they will read their archives, they are going to say "There was a Filipino photographer artist that was here." That would make me really happy.




It's surprising that the city is allowing me to be vulnerable in front of them.




People might think "Oh, Dubai is not open, Dubai is this, Dubai is that." But for me, I see it more as a host and visitor relationship, kind of like a host and a guest. It's like "Hey, here is a space, take up however [much] you want, feel at home, and when you think it's time to go, we'll say goodbye to you in a soft and tender way; we will give you well wishes." That's what I've always thought of Dubai.

D.R.: What would you say to someone who wants to self-publish an artist book in the UAE?

A.P.: I'd say do it, honestly, do it. Make sure that what you are trying to say is what you are standing for. And once you are confident enough to put it out to the world, make sure that you can let go of it, because it's no longer yours. It's for the world to take. Be open to whatever comes after. Be open to scrutiny and to criticism.

And in terms of the logistical process, save up! Learn how to design. If you don't want to send it to a designer, learn how to design your own book. Learn how to be picky with the material, learn how to be patient with your printer, learn how to talk, and communicate properly so that you get what you want. And save up money, honestly, this takes a lot of money and also a lot of patience.

If you want practical tips on self-publishing, I'd really recommend Indie Publishing. It helped me a lot in terms of sequencing the layout and stuff like that.

D.R.: What is next for Augustine Paredes?

A.P.: I'm working on another artist's book. I wanted to publish this for Conversations at the end of the universe, but then I felt like I wasn't ready. It's called Long Night Stands with Lonely, Lonely Boys. You can see some excerpts on my website.

D.R.: If you could share these poems and photographs with one artist, who would that be? What do you imagine that interaction being like?

A.P.: I want to share it [with] Joan Didion. I want us to drink Diet Coke together and share a cigarette smoke. We can talk about the deaths in our lives, and the grief and the grievances that we've felt. I would hold her hand and take a photo. Honestly, that's my greatest wish, for her to see my work.

D.R.: What is something else your audience would only know if they read this interview?

A.P.: That I love iced lattes. [laugh]

I could tell you about my everyday work routine. I wake up, drink a hot coffee with milk, smoke a cigarette outside my house, then go to Alserkal, put my things down, go to A4, buy an iced latte, take a selfie, and go back to work. That's it. That's the formula for my day to day, and if anyone ever reads this interview, they would know that. It's been like that ever since we moved to Alserkal. We used to work in Al Quoz, in one of the warehouses. When we moved to Alserkal it became this everyday thing. It was funny, [once] there was this girl who I was lining up within the coffee area of A4, and she is like "Look, they made a mark for you in that mirror because you always take selfies." Well, what can I say? I'm happy they've noticed!




---
Augustine Paredes (@augustineparedes) is a Filipino artist and photographer based in Dubai. Augustine's lyrical, contemporary, and sensuous visual narratives are derived from his many-storied travels, South East Asian consciousness, and raw sensibilities. To purchase a copy of Conversations at the end of the universe, click here. To view more of his work, please refer to Augustine's website.

All images in this article were provided by the artist.

Published by:



e-issues.globalartdaily.com

A Global Art Daily Agency FZ-LLC subdivision.
Copyright, 2015-2023.
For reproduction, please contact us.