Re-viewing Contrasts: Hyphenated Spaces at Warehouse421

By Hanan Sultan

Published on March 7th, 2021

Hyphenated Spaces, a virtual exhibition curated by NYU Abu Dhabi students of Professor Salwa Mikdadi's Curatorial Practice course, is currently being hosted at Warehouse421's online platform until March 30th, 2021. The virtual exhibition, selecting thirty-four artworks by artists representing various geographies, periods, and styles, is a reinterpretation of Hashel Al Lamki's The Cup and The Saucer, the artist's first solo exhibition, curated by Munira Al Sayegh, and also hosted at Warehouse 421's Abu Dhabi space in the spring of 2020.

Overall, the online exhibition experience was positive. I was overwhelmingly surprised by the embedded virtual art gallery format and preferred it to a normal web presentation with static images, text, and video.



1. Installation view. Hyphenated Spaces: "The Cup and The Saucer" Reinterpreted, 15 December 2020 - 30 March 2021, hosted by Warehouse421. Virtual exhibition.


The Cup and The Saucer's multilayered aspects show the success of Al Lamki's practice. His work centers around letting go of control and looking at his own work through new artists' lenses, creating a certain complexity of creating and curating which goes beyond the exhibition space. Mr Lantern (2017-2019), for example, inspires individuals and artists to think about presentation while creating and manifesting. Its shapes and colors resonate with the viewer, and the installation as a whole has a certain capacity to inspire creative energy once the viewing experience over. The curators of Hyphenated Spaces reinterpreted 6 sub-themes that were directly taken from Hashel's show: Birth and Earth; Rejection and Reflection; Versailles; Linger and Departure; Screensavers and Control and Guilt.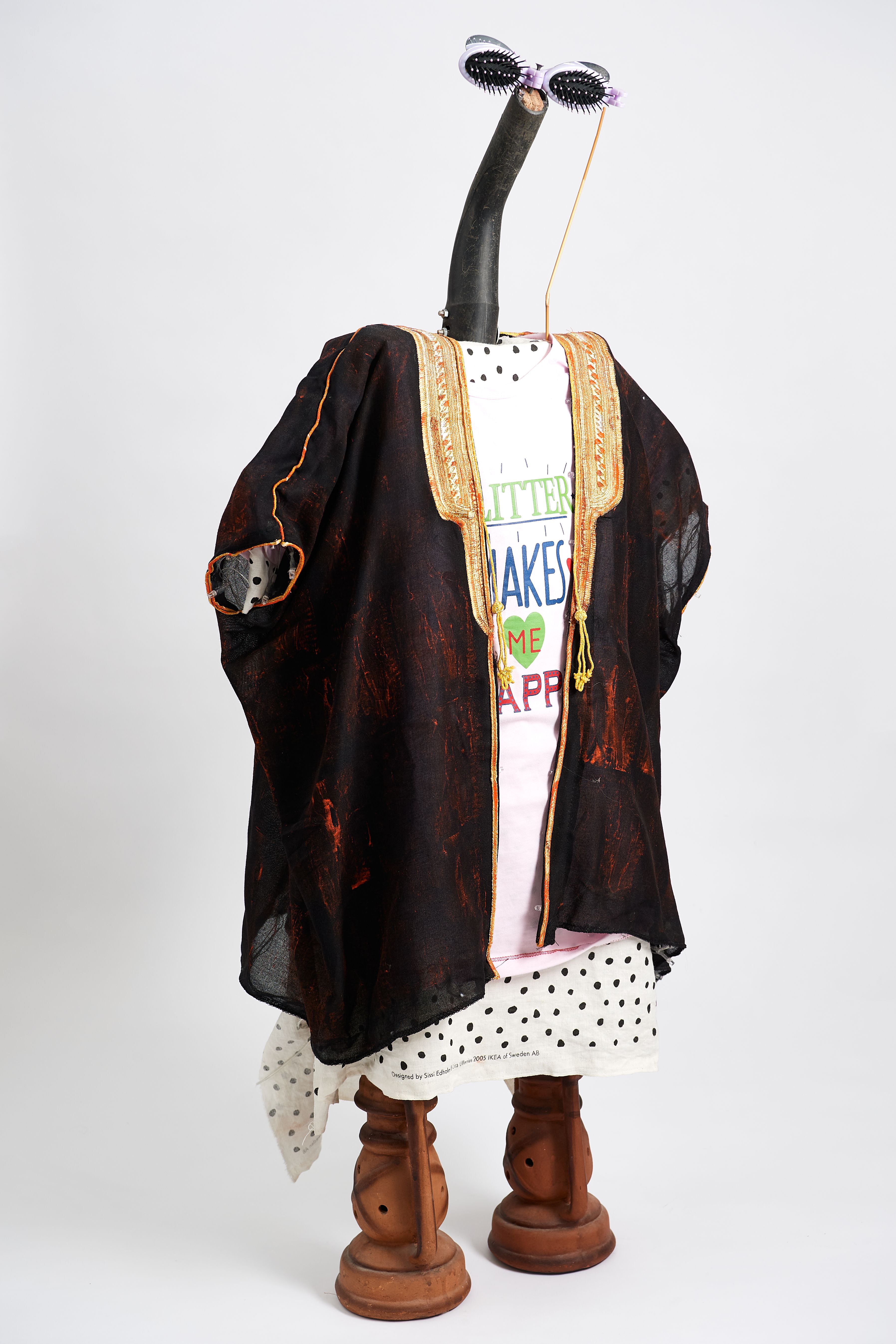 2. Hashel Al Lamki, Mr. Lantern (2017-2019). Clay, Fabric, cardboard, plastic, comb, mirror, LED lights. Image courtesy of Warehouse421 and the artist.


One of the main themes that Hyphenated Spaces explores is the concept of two things put together. This theme matters both visually and conceptually. Viewers realize a sense of contrast that starts a conversation or an inner dialog. A simple "why?" sparks the potential of many different possibilities and outcomes. The cup and the saucer are two objects that are put together in unity; however, they both can stand and function individually alone. "Why are they meant to be together? Why can they function separately and why are they compatible in their unity?" Similarly, the contrast between creating and curating is a sharp characteristic of the exhibition concept. "Curation is as important as creation." The exhibition considers the way an artist's work is presented as important as the work itself: how it is laid out, in what order, and in what composition. Should the viewer look at the art from the artist's lens or through their own developed lens? "How do I want a viewer to perceive my artwork? What am I trying to communicate and how can I effectively do that?" The idea of "two things put together" is portrayed through three additional contrasts in the show. There are videos, images, and objects moving through time, but also photographs – still images frozen in time. The exhibition also presents us with visual art and poetry, a form of written art. A final form of contrast is the exposure to both historical and contemporary pieces.




Curation is as important as creation.



Student Sherry Wu curated the sub-theme "Re:jection- flection-born," curated in response to Hashel's sub-theme Rejection and Reflection. Sabrina Zhao's My Unloving Love (2018) is an experimental video montage, a film that explores the contrasts of self-love and confidence. In her statement, the artist explains that the film is intentionally left incomplete and compares it to personal confessions of her failure. Her intentionally-incomplete film communicates the open-endedness aspect of the exhibition to the viewers, continuing to inspire them beyond the virtual exhibition space. "What happens if I, as an artist, leave my work incomplete? Is there a certain beauty to incompleteness? Is there beauty in appreciating the journey, the process of experimenting rather than perfecting the end result?" The artist further states that her process is "unsolvable". My critique however is that art is always unsolvable and no piece of art is ever "complete" or fully "solved." There is always room for improvement and endless different directions, sub-directions and possibilities to explore. The result is factual. But I still enjoyed seeing the beauty of this "incomplete" film rather than enduring its failures. The process of curating lies in surrendering to the materials accumulated.




What happens if I, as an artist, leave my work incomplete?

3. Sabrina Zhao (Ruobing, b. 1996), My Unloving Love, 2018. Still. Experimental video. 6min. No dialogue with English subtitles. Video courtesy of the artist.


Fatima Al Kindi's VIBES is a series of latex paintings on canvases. She dives within herself as a creator and contemplates how she feels about creating when she is in the middle of the process rather than at the far deep-end of the search for meaning. She surrenders to her large canvases and lets the process of creation take over, gambling for the outcomes. Through her lens, the canvas becomes a sea; her painting lets us perceive the contrast between geometric compositions and the free-forming textures. Her process here is in letting go of control and considerations in order to create, and then coming in and starting the process of controlling the curatorial aspects of presentation and exhibition layout.




She surrenders to her large canvases and lets the process of creation take over, gambling for the outcomes.

4. Fatima Al Kindi (b. 1998), Untitled 2, 2020. Latex paint on canvas, 257 x 147cm. From the series VIBES. Image courtesy of the artist.


The sub-theme "Gender, Control and Guilt" is a curation of historic wearable objects that pressurised, controlled and guilt women through beauty standards, fashion trends and cultural expectations. This curated section is a response to Hashel's sub-theme Control and Guilt.

Velázquez' Maria Teresa (1638-1683) Infanta of Spain is a portrait of a Spanish heir with purposely-styled voluminous hair decorated with butterfly hairpins. This wig portrays the history of women surrendering to the pressures of beauty standards by adding large and heavy hair paddings; rollers and pillows stuffed with sheep's wool to create hairstyles such as the Pouf. Historically, they believed that this gave them a grandiose appearance despite strained necks and difficulties in regards to mobility. The guilt aspect is born out of women feeling they need to conform to such beauty standards, in turn giving power to societal pressures and ultimately resulting in a form of control. Afterall, hair is potent.




Hair is potent.

5. Velázquez (Diego Rodriguez de Silva y Velázquez), Maria Teresa (1638-1683), Infanta of Spain, 1651-54. The Metropolitan Museum of Art, New York.


Hyphenated Spaces' multilayeredness proclaims the success of Al Lamki's practice. The show explores the theme of putting two things together and is a testament to us living through a time of adaptability. "I'm now inspired, how can I express that and what is my medium?" This show itself is embodying flexibility, an unreal realness; a virtual gallery space that feels so real, yet behind a screen inside a device. As we go forward in this new digital paradigm, I foresee the world to be more accepting of visual and conceptual hybridity. "What can I as a viewer, hobbyist or an artist put together to create a bricolage? How can two or more ready-made things be put together to create something new?" Start by gathering quotes, ideas, visuals, sounds, materials or ingredients, surrender to what you have gathered and respond. "My medium speaks for me."


---
Hyphenated Spaces in on view virtually at Warehouse421 until March 31st, 2021.
Visit the exhibition here.
For a closer look into the exhibition, visit Warehouse421's series of Deep Dives.
In response to the COVID-19 pandemic, the curators digitally realized this exhibition from their respective homes across several continents, never meeting in person. The virtual exhibition is curated by Mingu Cho, Jeffrey Liu, Ju Hee Noh, Christopher Pohndorff, Sherry Wu, and Tonia Zhang.


Hanan Sultan is a jewelry designer based between Muscat, Dubai and London, who has previously participated in student collaborative projects with the British Art Medal Society, Cartier, Louis Vuitton, Swarovski and Vitsœ. Passionate about both fine arts and fashion, she sees jewelry as the perfect middle ground between the two. Her practice is predominantly centered around cultural identity and the human experience of society in relation to this. She graduated with a B.A. in Jewelry Design from Central Saint Martins and is currently pursuing her MA in Jewelry and Metal at the Royal College of Art.
Special thanks: Salwa Mikdadi and Sherry Wu.

Published by:



e-issues.globalartdaily.com

A Global Art Daily Agency FZ-LLC subdivision.
Copyright, 2015-2023.
For reproduction, please contact us.