3. Pop(Corn): Zeid Jaouni


By Daniel H. Rey and Sophie Arni

Published on February 20, 2021

Zeid Jaouni is some kind of wunderkind. He's young, soft-spoken, highly ambitious, and multi-talented. Based between Dubai and New York, Zeid is currently studying Communication Design at Parsons School of Design and also happens to have a prolific modeling career. In 2019, he graced the digital cover of GQ Middle East and has been featuring in campaigns for Bloomingdales, Burberry, and Calvin Klein, amongst others, since then. While there is a certain emphasis on finding a niche, especially in Dubai's creative scene, Zeid seems to be equally good at more than two things.

Zeid embodies the kind of profile we find highly interesting for our recurring Pop(Corn) series, an interview series aimed at humanizing exposure. Pop(Corn) is for the type of artists who are doing things very consistently – the type of consistency it takes to produce one poster a day for a hundred days and be on the cover of GQ Middle East. We have to mention our inaugural Pop(Corn) with painter and artist Hashel Al Lamki, who had just come out of opening his first solo exhibition at Warehouse 421 in Abu Dhabi. By the time it came out last August, many people in the UAE saw Hashel's works, but they were not necessarily aware of his entire artistic journey. Pop(Corn) is dedicated to the people of the moment, whom we have seen or heard of many times but whose personal journey may have not been fully shared.

This time around, we decided to feature a fresh voice connecting Dubai to New York. Zeid is currently following remote courses at Parsons while working on independent projects with Dubai's most exciting fashion designers. He also recently exhibited at We Are Wondering, a group exhibition at Dubai's Maisan15. We sat down with him to get his pulse on Dubai's creative scene and his thoughts on his imminent return to New York City.



1. Zeid Jaouni on the cover of The National's Luxury (October 2020), Esquire Middle East (September 2020), and GQ Middle East (Digital, March 2019).


2. Zeid Jaouni, 100 Days of Design Posters, 2020. Mock-up book cover. Courtesy of the artist.

Daniel H. Rey: Let's get started with a first question. Zeid Jaouni, tell us a little bit about the places in your life: cities, countries, that are relevant to you. What does your personal map look like? What are the cities in your toolkit?

Zeid Jaouni: I'm Palestinian — my family is Palestinian — but I was born and raised in Dubai. I lived here my whole life. I traveled to a few other places for vacations and for visits but growing up, I didn't settle anywhere else except Dubai, and now New York. For university, I moved to New York because I wanted to feel the responsibility of being on my own, in a big city. It helps me prepare for the future. I think it's an important step that we all need to take. And New York, I mean, it's the place to be. It's lively and it enables me to see things differently, compared to my reality here in Dubai. They are two different cities with two very different concepts.




I moved to New York because I wanted to feel the responsibility of being on my own, in a big city.




D.R.: What Dubai did you leave and what New York did you arrive to?

Z.J.: I left Dubai in 2018 and I wasn't too aware of the art scene. I had just graduated from high school. I took art classes in school but I feel like schools here don't place art education as a priority. It's all about maths, science, these types of disciplines. And when I moved to New York, it was a drastic change. An overwhelming feeling. I was exposed to little in Dubai and all of a sudden, there was so much to see in New York. You know, you could just step out of your house and look at a wall and see graffiti everywhere. We don't have that in Dubai. It's just really inspiring. It was a good thing to change environments so drastically, I think, for my own personal growth. Thankfully I was able to quickly adapt. Especially being at an art school [Parsons School of Design], which helped me to grow into it. I see things differently now that I'm back in Dubai. My day-to-day is centered more around art and creativity.

Sophie Arni: You already have a great network within the fashion industry in Dubai. Did you develop those relationships while you were still in high school or remotely throughout your college years?

Z.J.: In my high school years, I had a couple of friends who were in the creative industry. Some were starting their own brands, some were photographers, designers. It was a small group. I knew someone, who I still know, called Wathek Allal. His brand is called Precious Trust. He wanted to drop his first collection and he was looking for models. We knew each other from skateboarding, so I told him 'hey maybe, I could do it.' For me, it was risky because I had never done any modeling before. I took the chance and it went really well. At the shoot, I met two photographers, and from that, slowly I got to know more people and it all came to be.

S.A.: And how about skateboarding? Do you think there is a bigger scene now in Dubai compared to a few years ago?

Z.J.: Definitely. We had one or two skateparks and now we have maybe six, and two new ones opened in Abu Dhabi.

D.R.: I'm curious to know what you do that keeps you energized, inspired, and creative. What are your sources of energy and your sources of creativity, especially in the context of Dubai and New York?

Z.J.: I mean, my creative process is usually based around my environment and my surroundings. I used that to inspire me and to motivate me to do more. For example, say I look at a building and I like the architecture. I could take the shape and transform it into a digital piece. You wouldn't exactly see the building but the shape is manipulated into it. I tend to use my environment in that way. In New York, I feel that the environment is very inspiring. I could just walk around and write things down for a new project. And how do I keep my energy? I guess I just have a passion for what I'm doing. I always want to create more, to inspire people, to make a change, to be able to communicate to everyone that if you want to do this and have this lifestyle, you can do it. There shouldn't be anything that stops you.

It's always going through my mind. This urge to be unique, to create, to drive change. A professor once told me 1+1 equals 11. You could ask a math teacher about 1+1 and they will tell you 2. "11" is about being the one that stands out. And I think that's what energizes me.




Say I look at a building and I like the architecture. I could take the shape and transform it into a digital piece.
3. Zeid Jaouni, Untitled, 2020. Courtesy of the artist.




I was exposed to little in Dubai and all of a sudden, there was so much to see in New York.




S.A.: You mentioned in high school already being around the skateboarding culture and other creative people. Did they also inspire you to go forward and move to New York?

Z.J.: My parents were always happy and supportive of the work I made, even when I was younger. They would always motivate me and tell me that if I wanted to do it, that I should go ahead and do it. Also, I tend to surround myself with people who don't necessarily do the same work as me but people who inspire me. Even with skateboarding, many of them were doing graffiti, graphic design, fashion design. There was always a presence and a sense of creativity around me.

In high school, my friends were with me in my art classes and they motivated me to do more. My art teacher taught me from seventh grade all the way until senior year. She just kept telling me to go and chase my dreams. Shout-out to her for believing in me.




My parents were always happy and supportive of the work I made, even when I was younger.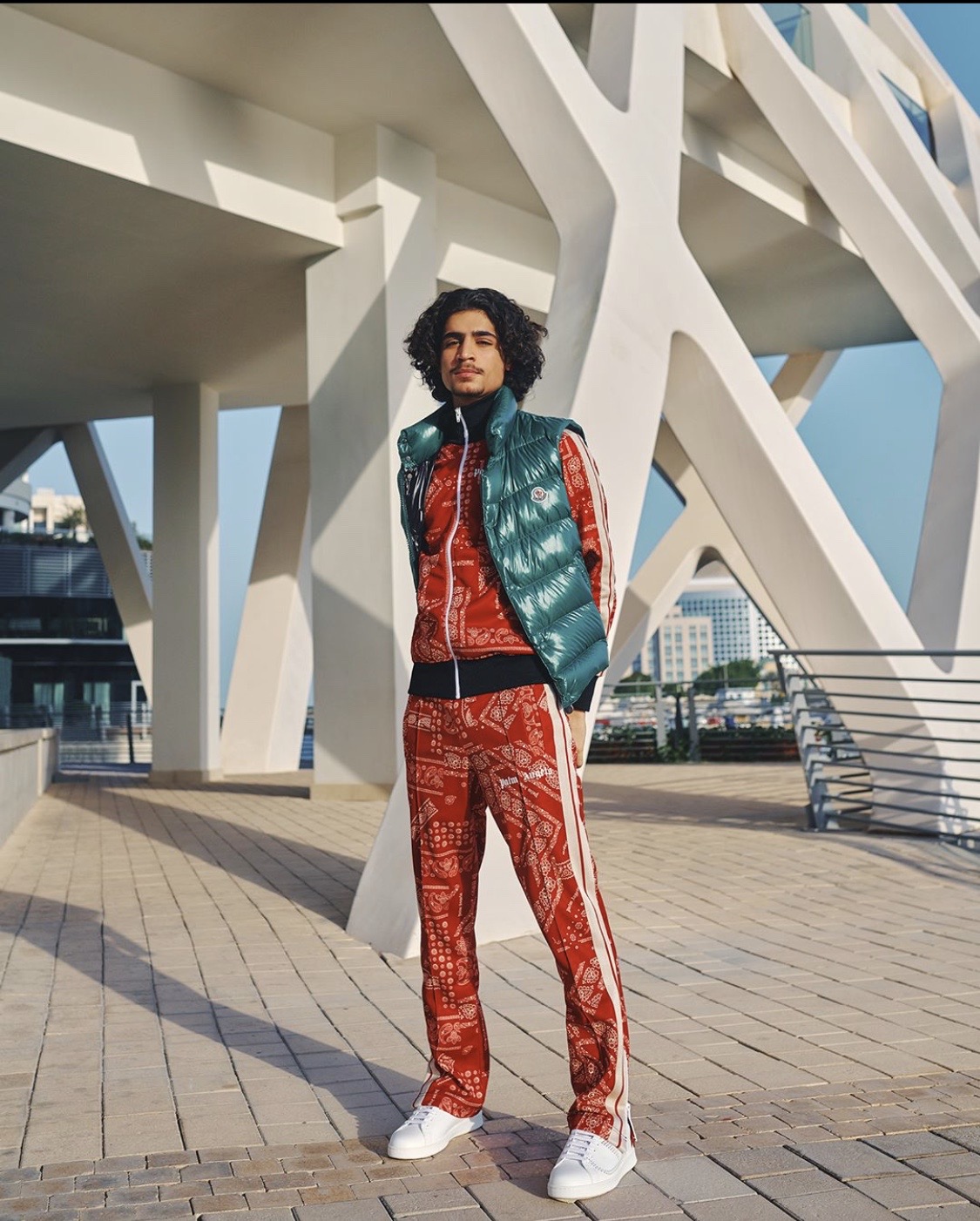 4. Left: Zeid Jaouni for Bloomingdales, Pre-Fall 2019 campaign, Dubai. Right: Image courtesy of Global Art Daily.

D.R.: Let's unpack that a little bit. You mentioned some individuals who inspired you. Could you tell us more about them?

Z.J.: My first photoshoot was for Precious Trust with the designer Wathek Allal, I mentioned him earlier. He's really interesting and I recommend you to check out his brand if you haven't already. He also did some modeling and then he started his own brand. Growing up, I used to take a lot of inspiration from him. I thought he was so cool, the designs were interesting and the clothes were nice. When I was younger I was not clear on what I wanted to do. Graphic design or fashion design - I didn't know which direction to go into. I even experimented with fabrics and cuts - I made a jacket and a pair of trousers. Then I started to make posters. Slowly it gave me a direction. I'd say Wathek was an inspiration at the beginning, as well as my art teacher.

Also, my family inspired me. They always guided me in the right direction. Even though sometimes things may seem difficult, they always have great advice for where I should head next.

S.A.: That's critically important: family is at the base of everything else. So from what I understand, you were in high school, hanging out with skateboarders with influences of fashion designs and photography, getting to know brands like Precious Trust. And then how do you from there to being on the cover of GQ Middle East? That's a big, big jump.

Z.J.: Yes, that was in 2019. It was Precious Trust, and then GQ.

S.A.: That's amazing. Looking back, do you think you were lucky to be in that position? How did you feel when you first heard the news?

Z.J.: The GQ digital cover came to be through different relationships. The photographer who shot the cover is friends with Wathek. So in a way, it slowly progressed and evolved from Precious Trust to GQ. It was really exciting, I am so appreciative of this opportunity and realize how lucky I was. That first digital cover was during my first year of university. The first year is the Foundations Year at Parsons, they give you an idea of every discipline so if you want to change your major you can do it in your second year. We didn't delve too deep into graphic design, my chosen major. I knew a few people from GQ, so I reached out to them. I wondered if there was a possibility that I could intern. There was a position open as a Stylist Assistant. It was all new to me but it sounded exciting and also a great opportunity to know about what it's like to work in the production process of a photoshoot. I already had an idea of what was happening during the shoot and now I could learn what was happening ahead of and behind the shoot.

I did that my freshman year. Then the following year, 2020, I interned again as an Art Department Assistant, which is catered more to my major, working on editorial layouts and that sort of thing. I would like to thank GQ for all the opportunities they have given me.




A professor once told me 1+1 equals 11. You could ask a math teacher about 1+1 and they will tell you 2. "11" is about being the one that stands out. And I think that's what energizes me.




D.R.: I'm curious to know about your craft as it stands today. You are recognized as a model to the extent that I walked in this store the other day in Dubai and they told me - oh we have this new model for our campaign - and I was like, let me guess. [laugh] You seem to have a prolific modeling career for your age, but you're also a designer who recently exhibited his work. I know you already played around with sculpture, embroidery, pottery. You cover a wide range of media. Tell us more about that. What mediums do you explore and what themes are you navigating?

Z.J.: It was hard to find a path because I'm into everything. I love making 3D objects, I love making posters, making clothes. I even played around with creating obstacles for fingerboards. I still have them from when I was a child. I would reuse cereal boxes and random cardboards and turn them into mini skateparks. I would do that for fun and then graphic design came in, which prompted me to think of what I wanted to do in the future. What would be most suitable for me, for my career, for my personality? Branding, editorial work, book layouts, posters. The 100 Days posters is something I did for fun, it wasn't for an assignment or anything. It was a summer thing.


5. Zeid Jaouni, Miniature skatepark, 2021. Image courtesy of the artist.




6. Zeid Jaouni, 100 Days of Design Posters, 2020. Images courtesy of the artist.


S.A.: When I look at your posters from the 100 Days series, I see some inspiration from record covers, especially with those waves, it reminds me of Joy Division's Peter Saville posters. And then with the typography, it's very modernist, a lot of Bauhaus influence.

Z.J.: Bauhaus really inspires me. I have this whole book about the Bauhaus movement at my house, I like looking at it for inspiration.

D.R.: One thing people may not know about is that your grandparents had a printing press for movie posters in Egypt. Your creative exploration today speaks for a much longer lineage and complex history. Two generations later, you are producing posters yourself, and your face has also become printed press, in places no short of Dubai and New York. How do you locate yourself within a larger history of designers in your family?

Z.J.: I was recently made aware of my family production history. A couple of years ago, my father brought us this movie poster and he showed us at the bottom of the poster our name Jaouni Agency (arabic: وكالة الجاعوني). A couple of years later he brought in two more posters, I was really fascinated by what they had created. They had a whole stack of them. That was also an inspiration for building who I am. I haven't thought too much about how the production company printed these posters and designed them, until I created posters myself and worked for different publications. I haven't thought too much about it, but thinking about it now, it's true. It's kind of amazing.

S.A.: A full circle.

Z.J.: The way it's supposed to be.



D.R.: I want to extract something you said about knowing who you are. Who are you when you're in Dubai? Who are you when you're in New York City?

Z.J.: In Dubai, I live with my family so I'm more family-oriented. I spend most of my time with family and spend time with friends, who also motivate me. I always try to spend time with people who inspire me. It's usually with family, and they push me to do my best. In New York, I live alone with a roommate. Being all alone you have to find your own path. Again, the city inspires me. Parson, with all the assignments and professors I meet, guides me in the right direction. I feel that's really important at a young age. Being out there on your own is pretty difficult so it's important to have people to guide you and who can help you grow. For example, I had a professor who didn't know I modeled and when he found out he asked me if I wanted to collaborate on a new project.



I always try to spend time with people who inspire me.



S.A.: Is there anyone on your radar in New York in terms of fashion designers, graphic designers, artists?

Z.J.: In terms of artist, Daniel Arsham. I'd love to reach out to him. It would amazing to combine both of our mediums, the outcome would be great. I'm really inspired by his work. My professors also inspire me a lot. I'm taking a screen-printing course this semester and my professor used to work for Andy Warhol. Andy Warhol taught that professor and that professor is teaching me, that's just crazy to think about.



Daniel Arsham, I'd love to reach out to him.



D.R.: What have you learned about who you were? What wild moments have you had, in terms of realizations, things that have been crucial to your development in New York? We all grow up with a vision of New York, and reality can hit different.

Z.J.: I expected New York to be difficult, but I didn't expect that I would be all on my own. Over there, you're really out there on your own, you need to find your own community, your own way to position yourself. It's hard to build a name for yourself, to carve out your path.

S.A.: The competition, the fact that many people are on the same path as you, it can feel overwhelming too.

Z.J.: Definitely.

D.R.: I mean New York is about dreams, and there are so many quotes, I'll spare the clichés. What are you aspiring to? Is New York a rite of passage for you in your creative journey or is it the destination, a place where you want to base yourself in and develop?

Z.J.: I think New York represents a path in my creative journey. New York is motivating, it's inspiring. I'm meeting a lot of people at my university, with my professors and my classmates. With that, I can build a starting point. As you grow older, you sort of keep them close and you build a community there and from that, it could expand into something bigger. I want to continue to work in New York. My family lives here so I plan to come back and transition between these two cities.

S.A.: Do you find it hard to introduce Dubai to your New York crowd? How do they react or what do they say when they find out you're from Dubai?

Z.J.: They think Dubai is all about luxury. Of course, there are aspects of it, but it's not all like this here. There are areas still in development. But in the creative field, Dubai did a good job building a name for themselves.



I want to continue to work in New York. My family lives here so I plan to come back and transition between these two cities.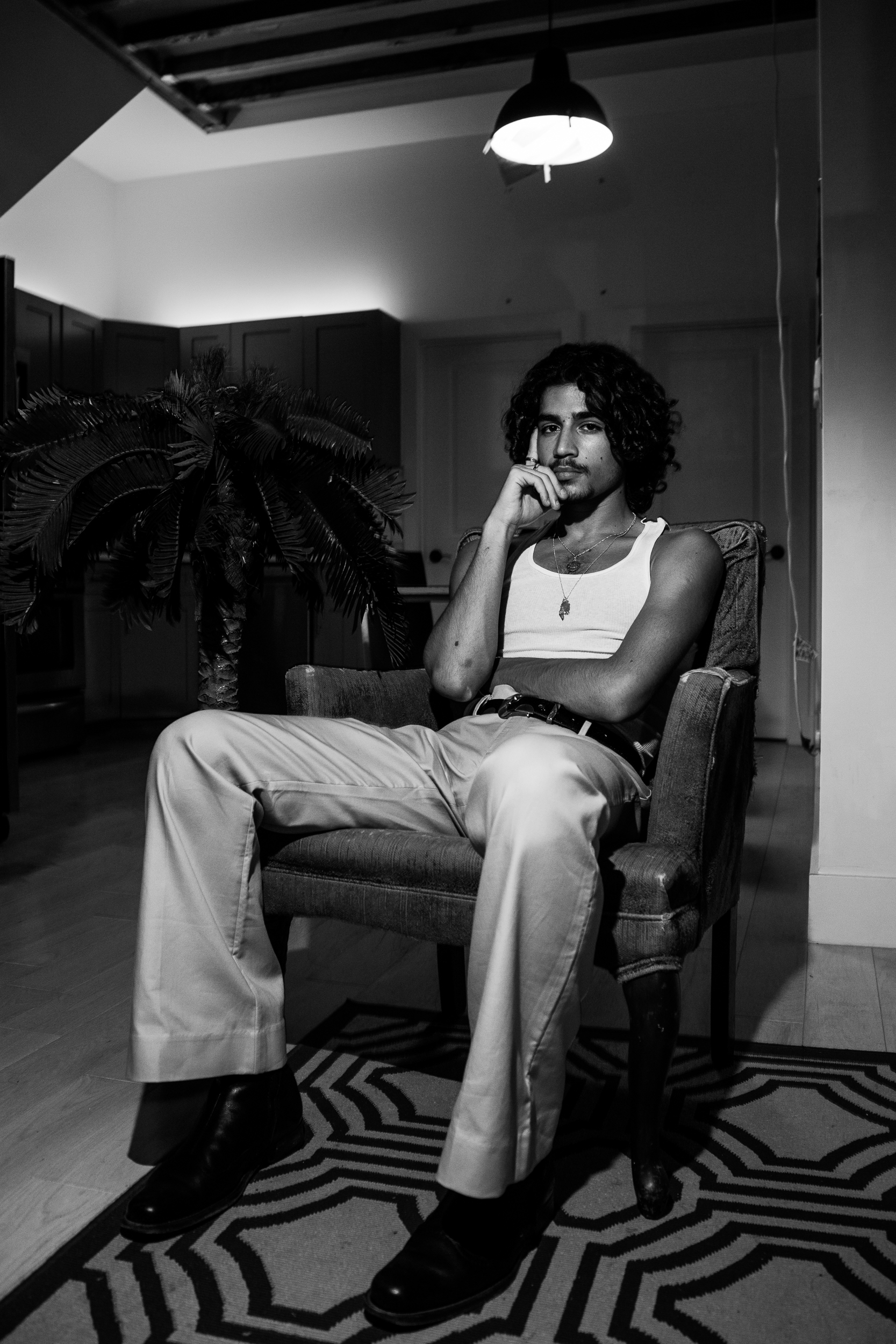 7. Zeid Jaouni in New York, 2020. Photo: Amal Flower Kay.

D.R.: What's a day in your life in New York City?

Z.J.: During the week, I usually have classes in the morning, then I tend to go to a coffeeshop and do my work there. The environment is lively and you can meet interesting people. That's one thing about New York, you can meet interesting people wherever you are. Even just walking to the coffeeshop you can stumble across different individuals. Then I usually hang out with friends during the weekend. For me, when I have work, it never stops. Like I have this to do, that to do. But in a healthy way, since it's on my mind, I sort of capture things in the city which help me create and produce. Let's say I need to write an essay about architecture. I could walk around and in my head think of this essay I need to write, and then I see an interesting shape on the ground, like a rock, and the rock has an interesting shape, I think of how it could be translated into a building, how the resulting building would like.

S.A.: Right, a very organic process. This reminds me of another interview we have in this issue with Vikram Divecha - he mentioned the city becoming his studio - it's the same for you. But with Covid, I guess all of this stopped. You flew back to Dubai, right? Are you hoping to go back to New York soon?

Z.J.: Yes I came here to Dubai in March 2020 right before the lockdown started. I was able to find inspiration here. I found a lot through my 100 Days Poster. I just feel like I need a quick change. Sometimes when you're surrounded by the same thing for a long time, it takes you more time to create things. Having a drastic change would be good.



When I have work, it never stops.



D.R.: What places do you recommend in New York? What's your favorite neighborhood?

Z.J.: I used to live in the East Village, where the Parsons dorms are. It's really nice neighborhood, it feels homey but it's still part of the city you know. I love it. There are really cool coffee shops. It's really nice to walk around and enjoy the environment. In my second semester, I moved to Brooklyn, it's quieter and more of a residential neighborhood. My neighborhood is quiet, a sort of getaway from the city. But I spend most of my days in the city. I'm at home only when I wake up and when I go to bed.

S.A.: That's how it goes in New York.

Z.J.: Time passes by so fast.

D.R.: Especially when there is no L train.

Z.J.: Yeah for a couple of years, it would run every 20 minutes. Imagine you're rushing to class, and you missed that train, you had to wait 20 minutes.



8. Zeid Jaouni in New York, 2020. Graphic courtesy of the artist for Global Art Daily E-Issue 02.




Favorite airport:
Dubai International Airport Terminal 3

Biggest role model:

All the Palestinians would say that, but I look up to the Hadids. You know, them being Palestinian and representing us on a global stage, it's inspiring.


A song trapped in your head:

Pink Floyd - Wish You Were Here

Favorite sneaker:
Vans Old Skool classics or Converse.


An artist in your mind:
Daniel Arsham

Favorite word in Arabic:

فكره or حب
(Idea) or (Love)


Favorite word in English:

Anything


Favorite magazine:

GQ


Favorite app:

Instagram


New York or Dubai?

I can't choose! Both.


A photographer you loved working with:
Prod Antzoulis

Go-to outfit:

Blazer, simple white undershirt, straight or flared trousers. For shoes, loafers or boots depending on weather.


Favorite coffeeshop in New York:
Joe and the Juice
Favorite juice:
Usually I order Coffeeshake. I'm not a big fan of coffee but it's going to wake you up, you need that over there.


Where do you for fashion inspiration?

It would always be SoHo. It's a great place to learn new things, to explore new ideas and designs, and to meet new people. My school is also right next to Union Square, so students tend to be there or in Washington Square Park right by NYU. Parsons is 5 minutes away, so it's a great community.


Favorite stores?

Anywhere, honestly. Nordstrom Rack, Beacon Closet, thrift stores. Most of my clothes are from thrift stores. That's what I miss the most here in Dubai!


Why thrift stores?

You can just walk in a thrift store without a clear idea of what you want to buy. You can go in with an open mind and look at everything. Graphic t-shirts. Blazers. I'm really into blazers.


Who would you want to grab Pop(Corn) with?

With both of you.


---

Published by:



e-issues.globalartdaily.com

A Global Art Daily Agency FZ-LLC subdivision.
Copyright, 2015-2023.
For reproduction, please contact us.