What's On in the UAE: Top Summer Picks

By Global Art Daily's Editorial Board

Published on June 27, 2022


The Third Line
Sara Naim: Rose Tinted
Until July 8, 2022

Rose Tinted is Sara Naim's third solo exhibition at The Third Line, for which she introduces a new body of work featuring photo-objects captured in plexiglass and wood. With a whimsical quality, this new series gives audiences a splash of colors and familiar references, injecting some much-needed fresh air in Dubai's heated summer waves.

As curator and writer Vanessa Murrell notices, "Greek philosopher Plato's Theory of Forms (308 BC) provides a framework for [Naim]'s examination of delusion and reality by means of simplified, cartoonish language. All we witness, according to Plato, takes the form of an ideal beyond time and space that can only be accessed by the mind." This exhibition is indeed a deeper reflection on perception, sight, and connecting visual with meaning in the flattened image-heavy world we live in.


1. Sara Naim, Tropical Scene, 2021. Plexiglass, C-type digital print, wood. Image courtesy of The Third Line.



Jameel Arts Centre
Proposals for a Memorial to Partition
Until February 19, 2023

This extensive group exhibition, curated by Murtaza Vali, brings together provocations by 20 artists and writers that revisit the traumatic shifts that produced the modern nation-states of South Asia. This exhibition includes the broadest spectrum of media, from text, drawing and painting to installation, maquettes, video and audio, offering a poetic and speculative look at a moment in history that resists narrow definition. 'Proposals for a Memorial to Partition' is accompanied by an expansive public programme of talks, seminars, films and various learning opportunities for all ages, throughout its 8-month run.

'Proposals for a Memorial to Partition' features both highly established artists and emerging voices showing in the Middle East for the first time: Bani Abidi, Saira Ansari, Hemali Bhuta, Fahd Burki, CAMP, Abhijan Toto, Fileona Dkhar and Pujita Guha for the Forest Curriculum, Shilpa Gupta, Faiza Hasan, Aziz Hazara, Karachi LaJamia (Shahana Rajani and Zahra Malkani), Shreyas Karle, Amitava Kumar, Pak Khawateen Painting Club, Sreshta Rit Premnath, Fazal Rizvi, Seher Shah, Omer Wasim and Nabla Yahya; with new commissions by Faiza Hasan, Fazal Rizvi and Omer Wasim.


2. Proposals for a Memorial to Partition, Installation view. Courtesy of Jameel Arts Centre.


Warehouse421
Jill Magi: The Weft in Pencil
Until September 11, 2022

The Weft in Pencil is a solo exhibition by NYU Abu Dhabi Associate Arts Professor Jill Magi, as part of the Warehouse421 Artistic Development Exhibition Program, in partnership with The Institute for Emerging Art.

After publishing her last book "Sample Book Pages 1-17" in 2019, visual artist and poet Jill Magi felt a strong desire to work with color, shapes, and paint. She also craved larger works and felt stifled by the space of the book page and computer screen. At around the same time, and as a weaver, she began studying the technique of African strip-weaving and the grid patterns of those cloths. She found their slight misalignments and unpredictable color combinations beautiful and inspiring. The artworks in The Weft in Pencil are rooted in these desires, inspirations, and in Jill's study of textiles. She came to see the grid or matrix—the intersection of warp and weft, the editorial grid of the page, and the patterns made by weavers—as an immensely generative space rooted in the textile arts.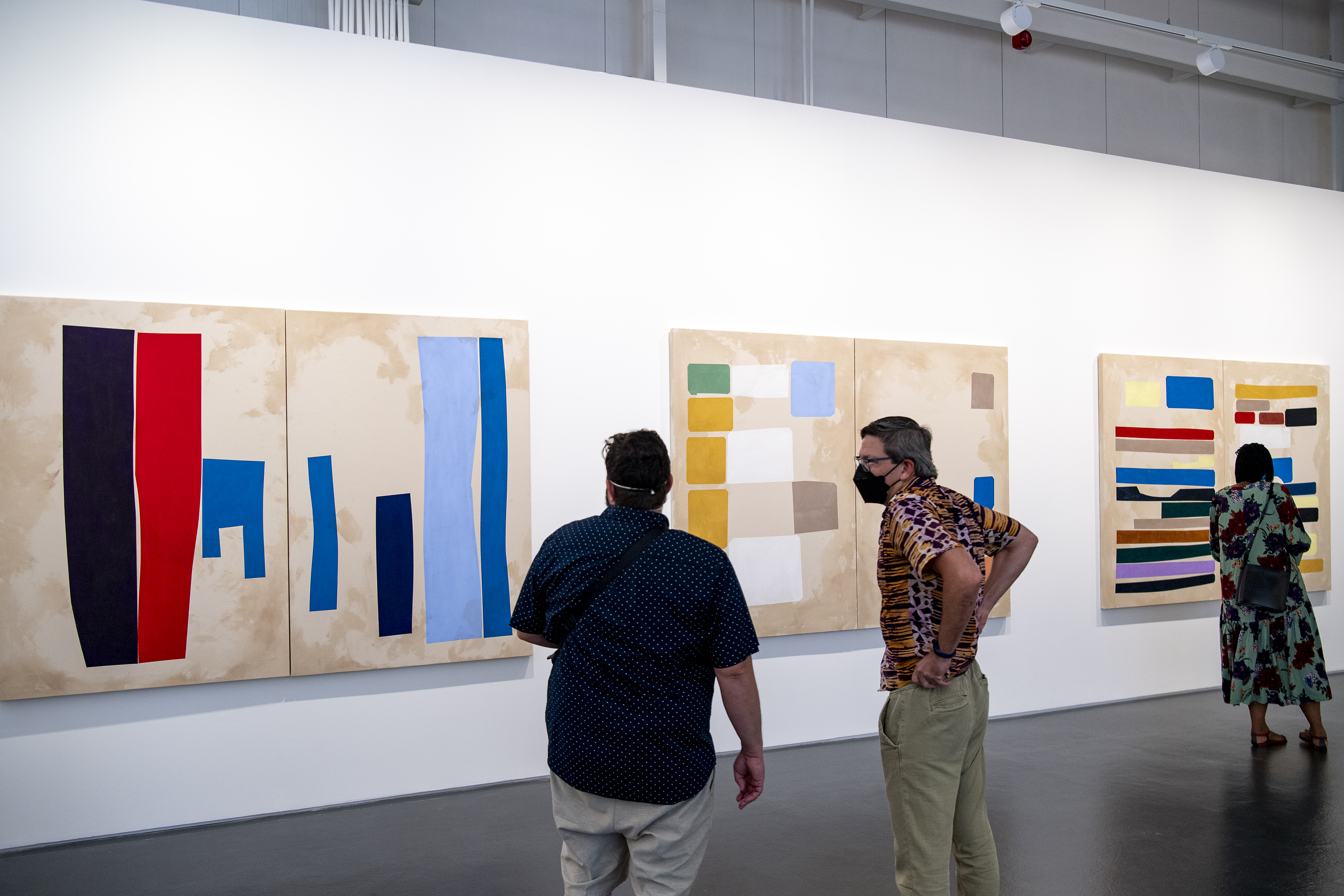 3. Jill Magi, The Weft in Pencil, 2022. Installation view. Warehouse421, Abu Dhabi. Courtesy of Warehouse421.


Firetti Contemporary
Eyes Wide Shut
Until August 12, 2022

Curated by Céline Azem, Mara Firetti and Océane Sailly, Firetti Contemporary is currently showing Eyes Wide Shut, a collective exhibition of ten women artists from the UAE, Iran, Armenia, Ukraine, Palestine, Egypt, Syria, Lebanon and Kuwait. The exhibition embodies a visual exploration of a wide range of socio-political, issues through multidisciplinary mediums, such as painting, collage, video, and installation. Eyes Wide Shut is a dialogue of individual styles by women artists belonging to three different generations (Generation X, Millennials and Generation Z) who, whilst navigating their own path, question familiar narratives and shed light on pressing issues.

Collectively, the artists in Eyes Wide Shut investigate a variety of themes, including cultural and gender identity; interpersonal relationships; and more broad sociopolitical dynamics, both in their locale and beyond. Individually, their probing investigations stir discussions and draw attention to their diverse and varied experiences as they adopt a personal, intimate lens.


4. Amina Yahia's paintings exhibited at Eyes Wide Shut, 2022, Firetti Contemporary, Dubai. Courtesy of Firetti Contemporary.



Aisha Alabbar Gallery
Chill: Summer in the City
Until August 31, 2022

Aisha Alabbar Gallery eases into the summer season with "Chill: Summer in the City," a group exhibition in collaboration with Iris Art Advisory, featuring works by Ahmed Emad, Lama Alshenaifi, Safeya Sharif and Yosra Emamizadeh. Summer in the UAE is not always the stereotypical fantasy where one chills on the beach and sips and icy drink by a palm tree. Instead, as the mercury passes above 40 degrees Celsius, residents are on the hunt from one air-conditioned environment to the next. Best described as a habitat that cultivates dreams, our vibrant cities change pace and drive society to look inwards. Indoor spaces transform into cool capsules that defy the heat and push the limits of imagination.


5. Yosra Emamizadeh, Oranges, 2022. Acrylic and coloured pencil on paper. Courtesy of the artist and Aisha Alabbar Gallery.


---
Published by:



e-issues.globalartdaily.com

A Global Art Daily Agency FZ-LLC subdivision.
Copyright, 2015-2023.
For reproduction, please contact us.