4. Rapport: Istanbul


By Insun Woo and Sophie Arni

Published on March 15, 2022

Located on the Bosphorus peninsula between the Balkans and Anatolia, the Black Sea and the Mediterranean, Istanbul is a vibrant metropolis that boasts a rich cultural heritage that dates back to the 7th century BCE. First founded by Greek settlers as Byzantium, it was later renamed as Constantinople and has been the capital of the Roman, Byzantine, and Ottoman Empires. With the amalgamation of various cultures across time, arts and culture have thrived in Istanbul. Architectural masterpieces, such as the Hagia Sophia, the Chora Church, the Sultan Ahmed Mosque, and Dolmabahçe Palace, shape Istanbul's dynamic cityscape. Forms of traditional visual art practices including miniature paintings, ebru, and calligraphy have flourished and continue to be practiced to this day.

Istanbul's eclectic mix of buildings, arts, and cuisines come from its unique location extending across Europe and Asia. The Bosphorus Strait does indeed provide inspiration and energy to creatives from all kinds of backgrounds. Unfolding alongside the city's rich cultural heritage is the equally vibrant and dynamic contemporary art scene. Istanbul is home to the internationally acclaimed Istanbul Biennial and Contemporary Istanbul, as well as various institutions and independent initiatives and spaces that propel local artistic production and discourse, with leading contemporary art museums such as Arter, Istanbul Modern, Meşher, Pera Museum, and SALT, to name a few.


1. Top: "Istanbul" by szeke. Bottom: Courtesy Google Maps.

Such a historic, vibrant cultural scene is, of course, not without its problems. Careful observation of goings-on and conversations with practitioners reveal issues that concern artists, curators, and cultural workers alike: lack of funding and structured support available for creative practices. Funded by the private sector, art institutions and individual initiatives struggle to sustain their programs—or even their very existence. As Sarp Özer, System Operator of AVTO, explains, "the field of culture in Turkey is propelled by private corporations – sustaining individual efforts financially is challenging."


Sustaining individual efforts financially is challenging.

- Sarp Özer
Even so, Istanbul's contemporary art scene holds many promises as artists, curators, and practitioners continue to work with resilience, creativity, and care. Though limited in number due to financial constraints, existing independent art initiatives take up space in meaningful ways as they mindfully engage in cultural production, addressing urgent and timely issues through their exhibitions, publications, and programs. Examples include AVTO, an utility-oriented, malleable operating system that develops exper­i­men­tal meth­ods and sub­jec­tive think­ing in art, design, archi­tec­ture, and social sci­ences, founded in 2017. Sarp Özer sat down with Insun Woo as part of this E-Issue. Another example is BAS, founded by artist Banu Cennetoğlu in 2006 and currently run by Aslı Özdoyuran and Marina Papazyan. BAS is a non profit space dedicated to the collection, exhibition, production and distribution of artists' publications and printed matter. Today, its collection stands at over 1,000 artists' books, periodicals, and other printed publications by artists and artist collectives.


2. Views of BAS space, Istanbul. Images courtesy of BAS.


New Developments


Despite the economic instability and pandemic-related restrictions, Istanbul's art scene welcomed new institutions over the past few years, including the X Media Museum (XMAM) and Müze Gazhane on the Asian side of Istanbul. The city also awaits the opening of the new building of Istanbul Modern, Turkey's first museum of modern and contemporary art founded in 2004, set to open in Spring 2022.

The X Media Museum (XMAM), founded by Mert Fırat, Muzaffer Yıldırım, Ferdi Alici, Esra Özkan and Paribu CEO Yasin Oral in collaboration with DasDas, opened its doors in late January 2022 in Ataşehir. Dedicated to creating inclusive, participatory experiences by bringing technology, science, and art together, XMAM is a first of its kind in Turkey. One of its first exhibitions, Leonardo Da Vinci: Wisdom of AI Light Exhibition, by the world-renowned Ouchhh studio, allows for an immersive experience of Leonardo da Vinci's 3D-modeled drawings and sketches as they extend across the space. "XMAM's first exhibition brings together the data, which has more than 500 years of cultural and artistic heritage, with the audience," explained Mert Fırat, Founder of XMAM.

Amidst the many urban development projects controversial for their destruction of heritage and the environment, Müze Gazhane (Gasworks Museum) stands out as a successful community-driven project that transformed the historic Ottoman-era gasworks in Hasanpaşa, Kadıköy, into a public space for arts and culture while preserving its industrial heritage. The complex consists of spaces for wide-ranging purposes, and Gazhane offers numerous free public events throughout the year.

Meanwhile, the Karaköy neighborhood on the European side of Istanbul awaits the completion of Istanbul Modern's new building by renowned architect Renzo Piano, whose notable buildings include the Centre Pompidou, Whitney Museum, Centro Botín, and Beyeler Foundation Museum. Ahead of its schedule, the building is set to open Spring 2022. Though criticized for its destruction of many historic buildings and the privatization of the area, the project is anticipated to "become an urban focal point between the old town to the west, the Bosphorus to the south, the Tophane Park to the north and the new Galataport waterside development to the east which replaces the old pier activity [...] and become a social and cultural destination for the city and visitors" as described by Renzo Piano Building Workshop.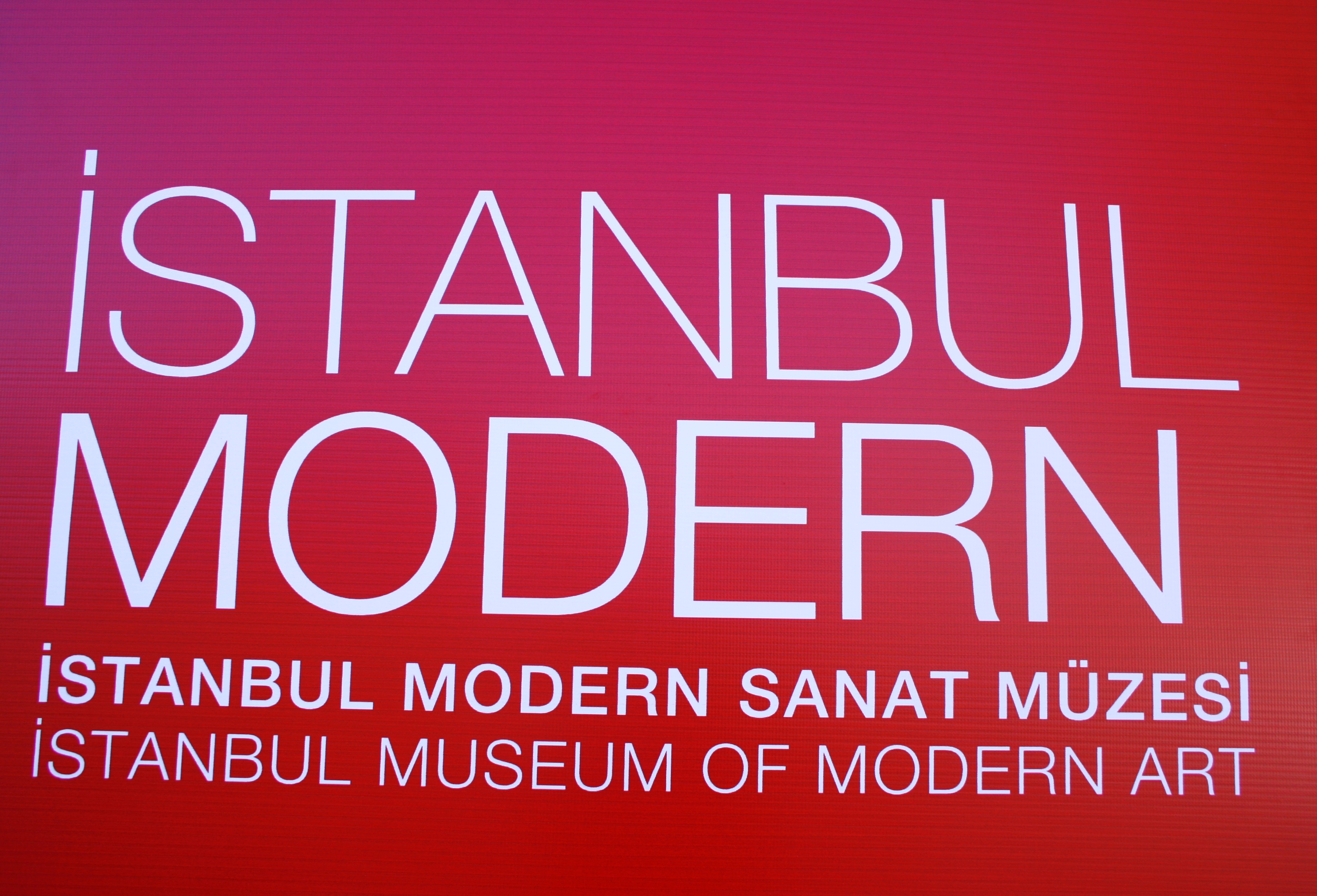 3. Istanbul Modern logo, courtesy Wikipedia Commons.


Istanbul as a Digital Art Capital


As digital art production surges across the global contemporary art scene with increased interest in blockchain and NFTs, the trend is felt in Istanbul's art scene. From artist Refik Anadol's iconic solo show, Machine Memoirs: Space, at Pilevneli between March 19 - April 25, 2021 to the opening of the first digital art museum, X Media Museum, in January 2022 (see earlier section for details), and to representation of Istanbul-based galleries at Art Dubai Digital 2022 (see Global Art Dailly's report of Art Dubai Digital), Istanbul continues to expand its presence as a digital art capital.

In an exchange over emails, Selçuk Artut, artist and professor at Sabancı University whose research and production focus on theoretical and practical dimensions of human-technology relations, shared his experience and enthusiasm for digital art production in the city. "Istanbul stands out as a significant player in the world of digital art with its capabilities and potential," said Artut. "In the past decade, several schools and departments have been established to train young people on creating digital content for art and design. I have been teaching at the Sabancı University for quite a long time and my area of teaching has always been concentrated on digital art production. Without a doubt, I can say that the interest in digital art has proliferated significantly."


In the past decade, several schools and departments have been established to train young people on creating digital content for art and design.

- Selçuk Artut
Alp Tuğan, artist and professor at Özyeğin University whose practice weaves creative coding, generative arts, interaction design, and sonic arts, echoed Artut's sentiment as he highlighted several platforms that emerged over the years in online and offline spaces for artists to share their works: "Root Radio is an independent radio based in Istanbul that connects people from different countries and discusses several sound and visual arts topics. In 2020, several independent artists and academics from different universities (Sabancı University, Özyeğin University, MIAM) initiated the Istanbul Algorave Community to bring live-coder artists together in Turkey. The community releases compilation albums periodically from its members' contributions. Each year, Sonar festival welcomes some of the selected artists from the Istanbul Algorave Community in Istanbul. Independent collectives like Onaranlar Kulübü organize events on various subjects regarding street art."



Istanbul stands out as a significant player in the world of digital art with its capabilities and potential.

- Selçuk Artut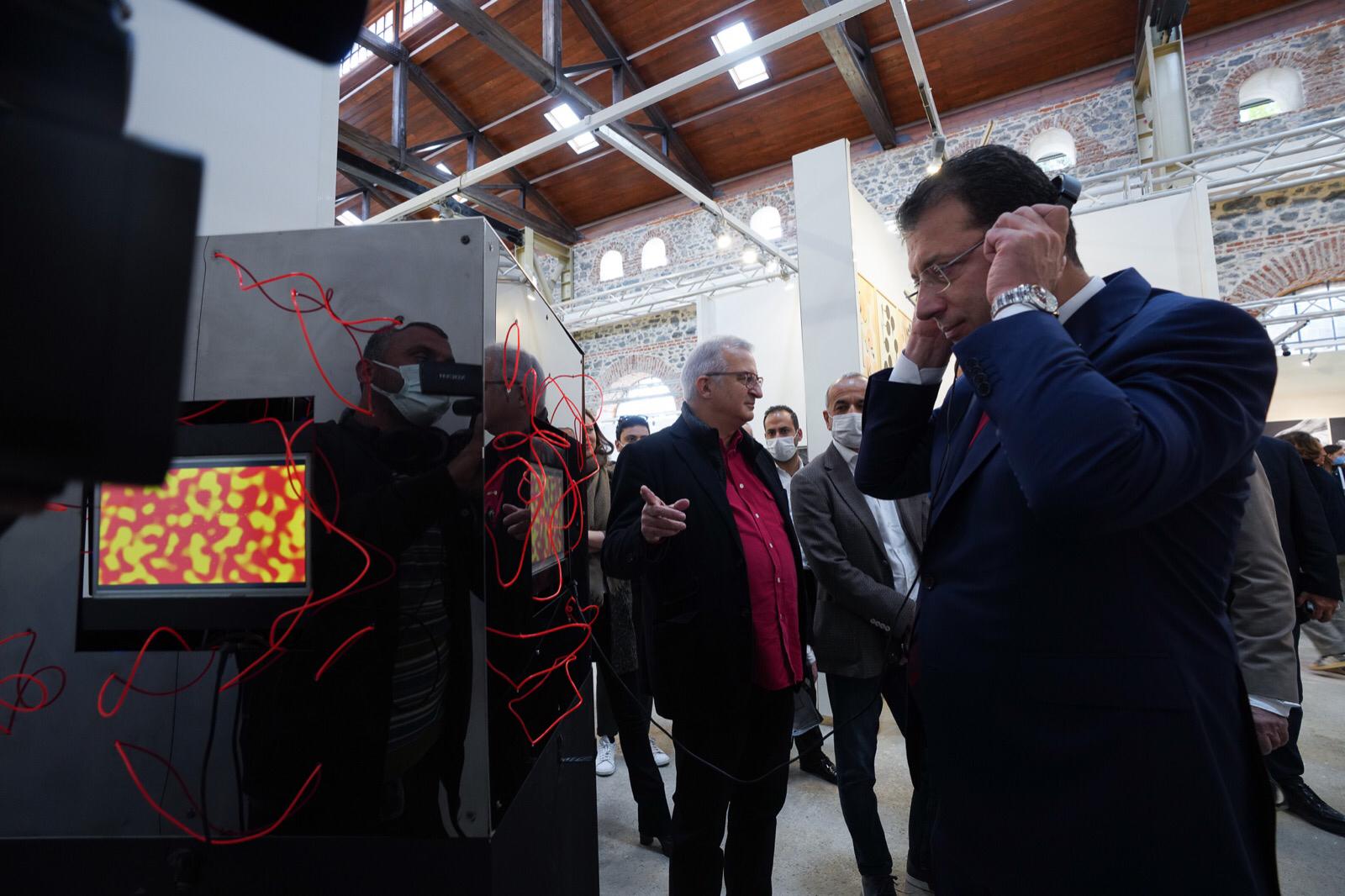 4. Selçuk Artut, FIRE, 2021. Images courtesy of the artist and Zilberman Gallery.


Istanbul Biennial


Istanbul Biennial, organized by the Istanbul Foundation for Culture and Arts (IKSV) since 1987, is undeniably one of the most anticipated events in the art scene of the city. It is the most comprehensive international art exhibition in the region. Focusing on the work of artists, rather than on national representation, each edition of the Istanbul Biennial has generated significant momentum in artistic and knowledge production surrounding political, social, economic, and ecological issues in a global context. Previous curators include Beral Madra (1st Edition (1987), 2nd Edition (1989)), Vasıf Kortun (3rd Edition (1992), 9th Edition (2005)), Yuko Hasegawa (7th Edition (2001)), and Nicolas Bourriaud (16th Edition, 2019)).

The 17th edition, set to take place between September 17 and November 20, 2022 after a year of postponement, is co-directed by a team of curators, Ute Meta Bauer, Amar Kanwar, and David Teh. Coming at a time of reevaluation of socioeconomic and cultural norms induced by a global pandemic, the 17th edition reimagines conventional understandings of the biennial format. Instead of a theme, it centers on a process: composting. Instead of being limited to a fixed duration and space, it unfolds over a longer period of time and across multiple small-scale sites, encouraging different modes of creation and participation. As stated by IKSV, the edition will follow six intertwined threads. "Geo-poetics / Elemental Politics highlights struggles over our planet's most basic resources. Projects centered on News and Pedagogy rethink how we become informed and educated in an age of privatized knowledge and shrinking public spheres. Ancient Solutions seeks insights into today's intractable problems in unorthodox practices side-lined by modernity. Synaesthesia explores the trans-sensory pathways between disciplines and between art forms; while a thread called An-archiving finds artists mobilizing the resources of the past by way of use, rather than collection."


Istanbul and the World: Cross-Cultural Dialogues


Economic instability and the pandemic have forced Turkey's art scene to look inwards in the past few years. Yet, despite this trend, cross-cultural partnerships have continued on both institutional and individual scales.

Most recently, three Istanbul-based galleries presented their booths at the inaugural Art Dubai Digital 2022. Art Dubai – the region's leading art fair, which just ended its 15th edition – launched Art Dubai Digital to propose digital artists collectives and gallerists to exhibit digital works, often in the form of NFTs offered for sale. . The section examines "the context out of which NFTs, cryptocurrency, video art, virtual reality (VR) have been borne since the rise of digital art during the 1980s." Amongst the 17 participating galleries in Art Dubai 2022, three were from Istanbul: Anna Laudel, Pilevneli, and Sanatorium. Pilevneli's solo presentation of Refik Anadol's digital works was – without a doubt – one of the main attraction of all of Art Dubai Digital's booths.


5. Refik Anadol, installation view at Pivelneli Gallery booth, Art Dubai Digital 2022. Photo: Alessia Piacitelli and Amy Qian for Global Art Daily.

Continuing with Istanbul's increasing ties with the UAE's art world, Istanbul and Sharjah have a history of collaboration. The two cities engaged in extended conversation through curator Zeynep Öz's BAHAR, which took place in Istanbul as an off-site project for Sharjah Biennial 13.

In November 2021, Sharjah and Istanbul committed to further artistic exchange as Sharjah Art Foundation and Istanbul Modern launched a multi-year partnership with a new film initiative at Sharjah Film Platform 4, the Foundation's annual film festival. In addition to fostering artistic exchange between SAF and Istanbul Modern, the partnership will open up numerous opportunities to advance regional filmmaking and cinema.

The partnership kicked off with the screening of Her Journey, a selection of 10 films curated by Müge Turan, Film Curator at Istanbul Modern, at Sharjah Film Platform 4 between November 19 to 27, 2021. Directed by women directors from Turkey, the films—three feature-length, two documentaries, and five shorts—center on women's subjectivities that are fragmentary, multiple, contradictory, and in constant flux. The screening was accompanied by conversations with directors.

"Her Journey is a package of ten films that asks us to confront with how cinema represents women and offers female voices that reflect historical and cultural pressures, but also resonate with life and passion. Capturing the diversity and intersectionality of women struggle and subjectivities, those stories prove that they can connect us and inspire us. It is never an alone journey," commented Müge Turan.

The second part of the partnership will take place in 2022 with a film program at Istanbul Modern.


6. Pelin Esmer, Something Useful (still), 2017. Digital video, colour, sound, 104 minutes.

Finally worth noting is Istanbul's relationship to New York City. Founded by independent curator Mari Spirito in 2011, Protocinema is an itinerant art organization based between Istanbul and New York whose purpose is to support cross-cultural dialogues and create opportunities for listening and expression through its exhibitions, commissions, public programs, publications, and mentorship.

In Fall 2021, the exhibition Once Upon a Time Inconceivable was organized at Beykoz Kundura, Istanbul, to mark the organization's ten-year milestone. Currently, Protocinema opened Now that We Have Established a Common Ground, an exhibition curated by Lila Nazemian within Protocinema's Emerging Curator Series 2022, which will be on view until April 2, 2022, at the Clemente Soto Vélez Cultural & Educational Center 107 Suffolk Street, Lower East Side, New York.


"When we first started Protocinema without a permanent physical space and working in different cities, it was hard for people to grasp. Now, there are so many organizations working like this."
Mari Spirito, read more
7. Ceal Floyer, Overgrowth, 2004, Medium format slide and medium format slide projector, Dimensions variable. Installation shot by Zeynep Fırat. © Ceal Floyer. Courtesy Lisson Gallery; Esther Schipper Gallery, Berlin, 303 Gallery, New York; Galleria Massimo Minini, Berscia. Within Protocinema's "Once Upon A Time Inconceivable," 2021.



---
Insun Woo is a student at New York University Abu Dhabi (NYUAD) where she is pursuing a BA in Art & Art History and a minor in Arabic. Her interest lies in contemporary art curation, arts education, and youth empowerment. Her current and past experience includes writing for Global Art Daily and Canvas Magazine, participating in the Summer College Workshop 2021 at the Guggenheim Museum, and interning at for- and non-profit organizations for the empowerment of youth.
Sophie Arni is the Founder and Editor-in-Chief of Global Art Daily. Also an independent curator, her research interests lie in the history of cultural exchanges between the Arabian Gulf and Japan. She graduated from NYU Abu Dhabi with a BA in Art History and a MPhil in Curatorial Studies from Tokyo University of the Arts.