What's On in the UAE


By Global Art Daily's Editorial Board

Published on April 12th, 2023


On View Now–
Bayt AlMamzar

Azra Khamissa: Hand in Hand

April 10 - 19, 2023



Azra Khamissa is an artist and chiropractor based in the UAE. Her contemporary work with the art of Henna has contributed to henna culture, making it more approachable and appealing for the younger generation. She is currently working on her art practice, her henna brand and as a chiropractor in her fathers clinic.


1. Courtesy of Bayt AlMamzar and Dastaangoi Gallery.


Ishara Art Foundation
Notation on Time
Until May 20th, 2023

Notations on Time is a group exhibition that explores the philosophical and political dimensions of time through the works of 20 contemporary artists from South Asia and its diaspora. Curated by Sandhini Poddar and Sabih Ahmed, the exhibition exists as a veritable laboratory of time, exploring art in notational, experimental and fragmentary forms.


2. Installation view, Notation on Time, at Ishara Art Foundation. Courtesy of Ishara Art Foundation and Shezad Dawood. Photo by Ismail Noor/Seeing Things.


Fabien Fryns Fine Art
Charlie Lewis Marffy: No Man's Land

Until March 31, 2023

Charlie Lewis Marffy (B.1989, England) is a painter, writer, and researcher from Devon who lives and works in London, UK. He attended Exeter School of Art and Plymouth University after which he graduated from the Royal College of Art. Charlie has held residencies in Holland (2015), Cuba (2015) and Singapore (Most notably at the Institute of Contemporary Arts). Upon the completion of his degree, he joined Fabien Fryns Fine Art in the summer of 2022. He is interested in a pictorial space that is true to the experience of living, breathing and failing. A ludic sensibility that points to something psychological and unresolved.


3. Installation view at Fabien Fryns Fine Art, Alserkal Avenue.



The Third Line
Anuar Khalifi: Mirror Ball

Until May 19, 2023

The Third Line presents their second solo exhibition with Spanish-Moroccan artist Anuar Khalifi. The exhibition, titled Mirror Ball, debuts a unique sculpture together with a series of richly detailed and vibrant paintings that continue the artist's ongoing exploration into the complexities of personal identity and the experience of living between two worlds, both seen and unseen.


4. Installation view at The Third Line, Alserkal Avenue.



Jameel Arts Centre
Artist's Rooms: Daniele Genadry
Until May 14th, 2023

Artist's Rooms: Daniele Genadry presents Daniele Genadry's work Blind Light (2017) in addition to new works based on her recent research in la Rochelle and Cassis, France and the Grand Canyon, USA. Genadry works with various media to examine how distance, light and movement affect visual experiences. Her practice focuses on the relationship between painting and photography, exploring the potential of an image to generate its own temporality (through light) and how a mediated field of vision can sensitize our perception.


5. Installation view at Jameel Arts Centre.


421
Ramadan 2023 Programs
Until April 21st, 2023

During this holy month in 421, Abu Dhabi's independent platform dedicated to supporting emerging creative practices, the community will be able to explore a variety of exciting, immersive sensory workshops and experiences that highlight mindfulness, community, and reflection through the Ramadan 2023 Programs including listening parties, outdoor night markets, drop-in creative workshops, stargazing excursions, community gatherings, and a supper club.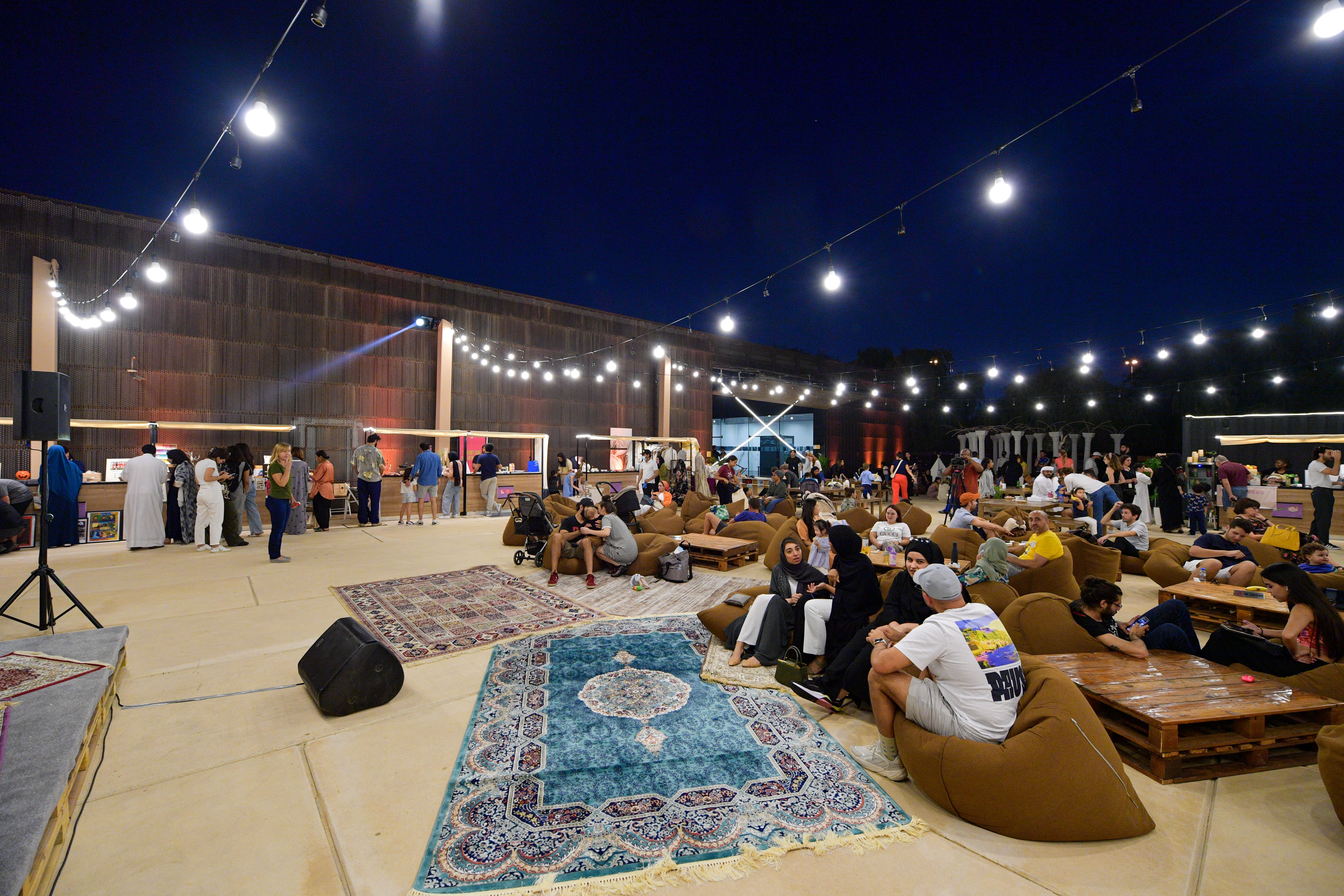 6. Moonlit Market, at 421. Photo courtesy of 421.


Sharjah Art Foundation
Sharjah Biennial 15: Thinking Historically in the Present

Until June 11, 2023

Conceived by the late Okwui Enwezor and curated by Hoor Al Qasimi, Director of Sharjah Art Foundation, Sharjah Biennial 15: Thinking Historically in the Present (SB15) presents works from more than 150 artists, reflecting on Enwezor's visionary work, which transformed contemporary art and established an ambitious intellectual project that has influenced the evolution of institutions and biennials around the world.


7. Entrance of Sharjah Art Foundation's Bayt Obaid Al Shamsi.



Upcoming–

Jameel Arts Centre
Tsuyoshi Hisakado: Polite Existence
May 4 - September 24, 2023

Inspired by the laws of physics and mathematics, Tsuyoshi Hisakado's multi-form practice questions the order of space, time, and other invisible forces that inform and shape our everyday lives. This is the artist's first exhibition in the Middle East and South Asia, presenting a wide body of work using a variety of techniques and materials- including sound, light, sculpture, drawing, and large-scale immersive installations.


8. Tsuyoshi Hisakado. No.07. Force (partial). 2020. Courtesy of the artist, Toyota Municipal Museum of Art and OTA FINE ARTS.


Tabari Artspace
Almaha Jaralla: Seham


For her first solo exhibition at Tabari Artspace, Almaha Jaralla invites the audience to join her on a journey through Abu Dhabi's constructed and social worlds from the 1980s until the present day. The visual artist has produced a series of mixed media works on canvas that depart from the artist's own archival family portraits taken in Abu Dhabi during the 1980s. Jaralla understands these intimate portraits as a window into the essence of the city during a period of rapid social and physical transformation in the Gulf.


9. Courtesy of Tabari Artspace.



Recently closed–
Bayt AlMamzar
Introduction
Until March 31st, 2023

A year in the making, Saif Mhaisen's Introduction is the first show of a resident artist at Bayt AlMamzar. The exhibition reflects on time and attention, and features fourteen works on paper: charcoal portraits of the artist's community in the UAE.


10. Installation view, Saif Mhaisen: Introduction presented by Bayt Almamzar. March 2023. Photo courtesy of the artist.



ICD Brookfield Place
Do Arabs Dream of Electric Sheep?
February - March 2023

ICD Brookfield Place, the Dubai International Financial Centre, presents Do Arabs Dream of Electric Sheep?. It is a group exhibition featuring five works by Basel Abbas & Ruanne Abou-Rahme, Haitham Haddad, Meriem Bennani, Tracy Chahwan, and Walid Bouchouchi (Studio Akakir), ranging from films, texts and textiles to multimedia installations. Curated by Adam HajYahia, the exhibition explores and celebrates imaginative ways of seeing and understanding localities in the Arabic-speaking region beyond dominant historical narratives.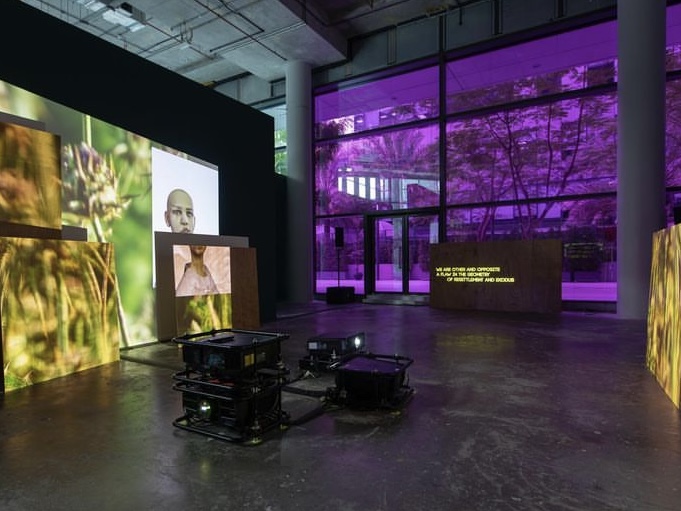 11. Installation view, Do Arabs Dream of Electric Sheep?, at ICD Brookfield Place. Courtesy ICD Brookfield Place.



---
Published by:



e-issues.globalartdaily.com

A Global Art Daily Agency FZ-LLC subdivision.
Copyright, 2015-2023.
For reproduction, please contact us.